Solar eclipse is nearing for people who live in USA. You can enjoy he view  and even make scientific experiments (like verify yourself Was Einstein Right?). Whatever you do, be sure to know what to do to be safe.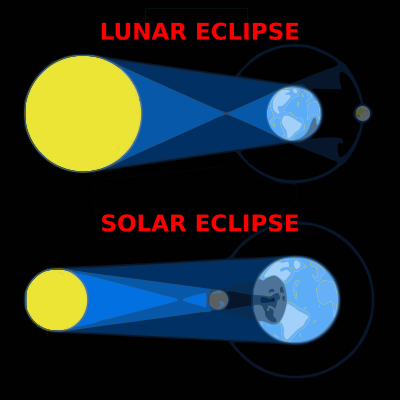 As  August 21 solar eclipse in USA nears, remember that it's extremely dangerous to look at the sun directly, even if most of its light is obscured by the moon. Because retinas have no pain receptors, you can permanently damage your vision without even feeling it happen. 
Don't look at the sun during a solar eclipse directly!
If you want to watch, you need suitable protective glasses to watch solaer eclipse safely.
How to View the 2017 Solar Eclipse Safely web page at https://eclipse2017.nasa.gov/safety says:
Looking directly at the sun is unsafe except during the brief total phase of a solar eclipse ("totality"), when the moon entirely blocks the sun's bright face, which will happen only within the narrow path of totality.
The only safe way to look directly at the uneclipsed or partially eclipsed sun is through special-purpose solar filters, such as "eclipse glasses" 

 If your eclipse glasses or viewers are compliant with the ISO 12312-2 safety standard, you may look at the uneclipsed or partially eclipsed Sun through them for as long as you wish.

An alternative method for safe viewing of the partially eclipsed sun is pinhole projection.
Experts suggests that one widely available filter for safe solar viewing is welders glass of sufficiently high number. The only ones that are safe for direct viewing of the Sun with your eyes are those of Shade 12 or higher. These are much darker than the filters used for most kinds of welding.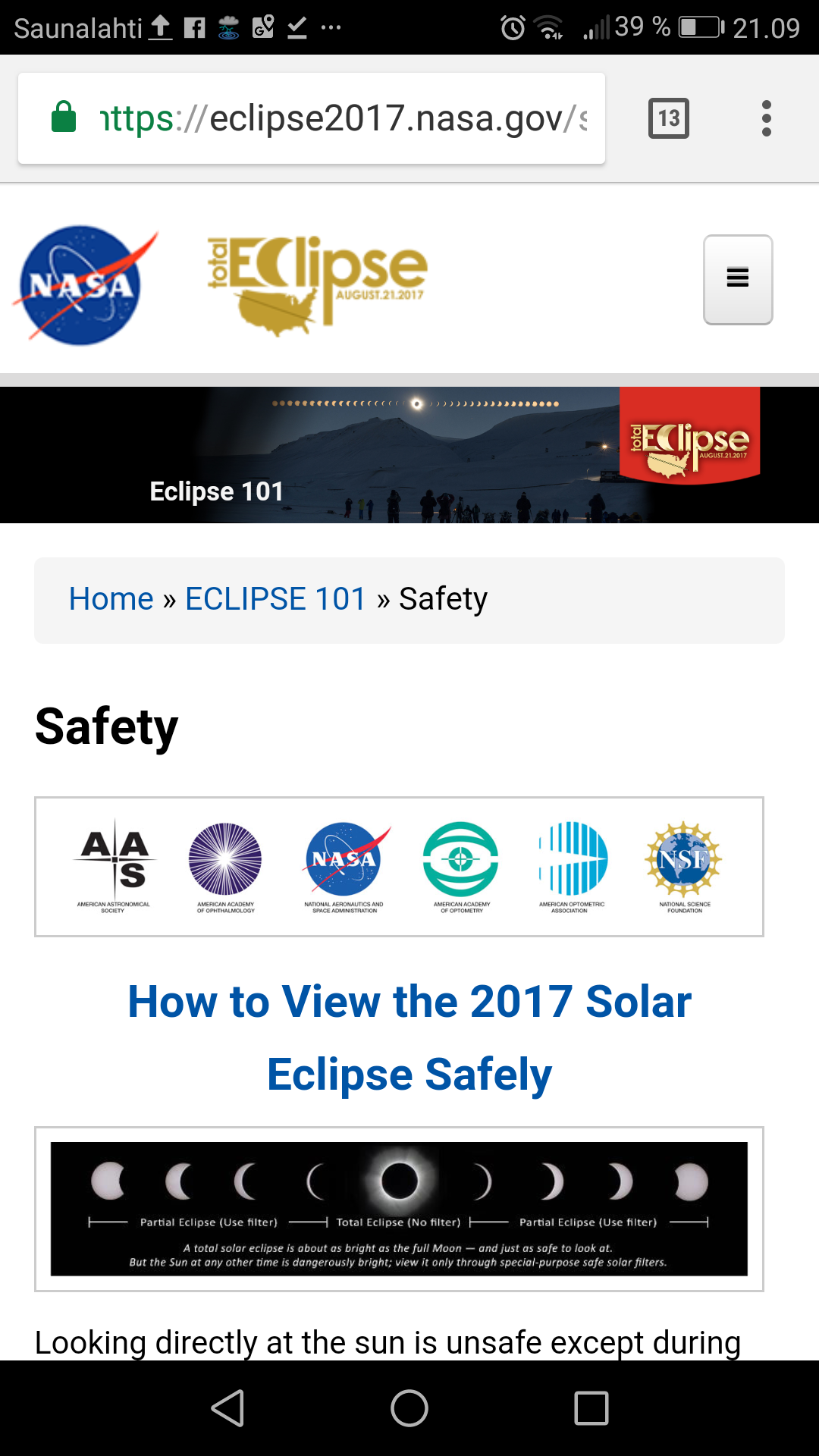 Other sources say that ISO 12312-2 is what should be printed on glasses. Or use welding goggles #14. Inspect protective glasses before you try to use them – if there are any pin holes or scratches – toss the glasses.
Scammers Are Flooding The Market With Dangerous Fake Eclipse Glasses – Here's What Brands Are Safe To Buy | IFLScience
http://www.iflscience.com/space/scammers-are-flooding-the-market-with-dangerous-fake-eclipse-glasses-heres-what-brands-are-safe-to-buy/
As August 21 nears, scammers are flooding the market with fake solar eclipse glasses. As retailers run out of eclipse glasses, some people are being duped by glasses that may look real, but that won't actually protect your eyes. 
"It's a bunch of unscrupulous people cashing in on the eclipse and putting public safety at risk," 

Check that your eclipse glasses are safe is to see if they have the ISO logo on them. The AAS and NASA have also published a list of legitimate companies.

Alternatives that could work:

STEM Camp: Build Your Own Solar Eclipse Viewer article at https://www.livescience.com/33906-solar-eclipse-viewer.html shows how to make simple device to view solar aclipse safely.
Let us make this perfectly clear: Don't look at the sun during a solar eclipse!
That's not to say you can't watch it indirectly, though. This article says that a good way to view an eclipse is through a simple pinhole camera. To build one, all you need are a few household supplies.

Another idea that comes to mind is an indirect viewing with help of digital camera. It would be safe for your eyes to look indirect view on camera monitor. The question is that can pointing a camera to sun damage it? If it's a digital camera, yes, it can damage the sensor. It depends a lot on the type of camera, focal length, shutter speed, and how bright the sun is (overcast, noon, etc.). Because the light and heat from the sun is so intense, you also need neutral density filter. More details: Beginner's Guide to Photographing the 2017 Solar Eclipse on Budget
Can I damage my camera by pointing it at the sun?
Your immediate reaction is probably a lot like mine. NO WAY! Well not so fast. It depends on the kind of camera you're using. If you've got a digital SLR, you'll be totally fine. If you're using a point-and-shoot model, you might get into trouble. There's a simple rule of thumb for all of this. If something is so bright that it hurts your eyes to look at it, that thing will probably damage your camera too. Protect your eyes! Also never look through the viewfinder of your camera when it's pointed directly at the sun.
Will taking a picture of the sun damage my cell phone camera?
Most camera CMOS sensors have a UV shield coating so they won't be damaged by shooting the sun. Some don't, however.
No it will not damage it, the sensor is protected by filters and the lens is small, it doesnt focus enough light to be damaging. A dslr camera with a large telephoto lens can be damaged if the sensor is exposed for longer than a high speed snap (video or long exposure) without additional filters.