An ungrounded system is one in which there is no intentional connection between the system conductors and earth. When the neutral of the system is not grounded, it is possible for high voltages to appear from line to ground during normal switching of a circuit having a line to ground fault. These voltages may cause failure of insulation at other locations on the system and result to damage to equipment.
Line to ground fault on ungrounded neutral systems causes a small amount of ground fault current to flow which may not be enough to actuate protective relays or other protective equipment.
Neutral grounding has been in practice in many systems all over the world. Generally, the neutrals of source transformers or generators with star connected windings are grounded. Grounding the neutral reduces the magnitude of transient voltages, improves protection against lightning, protection for line to ground fault becomes reliable, and improves reliability & safety. Also the potential of the neutral gets fixed.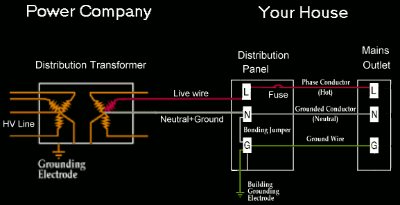 Line to ground fault on grounded neutral systems causes a large ground fault current that will very quickly burn the power feed fuse or trip other protective equipment. This means that the faults are detected quickly and the place of fault is quickly isolated from electrical distribution network (will not disturb operation of rest of electrical distribution network, and the potentially dangerous voltage at fault location are quickly cut of so reduced electrocution danger).
The typical disadvantages of grounded systems are related to high fault currents. In a typical solidly grounded three phase system, the neutral is tied directly to earth ground. This can cause high ground fault current (typically 200 to 20,000 amps) and excessive damage to transformers, generators, motors, wiring, and associated equipment. Some industrial electrical distribution networks use Neutral Grounding Resistor between neutral and ground limits fault current to a safer levels (typically 25 to 400 amps) while still allowing sufficient current flow to operate fault clearing the protective relays.