Is your working desk clean or messy? Do you have a home laboratory and how messy it it? Computer History Museum honors Jim Williams and Bob Pease tells that some messy engineering working desks end up in Computer History Museum as exhibit. Both work of Bob Pease and Jim William have been a source of inspiration and have had messy desks. Messy and overcrowded desk can be very productive laboratory. Instead of being distracted with fluff and appearances, Bob and Jim focussed on the key engineering (and other) issues and fundamentals, and thereby encouraged the right mix of creativity and rock solid design methodology.
EDN Magazine has also shown the images of other laboratories. Ever wonder where an EDN editor engineers and what tools they like? Check out photos from Paul Rako's home lab and see where he works on his own designs, teardowns, and testing.
You can find home laboratory pictures of other more or less known electronics engineers on EDN article series:
The home lab of Barrie Gilbert
The home lab of Darryl Phillips
For some reference here is a picture of my home lab desk from few years back. Much less equipment than what those engineering legends had, but still some productive mess.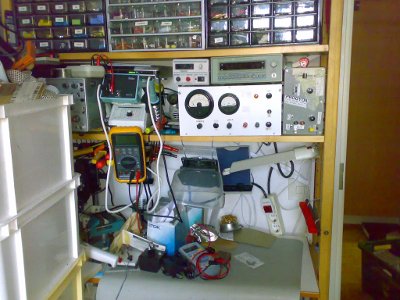 Design News magazine has a series of pictures of very messy work desks of engineers:
Slideshow: Messiest Engineering Desks
Slideshow: More Messy Engineering Desktops
Slideshow: More Messy Engineering Desktops
You can live with mess, when it's an ORGANIZED mess!