Acimut Monitoriza for ARDUINO is an interesting project that combines that combines free Scada software with Arduino hardware platform. Acimut Scada Monitoriza is a SCADA application that lets you control any process. It is designed for control and monitoring of production plants, and costs some money. Acimut Monitoriza for ARDUINO project offers Scada Monitoriza software fully functional and free of all restrictions of use, both in terms of number of variables to control as clients. The only limitation you have is you can only connect to Arduino devices. Acimut Monitoriza for ARDUINO project also offers Arduino SketchBook ModBus RTU protocol.
I had suitable PC to run the software, some experience on some SCADA software and access to several Arduino cards, so I started experimenting with this offer. Acimut Monitoriza for ARDUINO software installed nicely to my PC and after some using the example application was pretty clear to operate in simulator mode. So to next task to use it with Arduino hardware.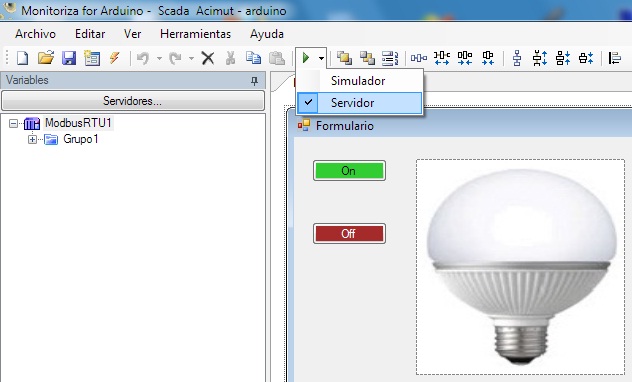 I used  Arduino IDE 1.0.5 to compile the supplied codes for Arduino. I tried both  Arduino software 1.0 and Arduino Software Alpha. I first tried to use compile them for my Arduino Leonardo compatible board, but both of them failed to compile

Then I tried to compile them to  Arduino UNO. Now I got Arduino software 1.0 to compile nicely to it (Arduino Software Alpha failed because code used some old feature no longer supported on new Arduino compilers). I got the software nicely to Arduino board.
Next task was making the SCADA software to communicate with the Arduino hardware. It took some time to make it work. First I had to change the port number on the device configuration to match the serial port is used by my Arduino board. For some reason after changing and saving thing did not work as expected. Things started to work after I saved the modifications at new project name, closed the SCADA software, and restarted it with new project. Now after some trying thing started work with Arduino board. I got the software to work with my hardware so that I could use SCADA software to control the LED on the Arduino board on and off from SCADA control screen. It finally worked as promised! This was not plug-and-play project, put finally paid off.
Next task is to figure out how to control more I/O pins with this software + hardware system etc.. Maybe some real control project some day.