Farnell/Newark/Element14 has been running a Conductive Ink Challenge with deadline of 31st August 2014. In it the competition the plan is to draw artistic circuits by hand using nickel or silver-laced "ink". The aim is to make eye-catching piece of art.  Judging is based on creativity, originality and technical and is final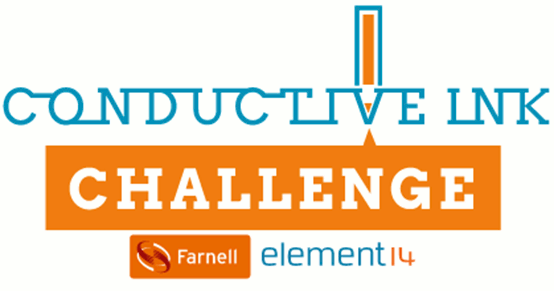 To test conductive conductive ink pen I got an introductory packet to test the how it works, and hopefully produce something artistic. The introductory packet included pen and electronics component (including Arduino Uno board).
Conductive ink are inks that conduct electricity.  Conductive inks have been used in automobiles for years and they are used in making printed electronics. Most conductive inks are made from silver. For some applications, nickel, copper, gold or other precious metals are used. Silver is popular because it's more conductive than copper, which becomes less conductive as it oxidizes, and silver is less expensive than gold.
My introductory kit was supplied with CircuitWorks CW2200MTP (micro-tip pen) conductive ink pen. Chemtronics CircuitWorks Conductive Pen makes instant highly conductive silver traces on circuit boards and many other materials. The silver traces dry in minutes (tack-free in 3 to 5 minutes at room temperature, good electrical conductivity within 30 minutes). Before using the package recommends you to read Safety data.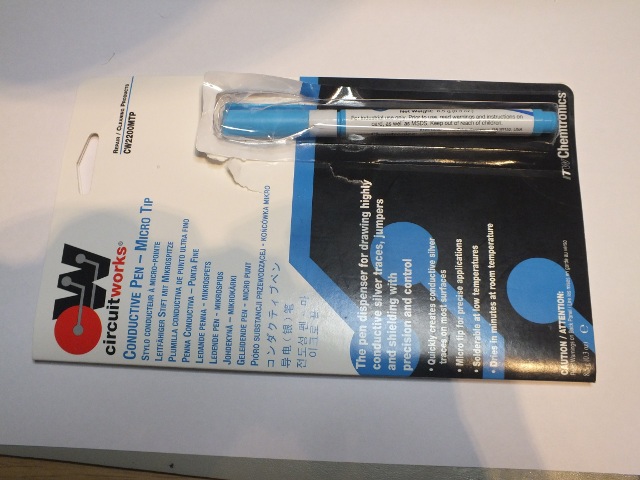 The CW2200MTP (micro-tip pen) has an orifice size of 0.7 mm and will draw traces that average 1.5 mm in width. It feels a suitable way to prototype or draw circuits by hand using silver-laced "ink".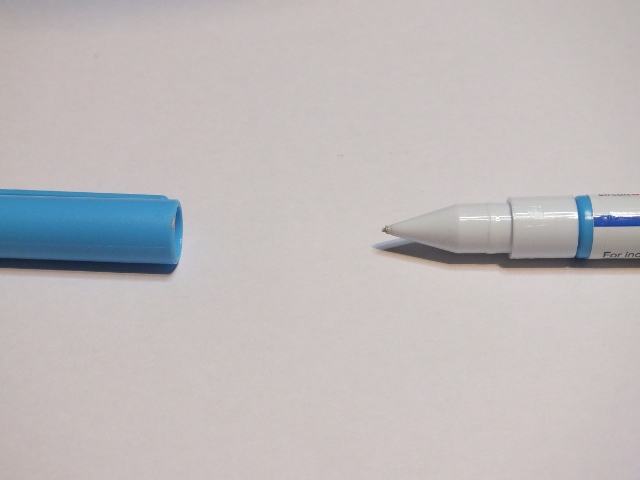 First test I did was to try to draw circuit traces to post-it note and add in one LED.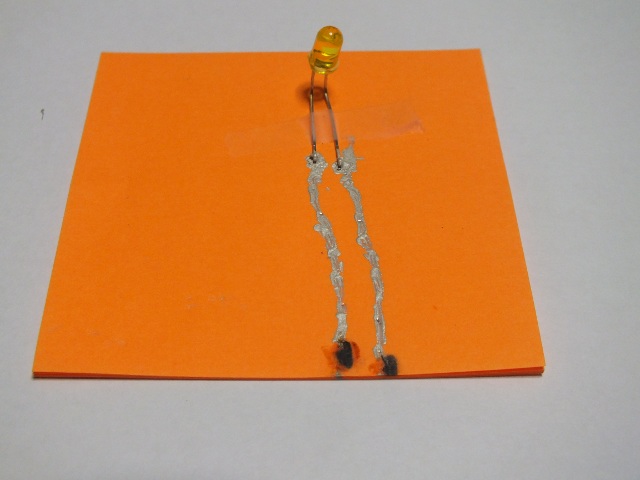 The left trace was around 10 ohm and the right one around 20 ohms. Quite a bit of resistance for quite short trace, but does not matter in this LED circuit too much. I supplied power to LED from 9V battery through resistors. Things went well when I supplied then the power with test cables. Things started to go wrong when I tried to solder wires to traces (I remember reading that temperature soldering is possible). Maybe my soldering temperature was too high for the conductive ink and the paper, because it was failure – result was just black spots where I tried to solder.
When testing different ways to use conductive ink pen to draw circuits, I found out that maybe the most useful method would be to glue the components to base material, and then draw the conductive traces between them. Normal though-home components bent suitable could work, but SMD components are usually easiest to use for this. Fortunately I had suitable SMD components so I could start testing. For test the main components I used were 270 ohm resistor and different SMD LEDs. The best construction method was first to glue the components in (gel 10 second super glue was very good glue for this) to their places, and then afterwards draw traces (or add wires where very low resistance was needed).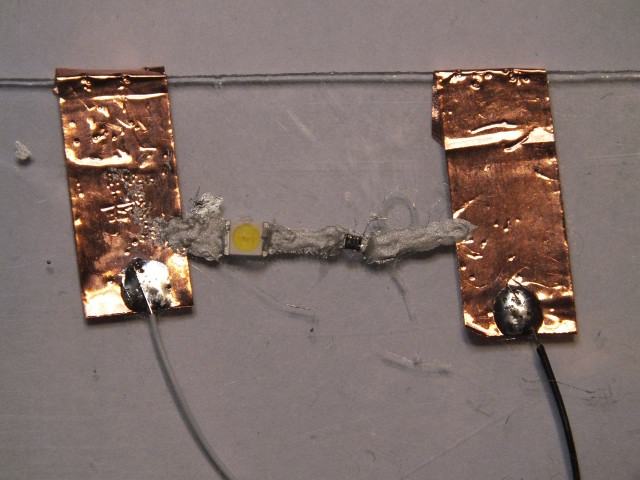 Then I got a too complex idea to implement well: How about drawing a nice ePanorama.net logo with LEDs and control them with minimal Arduino circuit? Build this on transparent piece of plastic. This sounded like a good plan to make an eye-catching "piece of art".
Shrimping It page provided plans for very simple Arduino compatible platform building. Maybe those could be implemented with conductive ink…  I already had programmed Arduino micro-controller from Arduino UNO supplied with the conductive pen evaluation package. I just needed to add IC socket and other components. All other needed components were easy to source from my components, but I could not find suitable 16 MHz crystal. Fortunately I found 16 MHz crystal oscillator that I could put it easily into circuit using tips from UNO Overdrive article.
But later trying to build Arduino with conductive ink was not so good idea. It turned out that it was hard to make very reliable connections from the IC to conductive ink traces. I had to give up the conductive ink Arduino idea.

I ended up building tiny Arduino using mostly SMD components and traditional soldering. During the process also the conductive ink pen tip started to dry out. Most time I could not get anything useful from the pen, sometimes it barely worked. And the dead-line was coming. I had to make some of traces by opening the pen and trying to spread the paint to circuit other means. This took lots of work, was messy and the results did not look good. In the end due those problems I decided to simplify the circuit to something I could build: One flashing LED controlled by Arduino circuit and other LED that shows when power is on. Result did not look good, by anyways I had tried to make something on this competition.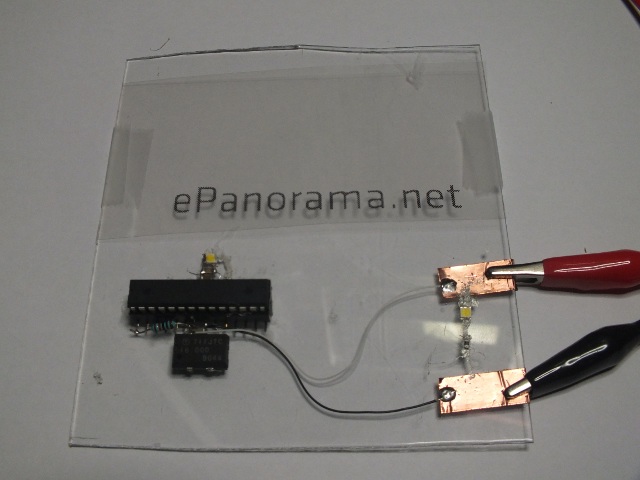 Close-up of one part made with conductive ink: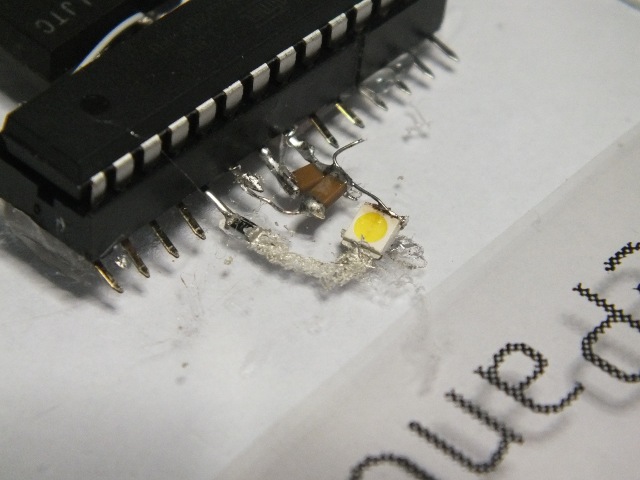 Final result showing the dirty results.