Just about all professional equipment uses balanced audio lines, which, if properly executed, will eliminate the hum completely. They help especially with long interconnects where earth loops can be a real pain. Circuits driving balanced lines must themselves be balanced to maintain the benefits of balance. This may be achieved by differential signaling, transformer coupling or by merely balancing the impedance in each conductor. Typical professional audio sources, such as microphones, have three-pin XLR connectors. One is the ground or common, while the other two are signal connections.
Many consumer HIFI equipment and other audio signal sources offer only unbalanced outputs. Unbalanced interconnections pick up easily all kinds of noise (especially ground loop noise), so you might want to avoid them everywhere you can.
You can convert the simple unbalanced preamp output to balanced circuit with one of the  following tricks:
- Use a DI box to convert unbalanced signal to balanced microphone level signal
- An audio transformer is a classic way to convert unbalanced to balanced
- Balanced opamp output circuit can convert unbalanced to balanced (more modern approach but more components)
In addition to those there is not so widely mentioned impedance-balanced output option:
1. Figure out the output impedance of your unbalanced signal source. Usually looking at the circuit diagram of the device will tell you that easily. If you don't have that, you can always measure the output impedance.
2. Pick a resistor that has same resistance as the output impedance of your unbalanced output (as close as possible… preferably within 1% accuracy).
3. Wire the unbalanced output signal to XLR pin 2 (+).
4. Wire ground to XLR pin 1 (ground).
5. Wire that resistor you just selected between XLR pins3 (-) and pin 1 (ground).
Now you have a impedance-balanced output. It is not exactly as good as a real balanced output, but performs pretty close a real balanced output in normal applications. You can use the same idea also with 6.3 mm jacks: signal goes to tip and the resistor to ring. An impedance balanced output with 6.3 mm jacks works as well as an unbalanced output if that is what is needed (just plug in a cable with mono plug).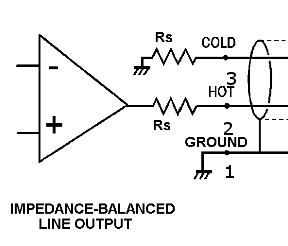 Impedance-balanced principle has been used some professional electret mics and on outputs of some "budget" mixers! Just by adding one resistor an unbalanced output is converted to impedance balanced output that works very well with all equipment that has balanced inputs.
More information on line balancing and theory can be found at great The Self Site Balanced Line Technology document.