New advances in optical communications are always interesting. IBM Scientists Create Ultra-Fast Device Which Uses Light for Communication between Computer Chips and IBM jumps 'last hurdle' to on-chip optical communication articles tell that IBM scientists few weeks ago unveiled a significant step towards replacing electrical signals that communicate via copper wires between computer chips with tiny silicon circuits that communicate using pulses of light. Their new invention is called a nanophotonic avalanche photodetector. It is the fastest of its kind and could potentially enable breakthroughs in energy-efficient computing. This 40-Gbps photodetector is seen as keystone for enabling promising technology. This photodetector is made of Germanium. "This invention brings the vision of on-chip optical interconnections much closer to reality," said Dr. T.C. Chen, vice president, Science and Technology, IBM Research. There is also a video in YouTube about this invention.
For several years, IBM has been developing a nanophotonics toolkit for creating optical communications between chips consisting of waveguides, modulators, switches and photodetectors. Over the last few years, IBM has demonstrated silicon modulators for converting electrical signals into light, a silicon delay line for buffering optical signals plus the waveguides and switches necessary to create a complete chip-to-chip optical bus. With the addition of this nanophotonic avalanche photodetector, IBM claims to have its nanoelectronic ducks in-a-row standing poised to obsolete copper wires in favor of optical communications on and among future chips. Let's wait to see what kind of device will use those technologies first.. and when.
There are also other players on the field. For interesting extra reading take a look at the All-optical communication comes of age article. It has information on all-optical signal processing on a silicon-based device at speeds of more than 100Gb per second.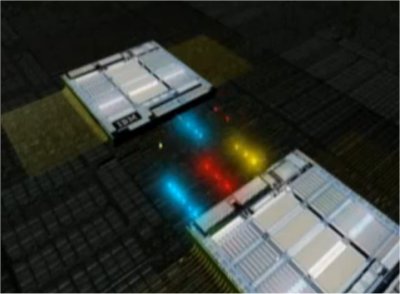 Image source: video