I visited Assembly Summer 2010 computer festival this weekend. There were many interesting multimedia presentations shown there and some interesting seminars. Check the competition results and view the winners easily on Assembly Summer 2010 gallery and more on YouTube. Check also Future Crew documentary.
In the seminars Andreas Jakl from Nokia presented material on programming with Qt and Qt Quick. Interesting material I would say. It seems that JavaScript is becoming more and more important language, because the main language for implementing software logic in Qt Quick is JavaScript (also C++ is possible).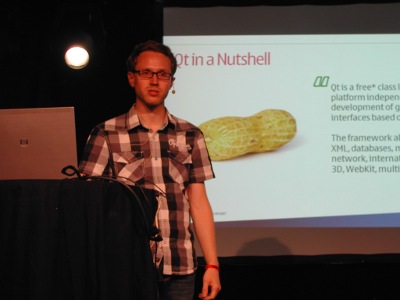 After the seminar Nokia served some food and sauna to people who had participated the Qt seminar. It was nice event to meet many software developers. Some people from Nokia marketing "leaked" some information on the Meego Phone that is supposed to come out sometimes later, propably this year. I got information that this device would be something like a successor for N900 ans would be cool. That was all info on new device I could get. After that when anybody tried to ask on that the answer was "no comments". It seems that some other web sites have managed to get some details of devices rumoured to be that Meego phone, so take a look at N9 pictures and RX-99 info.
Other interesting stuff was at Helsinki Hacklab stand. The were robots and 3D printers. The stand had RepRap (Mendel) and Cupcake CNC 3D printers. Check cool video of Cupcake CNC if you want to get idea what I saw.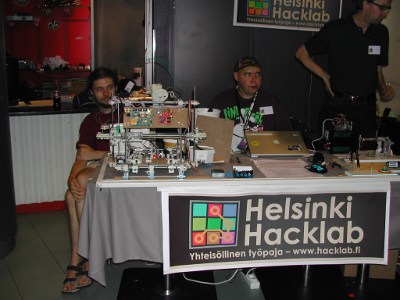 This is the main show control center at the event (I used to work there many years ago). At that time this place looked quite different. This year I was just wathing and meeting the friends rinning the show. Look at the cool monitor stand: a truss rigged from the roof with chain motors.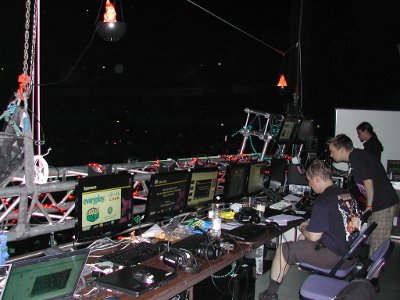 Assembly TV broadcasted material from the event to cable TV and Internet. This year their prgram was also transmitted at HDTV resolution. The setup was otherwise very similar to one used last year. This year also some of my Quiz Show lights control hardware was in use. Lots of cable was needed to make everything work on the TV broadcast.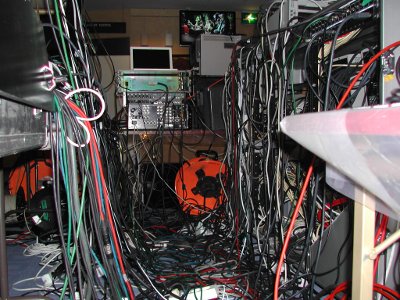 Thank you all for a cool event.