Game developer David Braben creates a USB stick PC for $25 article tells about an interesting project from Raspberry Pi Foundation. The idea is to a manufacture a very low cost PC that can be given to kids for free and courses built up around their use.
Braben has developed a tiny USB stick PC that has a HDMI port in one end and a USB port on the other. You plug it into a HDMI socket and then connect a keyboard via the USB port giving you a fully functioning machine (700MHz ARM11 with 128MB of RAM) running Ubuntu version of Linux. This tiny computer is promised to handle web browsing, run office applications, and give the user a fully functional computer to play with as soon as it's plugged in. You can attach a 12MPixel camera module to it as shown on the following picture from Raspberry Pi Foundation web page.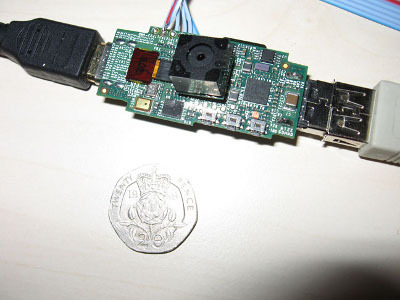 Sounds interesting cheap Linux platform. Let's hope this becomes available soon and at promised price. I can think many uses for this kind of cheap, small and low power consumption Linux platform.