Why modern high tech electronics fail? Too often the reason for that is electrolytic capacitor failure. I have had a quite high number of electronics that has failed by this reason after few years of service. I have had a quite number of devices failed by capacitor: PC motherboard, PC graphics card, set-top-box, DVD player.
Last device that had it's electrolytic capacitors failing was the graphics card of my Fujitsu-Siemens PC. Was the failure due bad quality capacitors or due bad design I can't say for sure, but I expect both have had their influence in this. It is not a good idea to place the capacitors to place where the hot air coming from the GPU heat sink cooks them…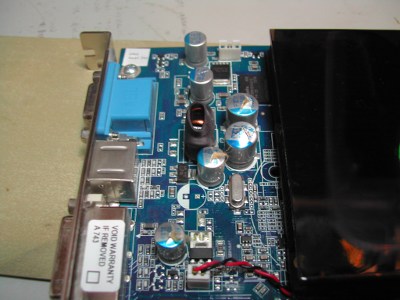 Four capacitors capacitors on the picture have "exploded" with noticeable "bang". It was quite amazing that even after this incident the graphics card almost worked well for some time (showed some errors in picture and sometimes crashed the computer). After replacing the capacitors with new high quality low ESR electrolytic capacitors the graphics card worked again flawlessly. Again components that cost few Euros and some soldering work gave the life back to this computer.
My earlier Electrolytic capacitor failures posting gives more details on this too common failed capacitors problem.