Due real Fluorescent lamp fire danger I have pretty much tried to get rid of potentially dangerous tradtional starters in the fuorescent lamps. So I replaced the starter with electronic safety model – if bulb does not start, it will stay off without heating. Or at least should. I got one Axxel S10 starter that did not always get the bulb started, and sometimes just stays on keeping the ends of the tube heated (which isthe thing that I was avoiding with electrical started) – and it seems that I was not the only person having this kind of problems with Axxel S10 starter.
So the next question was what to do? Is the fluoscent tube getting too old to start reliably, so I should change it? Maybe. Should I change the electronic starter Axel S10 to a safer model? Definately yes for safety.
But what if I would replace the fluorescent bulb with a modern LED tube. LED lighting is becoming popular all, and it seems that LED tubes designed to replace fluorescent tubes are now available at reasonable price. It would start immediately, which would be a big plus on toilet light. So I should get LED tube.
I did some reasearch where to get suitable LED tube, I needed one that fits on place of around 60 cm long 18W fluorescent tube on lamp that used tradtional magnetic ballast. Biltema had one suitable LED tube on their catalogue, but it was unavailable at the moment. I did some searching and found out that Motonet had two suitable models available for around 10 Euros listed available: Airam LED-loisteputki G13 9W 3000K 900lm and LED – loisteputki G13 9W 4000K 800lm 600mm.
At the shop I selected Airam LED-loisteputki G13 9W 3000K 900lm + sytytin (43-8936). It promised for 10W power intake it promises to puts out 900 lm light output. The tube has traditional G13 bases, has 26 mm diameter and 600 mm length. It came in this kind of package: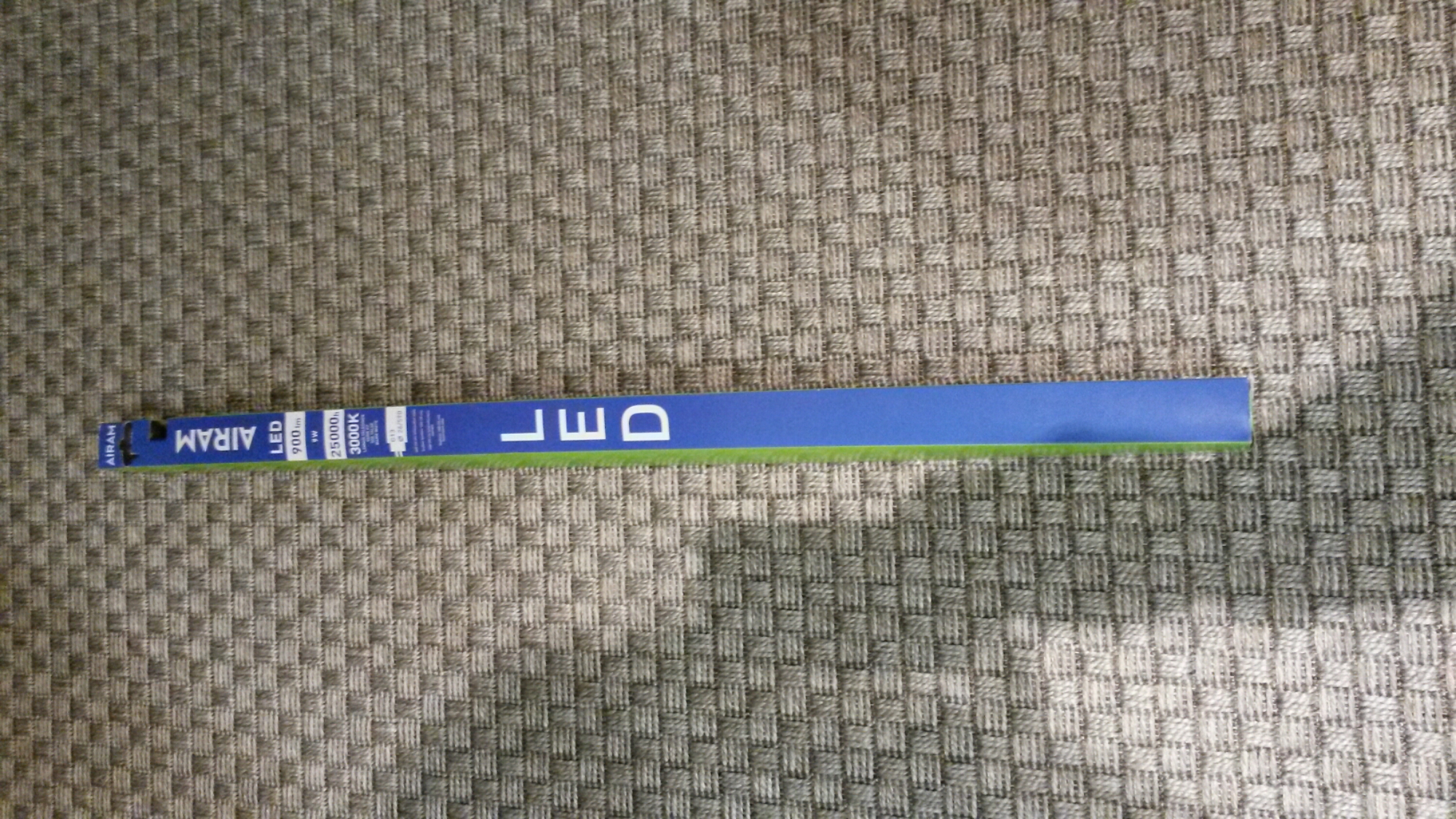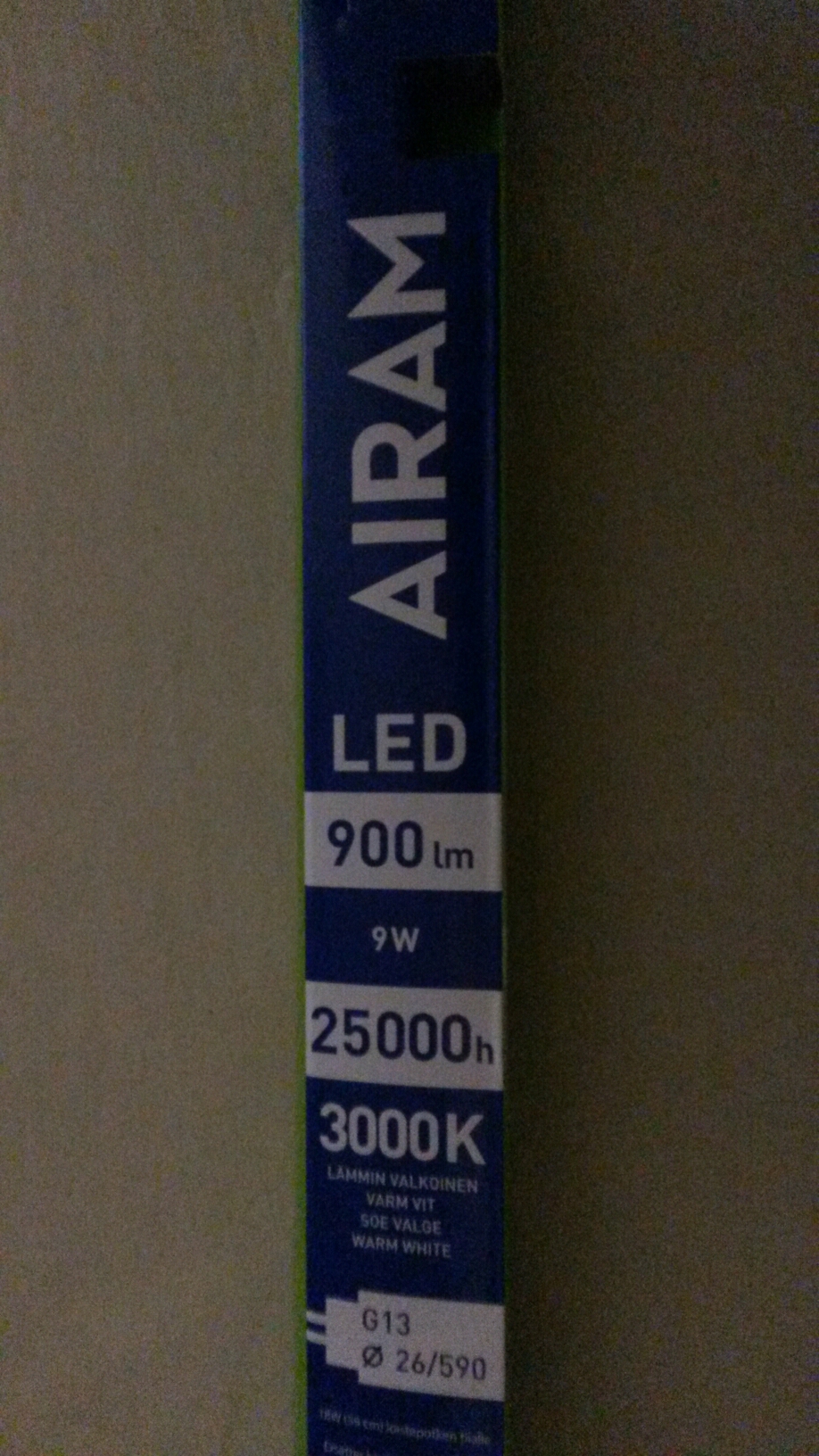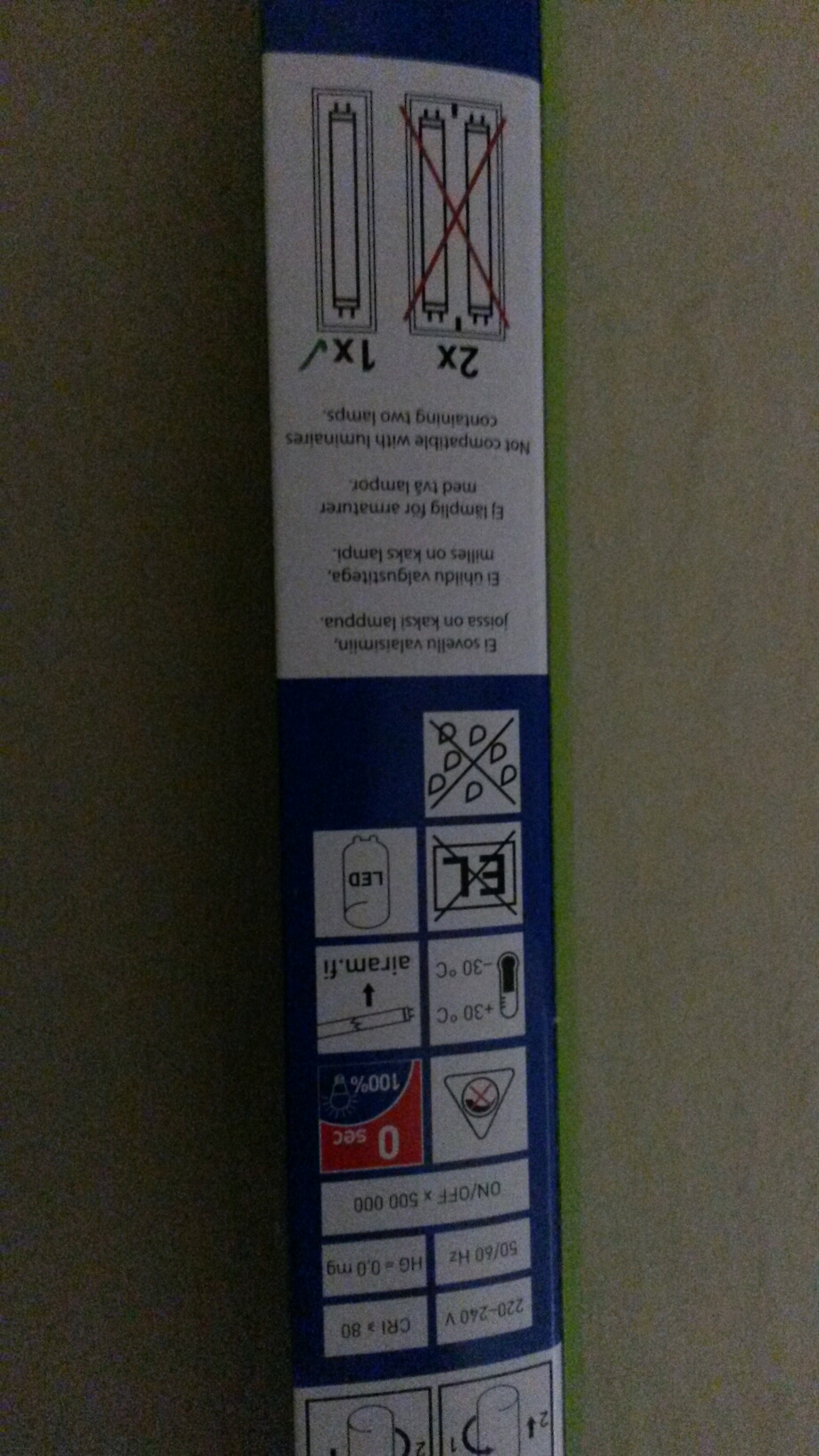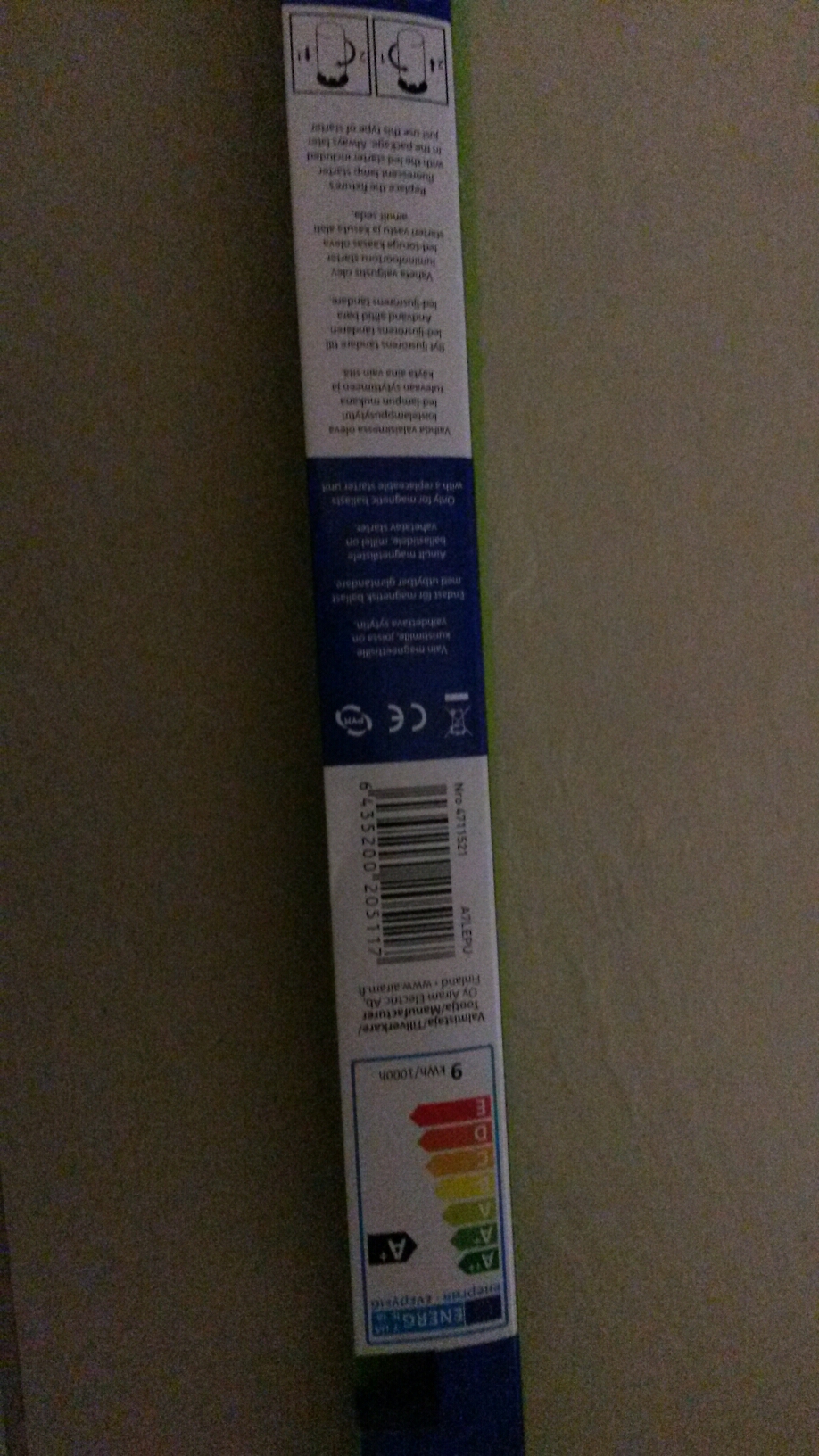 Here is the LED tube installed to the lamp.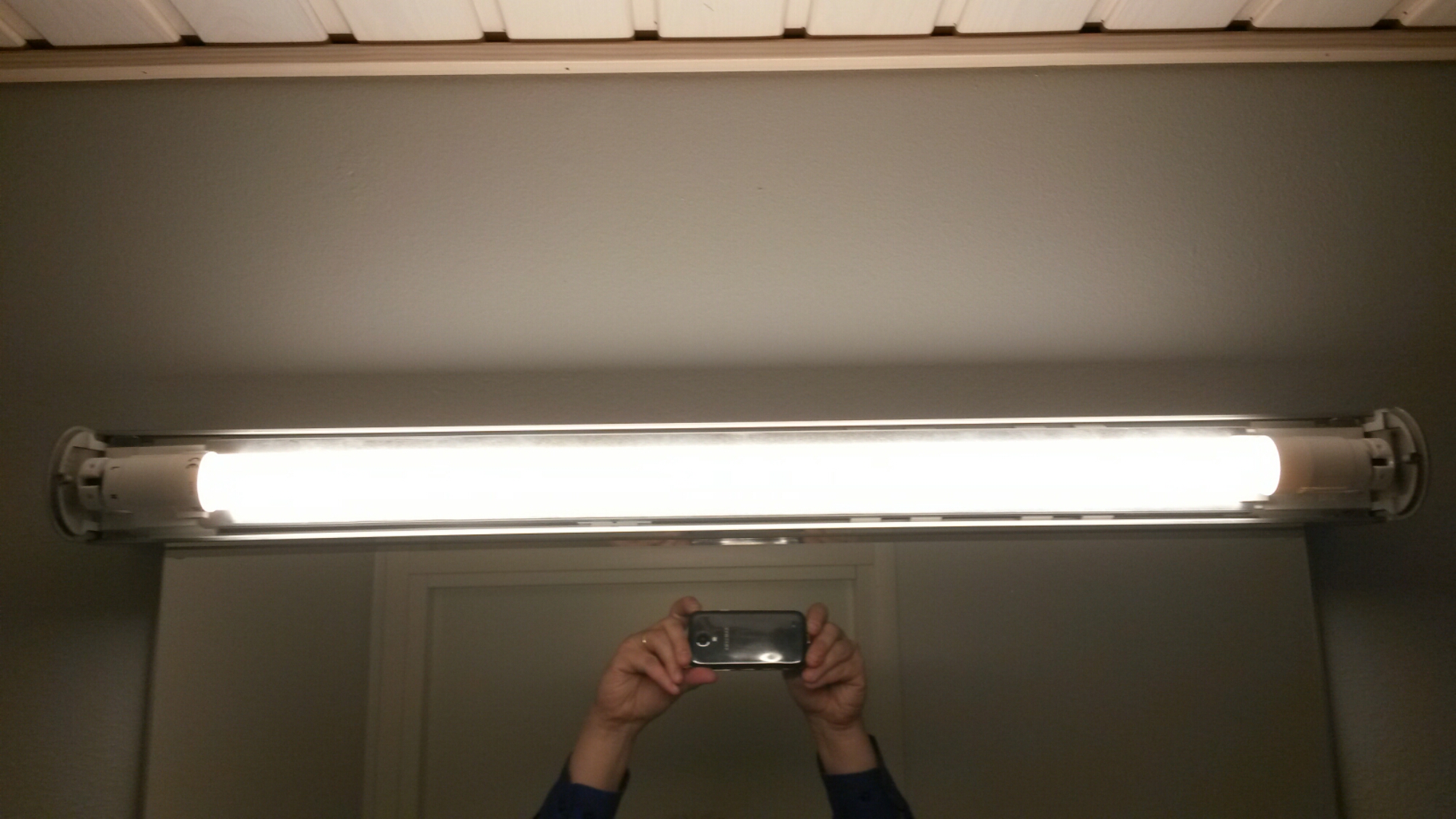 As you can see it replaced the 600 mm 18W traditional LED tube nicely. I was wondering on how much light it puts out compared to old bulb. A quick testing with my multimeter that has built-in light meter gave good results: Same light output 500 Lux from arms lenght from lamp. The biggest difference on the light was that the ends that do not give out light are considerably longer on the LED tube than original fluorescent lamps, so you don't get light all the way to the end on the lamp (was not a big issue on this lamp, looked still OK).
The package had also some instructions leaflet hat showed right usage on different kind of fluorescent lamps: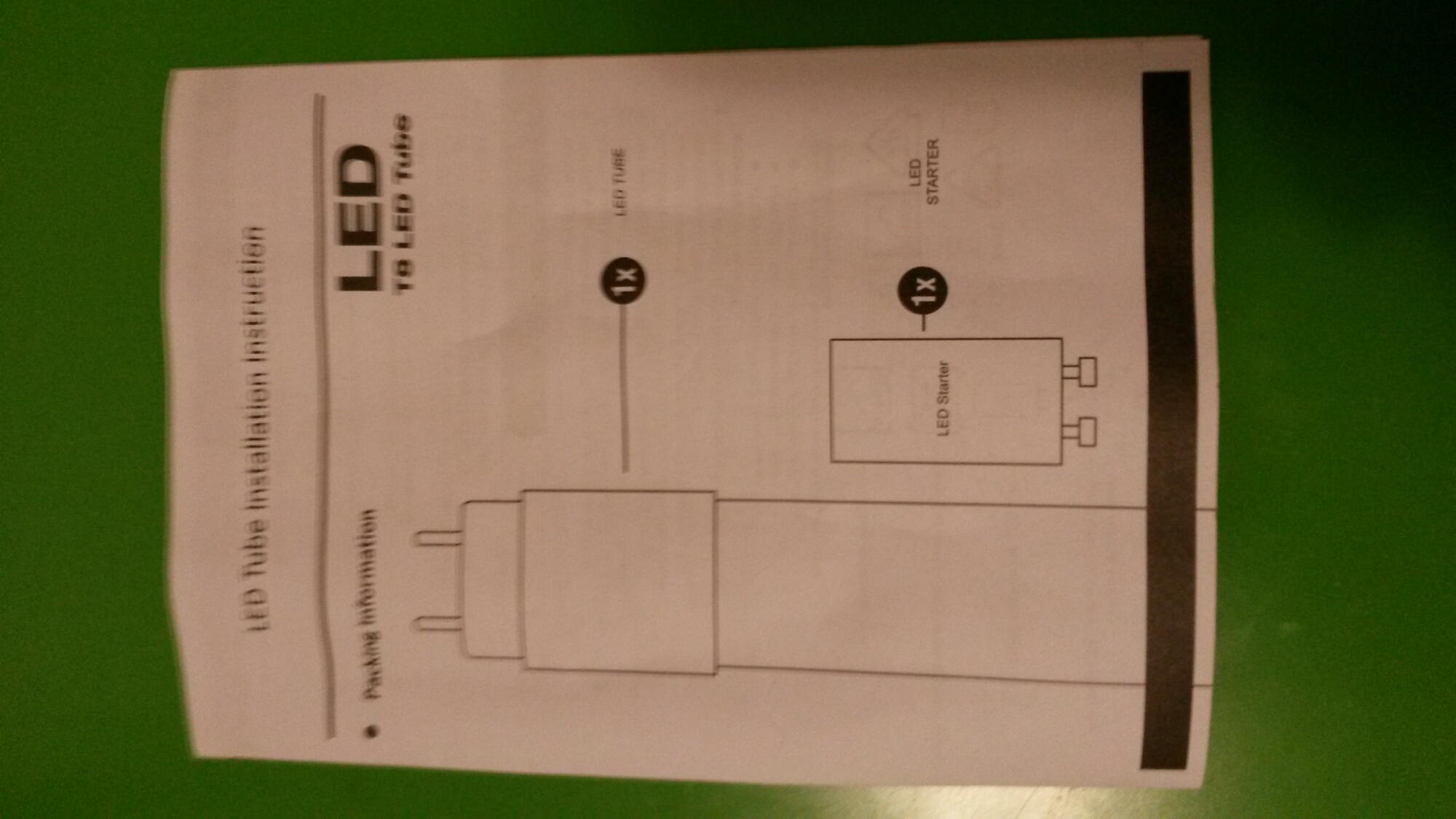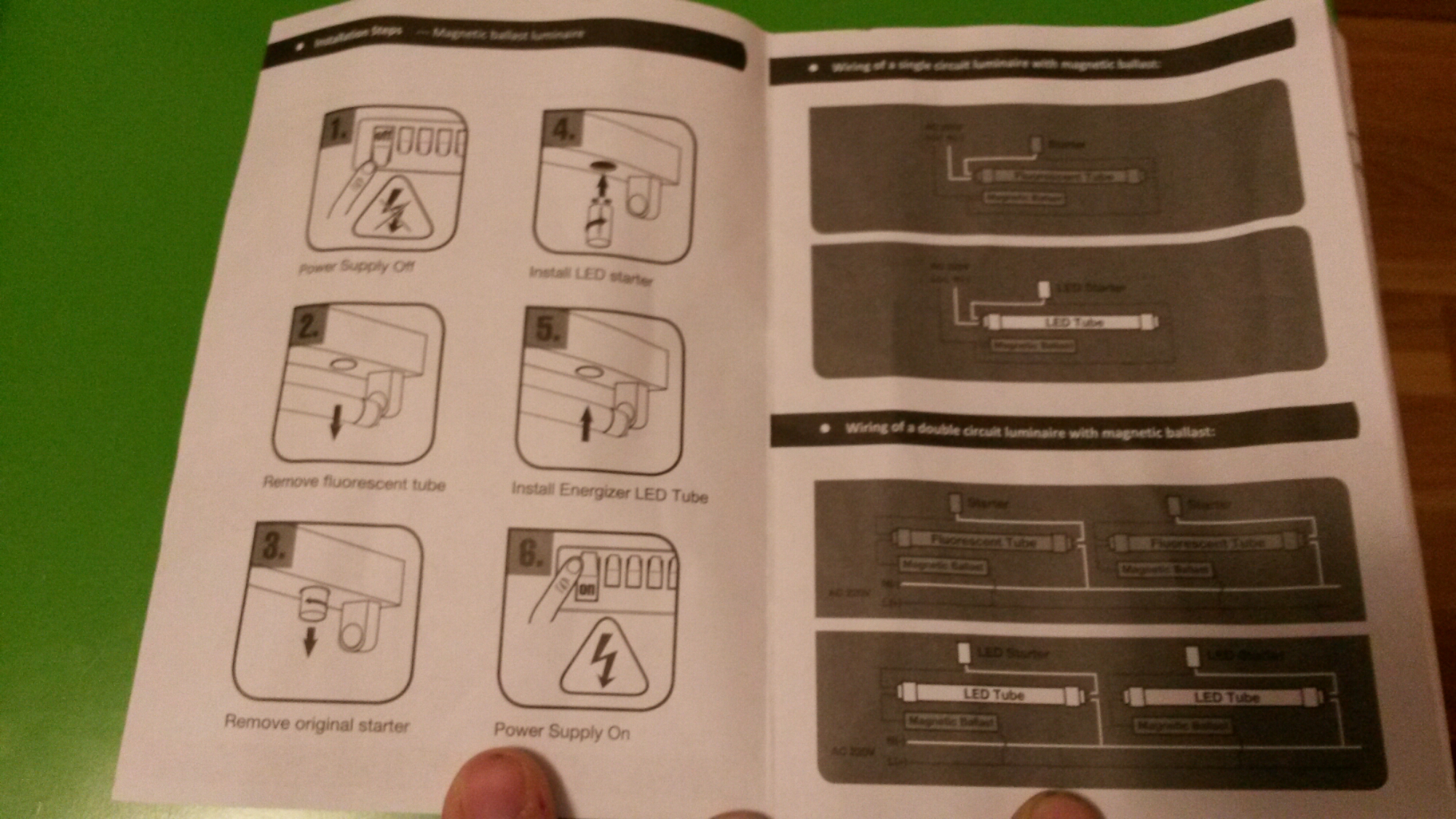 This LED tube seems to do well what is promised at least on my quick tests. It seems that LED technology has become a good alernative to old fluorescent bulb technology.

After this test I am ready to start replacing more of the fluorescent bulbs with LEDs.
Anyone have any recommendations for good replacement for compact fluorescent bulbs with G23 base to lamp that has two of them? It seems that bulbs with bigger G24 base are widely available (I have tested one G24 base LED bulb), but G23 base LED bulbs seem to be hard to find items. Any recommendation where to get them or does any manufacturer/shop has few free samples to test?