Three years ago few people other than hardcore gamers and those working in specialist industrial fields were still talking about VR. Now 360 degrees and VR videos is becoming a popular video format. Virtual  reality video is a new kind of video that gives you a sense of depth in every direction so you feel like you're actually there. 360 degrees vidoe allows you to look to any direction but does not give that sense of depth. Outside of games, music is almost certainly the most popular content type in VR right now. To view those videos so that you can feel you are in there, you will need virtual reality glasses or smart phone with Google Cardboard viewer. The YouTube video platform seeks to extend its lead in virtual reality with live immersive broadcasts as YouTube rolls out support for 360-degree live streams and spatial audio.
Companies including Facebook, Sony, Google and HTC have been investing heavily in headsets that people wear to experience virtual reality, exploring simulated environments through games or films. Critical to the success of these devices will be abundant, high-quality VR content. Even Queen legend Brian May has made a rival to Google Cardboard. YouTube has begun supporting 360-degree live streaming on its service to get us closer to the matrix. You put your smartphone into a portable device like a Google Cardboard or a Samsung Gear—or you use a more powerful computer-based setup, such as the Oculus Rift or the HTC Vive—and the device engulfs your field of vision and tracks your head movement. The filmic world is no longer flat. Wherever you look, there's something to see.
While the attention lavished upon the Oculus Rift and HTC Vive and Magic Leap, mobile VR is also expected to be big. From Your Phone's Next Superpower? Putting Awesome VR in Your Pocket article:  "While mobile VR may not trump PC-based VR gaming," says Nick DiCarlo, Samsung's head of immersive and VR products, "we do believe mobile VR can be the best when it comes to videos and social interactions." This makes sense when you consider two things. First, no other tech approaches the smartphone's scale: 6 billion people will own one by 2020, according to one report. And second, phones are relatively cheap¨. Because Android almost certainly will remain the world's dominant mobile OS, Google plays an integral role in VR. AR market will grow considerably in the commercial market, such as arts and culture. Real life experiences will soon have to compete against V.R. sports, V.R. concerts, V.R. shooting games, and V.R. porn.It is estimated that The virtual and augmented reality market will reach $162 billion by 2020.
Now that live virtual reality is hitting the mainstream, you need a camera to make it happen, don't you? How to make those 360 degree virual reality videos? You need some special tools.It looks like Affordable 360 Degree Camera Lets Anyone Create Virtual Reality Videos and The Race to Build the Best VR Camera is Escalating.
Commercial camera manufacturers are on the game
Collection of 360° Video Rigs web page tells that there are many different types of 360° video rigs, but not all of them capture the full 360×180° field of view (FOV). The page has good introduction to different ways to capture 360 degree pictures and videos. And link to mode detailed theory article 360° Video Fundamentals. The 7 Best 360° Cameras and Rigs for Shooting INSANELY Awesome VR Video article gives an overview on the 360 degree cameras that were available one year ago (09/2015). Check out also the list of the 10 best VR (Virtual Reality) headsets, too. What are the best 360-degree cameras? article lists several 360 degree camera choices.  The best and the cheapest 360 degree cameras and We Tested The Best 360 Degree Cameras Under $1000 articles list several interesting reasonably priced 360 degree cameras.
GoPro will start selling its six-camera VR rig on August 17th article tellst that GoPro has announced that it will open up sales of its six-camera "Omni" virtual reality rig when the company starts shipping preorder units on August 17th. The $5,000 setup includes six Hero 4 Black cameras, the cube-shaped metal housing, and all the hardware and software that is necessary to film and stitch the 360-degree footage that Omni captures. At $5,000, it sounds like a lot for consumers, but it's extremely reasonable for crews or productions who want to shoot high-quality immersive video on a relatively restrained budget. There is software backend that GoPro has developed for Omni: pop out the six microSD cards out of the rig and the software stitches the 360-degree footage from them. You can export YouTube- or Facebook-ready 2K, 4K, and even 8K versions of your footage. There are liminations: Omni can't shoot in 3D, so it's not the best for shooting really immersive VR footage. Omni rig will set you back: $5,000 for a bundle with everything you need (six cameras, Kolor software, smart remote, cables, memory cards, etc.).
Another somewhat  similar product is Freedom360 mount which holds 6 GoPros and lets you stitch the footage together for crazy-high-quality footage.
Double Robotics now lets you turn your telepresence robot into a 360 camera dolly article tells that Double Robotics wants its robots to move beyond telepresence by allowing it's telepresence robot is transformed into a remote-controlled camera dolly. The company has introduced a camera mount that can be affixed to its Double 1 or Double 2 robots and supports a 360 camera weighing up to five pounds.
A Drone Photosphere is Worth 4000 Times Pi Words article tells that some cheap drones now have a VR (virtual reality) mode to feed signal to a headset or a Google Cardboard-like VR setup, but they can be hard to fly because you can't move your head freely. MAGnet Systems wants to change all that with a lightweight spherical camera made to fit on a flying vehicle. The camera is under 2.5 inches square, weighs 62 grams, and draws less than 3 watts at 12 volts. It picks up a sphere that is 360 degrees around the drone's front and back and 240 degrees centered directly under the drone. The article lists also other potantial camera options: You can mount multiple GoPro cameras if you can afford the weight, but this seems much more practical both from a weight perspective and doesn't require software stitching.  There are other panoramic cameras like the iris360, the LG 360, the Theta S, and the Gear 360.
This Pocketable Camera Gear Will Change the Way You Take Travel Photos article tells about LG 360 CAM that looks like an asthma inhaler, but it's among the most futuristic pocketable cameras. Its dual wide-angle lenses capture a 360-degree view of its surroundings, which it renders as a spherical image that you can explore using your smartphone, computer or a virtual-reality headset. The $200 LG 360 CAM lets you capture full 13 MP 360° photos and record 360° video in 2K. Instead of a ball like Samsung's Gear 360 or a box like the Nikon KeyMission 360, this two-lens camera looks very similar to Ricoh's Theta cameras.
Nokia is alwo working on VR camera. The VR camera in question is OZO, a spherical camera that captures 3D film and video for use in virtual reality applications. By pointing eight different lenses in eight different directions, the Ozo can stitch together a spherical 3D video where you can turn your head to look in any direction. Put a VR headset on, and you can almost feel like you're there — wherever "there" might be. Aimed at content producers like film studios, it's priced at $60,000 (€55,000). Disney will use Nokia's virtual reality camera to film behind-the-scenes movie extras. Nokia is creating a live VR broadcasting option for its Ozo camera that will show 360-degree video as it happens, complete with spatial audio – already equipped to handle 4K resolution feeds.
Lytro Introduces 'Immerge' For Cinematic Virtual Reality article tells that Camera maker Lytro is hopping into virtual reality by announcing a product called "Immerge" which the company describes as "world's first professional light field solution for cinematic VR." Lytro wants to provide tools to shoot live action virtual reality. It built its "light field" solution from the ground up. The rig has a sphere containing five rings of light field cameras and sensors to capture video. The key is it's collecting all of the data from all directions at any given location. The output of the camera will be compatible with all of the big players' platforms and rigs, including Oculus', HTC's and Sony's, Lytro says. With Cinema, Lytro is specifically seeking out more traditional television and film producers to taste the benefits of light field technology in as rich a way as possible.
VideoStitch unveils the Orah 4i, a tiny 360 live streaming 4K camera article tells that there's no shortage of 360 cameras on the market these days. If you have a desire to shoot immersive video and possess a ton of disposable income then there's nothing stopping you! The issue is what happens to that content after it's captured – most of the captured content will not be visible to others. The Orah 4i is attempting to solve this problem by kicking all of its content onto the web instantly. Live-streaming VR content is pretty tough because of the complicated amount of video-stitching that has to take place to get each separate lens in on the action and contributing to the glorious 4K resolution. VideoStitch knows a thing or two about live-stitching 360 content. Orah 4i now can cop the camera and computing unit for $1,795, but once 4/30 hits, the device will be increasing "incrementally" to the final purchase price of $3,595.
The 'point and shoot' Vuze VR camera is coming this fall for $799 article tells that virtual reality cameras, on the other hand, tend to be either a few hundred dollars (e.g., Ricoh's Theta series) or somewhere in the five-figure range. HumanEyes is aiming to fill in that gap with its decidedly prosumer Vuze VR camera. Though bigger than a Theta or or Samsung's spherical Gear 360, the Vuze is still small enough to pocketable (depending on the size of your pockets, at least). It has eight full HD cameras, two on each side, each with 120-degree horizontal / 180-degree vertical fields of view. That setup allows it to capture stereoscopic 360 videos in 4K resolution at 30fps. An accompanying iOS / Android app is used for controlling the camera. The company says it will have "near real-time processing" (i.e., about one minute of processing per minute of footage) through its Vuze Studio app, that stitches the footage together using a variety of techniques.
Cars and other vehices can use 360 degree camera systems for added safety. ASL 360º Surround Camera System is a stand-alone system for industrial vehicles offering the operator a bird's eye real-time view of the vehicle and its surroundings. Socionext Simplifies Evaluation of 360-Degree Wrap-Around View System with New Solution Package press release tells about a 360 degree video development system for automotive and non-automotive applications. 360° Wrap-Around View (WAV) system combines the hardware, software and support services necessary for initial evaluation and development of the WAV system.
Open hardware designs exist
First 360-degree Video From An Amateur Rocket? article tells how Portland State Aerospace Society (PSAS) stuck a 360-degree video camera into their rocket.The 360-degree video was made from video captured by five GoPro cameras stuck inside a custom-built module mounted inside the rocket body, then stitched together by PTGUI for the final video. The 360° Camera page gives details on the camera rig construction.
PiZeroVR is an on-going project to build a low cost portable PiZero based 360 camera. The development idea is to associate the 3 fisheye cameras (Raspberry Pi Camera Module) on a triangle.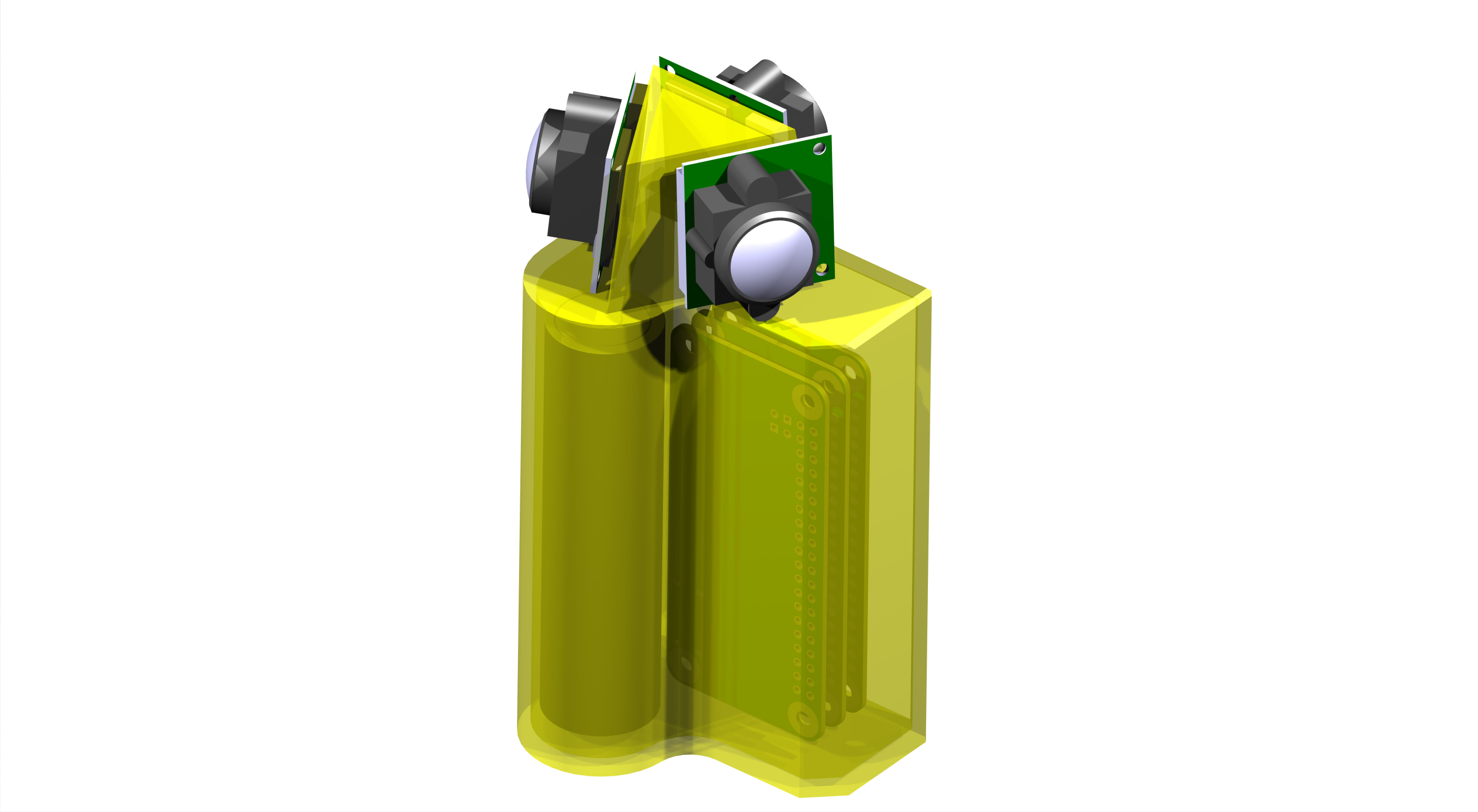 Facebook has designed a 360-degree video camera, and it's giving the designs away. Facebook's gorgeous, open-source 360-degree video camera is part of plan to dramatically increase the amount of 360-degree video on its platform. – can be seen as addition to Facebook Live Video API, which lets developers broadcast directly to Facebook from any device.
This is Facebook's gorgeous, open-source 360-degree video camera is the new state of the art. Facebook designed a $30,000 camera rig for 360-degree video to to give filmmakers a hand with creating better immersive videos.Shaped like a flying saucer, Facebook Surround 360 uses a 17-camera array and accompanying web-based software to capture images in 360 degrees and render them automatically. The rig includes 14 wide-angle cameras bolted onto the flying saucer, plus one fish-eye camera on top and two more on the bottom. The social-networking giant is offering filmmakers instructions for how to build that project Surround 360 camera designed to capture 360-degree video.Facebook believes its 17-camera setup might be more appealing because it includes software that marries the images together. Facebook has plans to release for everything from stabilizing 360-degree videos to improving data compression.Introducing Facebook Surround 360: An open, high-quality 3D-360 video capture system web page gives inntroduction to this Facebook 360 degrees camera.The system exports 4K, 6K, and 8K video for each eye. Many of the technical challenges for 3D video stem from shooting the footage in stereoscopic 360. Monoscopic 360, using two or more cameras to capture the whole 360 scene, is pretty mainstream. Consider the competition. Nokia offers a camera setup called the Ozo, which costs $60,000. GoPro, a manufacturer of extreme-sports cameras, has partnered with Google to sell its own take for $15,000.
Making VR videos takes more than camera
Music's Salvation Might Be Selling Not Songs, But VR article tells a strange thing about making VR videos: turns out it's really hard to show a rough cut. Even once you've done the complicated 360-degree shooting, and your computational algorithms have stitched all the footage together into something realistic and immersive, you still need to fine-tune the edits, sound effects, and visuals so you don't disorient your viewers (or worse). But don't concentrate now on that editing too much, because this posting is going to be about the camera technologies to make those videos.
Jesus is coming… to virtual reality article tells about the challenges of VR for film makers:Producers have been fretting about how to do feature films in VR, because the format doesn't lend itself to traditional Hollywood techniques. Film directors are used to controlling what viewers watch, constantly cutting between close-ups, swooping crane shots, special effects shots, etc. However, that doesn't work well with 360-degree VR, because the total immersion makes scene changes jarring. That's going to be the definition of how you tell a story: Are you an observer, or are you a participant?
Studio 360: The pioneers who are making the first virtual-reality narratives article tells howstorytelling pioneers are experimenting with GoPros, 3-D printers, and homemade camera rigs to invent a new medium, cinematic VR. The filmic world is no longer flat. Wherever you look, there's something to see. Three-hundred-and-sixty-degree camera rig picks up everything within view, including boom mikes, external lighting, and lingering crew members. It's possible to remove such visual detritus in postproduction, but this adds time and expense. The standard practice is to call "Action!" and then run and hide. V.R. "experiences," as they're often called, can be fictional or journalistic, narrative or open-ended. They can look like small-budget movies, big-budget video games, or experimental art pieces with no obvious precedent. Some are called "cinematic V.R.," or "V.R. storytelling." Cinematic grammar no longer applies. There is no frame in which to compose a shot. The viewer can look anywhere, so the director often adds subtle (visual or auditory) cues to indicate where to look. Tracking shots must be steady and slow, because too much camera movement can cause discomfort. Most V.R. experiences last only a few minutes; more sustained stories tend to be divided into episodes. It's not clear whether zoom lenses can be used in V.R.