The MIPI Alliance Inc. industry consortium has just released the specification for the Improved Inter-Integrated Circuit – or I3C – a sensor interface specification. The I3C is supersets the I2C specification. I3C is aimed to streamline sensor integration in smartphones, wearables, Internet of Things (IoT) devices and automotive systems. I2C has been the most widely used for sensors because its multidrop capabilities can support multiple sensors and its low-complexity and low-speed attributes help keep costs down. Yet I2C is not practical for quickly sending large amounts of batched data, which is necessary for many sensor applications (so somewhat more complicated and faster Serial Peripheral Interface (SPI for) was needed for some application).
The new MIPI I3C specification incorporates and unifies attributes of I2C with a comprehensive, low pin count and scalable interface and architecture. I3C incorporates key attributes of the traditional I2C and SPI interfaces to provide a new, unified, high-performing, very low power solution. Today high-end smartphones incorporate 10 or more sensors, with more than 20 signals, so a good fast interface is needed to connect them all easily.
The I3C standard specifies a single two-wire serial bus for MIPI a chip-to-chip interface that can connect all sensors in a device to the application processor. A key objective of the MIPI I3C specification is to build on the I2C ecosystem and capabilities while preserving the two-wire serial interface.  I3C llow seamless transition from I2C to I3C, because the MIPI I3C specification is backward compatible with I2C, allowing I2C slave devices to exist on the same interface as devices using the I3C specification. I3C can use clock rates up to 12.5MHz (10 Mbps with options for higher performance high data rate modes), which means that it provides more than an order of magnitude the bandwidth compared to traditional I2C (typically bus speed is 100 kbit/s or 400 kbit/s, but has fast modes 1 Mbit/s and 3.3 Mbit/s). The electrical interface is implemented with standard CMOS I/O.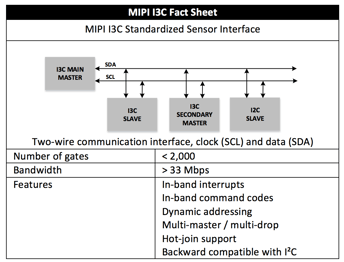 I3C allows in-band prioritized interrupts within the 2-wire interface, eliminating the need for a dedicated interrupt pin. I3C offers multi-master support and uses dynamic addressing and standardized commands to control the bus. It also offers advanced power management capabilities. MIPI I3C works equally well with standalone sensor/context hubs and with integrated hubs in the application processor. MIPI I3C is always more efficient than I2C.
Sources and more information:
Consortium Releases Sensor Interface Spec
MIPI I3C℠ Sensor Specification
Complimentary Whitepaper:  Introduction to the MIPI I3C Standardized Sensor Interface
I3C specification updates I2C for sensor subsystems
MIPI Creates the I3C Sensor Interface
I3C sensor interface set to superset I2C, SPI
MIPI I3C Provides a Unified, High-Performing Interface for Sensors