Sometimes you wish you had a very small basic oscilloscope that would be easy to carry around as tool for those situations where you need to more measuring that can be done with your multi-meter. One day I found an oscilloscope kit DSO150 while browsing the banggood.com site. This model was originally only available as a kit with a case, but later became available also as ready made device.
I got finally Original JYETech Assembled DSO-SHELL DSO150 Digital Oscilloscope Module 9V 9 that is a ready build pocket scope in case. The packet came with oscilloscope probe.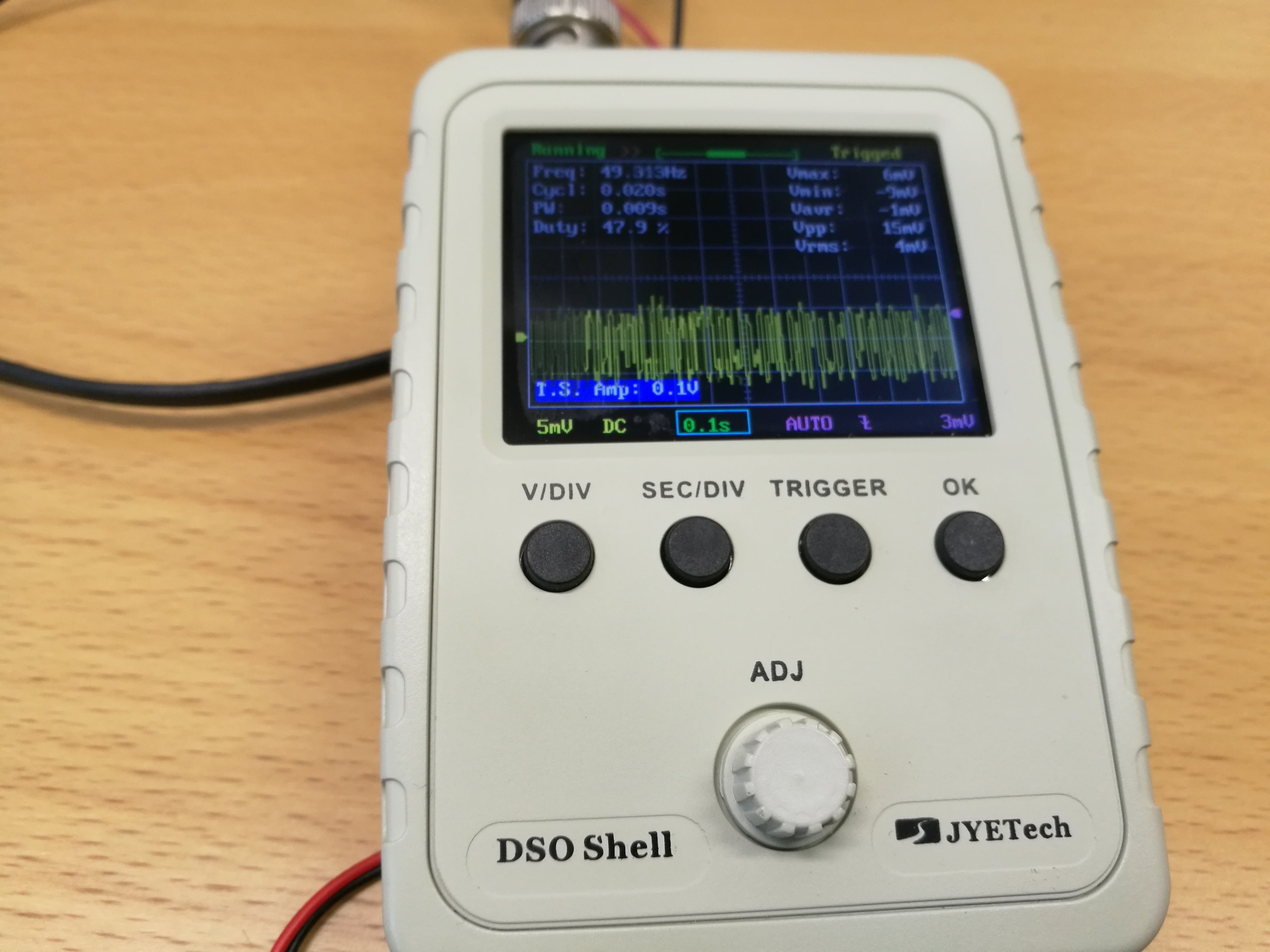 Input bandwidth: 0 Hz to 200 kHz
2.4-inch color TFT LCD with 320 x 240 resolution
Number of channels: 1
Sample rate: max. 1 MS/s
Input sensitivity: 5mV/Div – 20V/Div

Input Impedance: 1M ohms

Maximum input voltage: 50Vpp

Coupling: DC, AC, GND

Vertical error: <5 %
Vertical resolution: 12 bit
Time base: 10 µs/Div to 500 s/Div
Memory depth: 1,024 Samples
Trigger modes: Auto, Normal, Single
Trigger types: Rising/falling edge
Trigger position: 1/2 of buffer size fixed
Calibration signal: 1 kHz / 3.3 V square wave
HOLD function (capture a transient event)
Transient store and replay (save/recall waveform function)

Supply current: 120mA @ 9V

Dimension: 115mm x 75mm x 22mm

Weight: 100 gram (not including cables and power supply)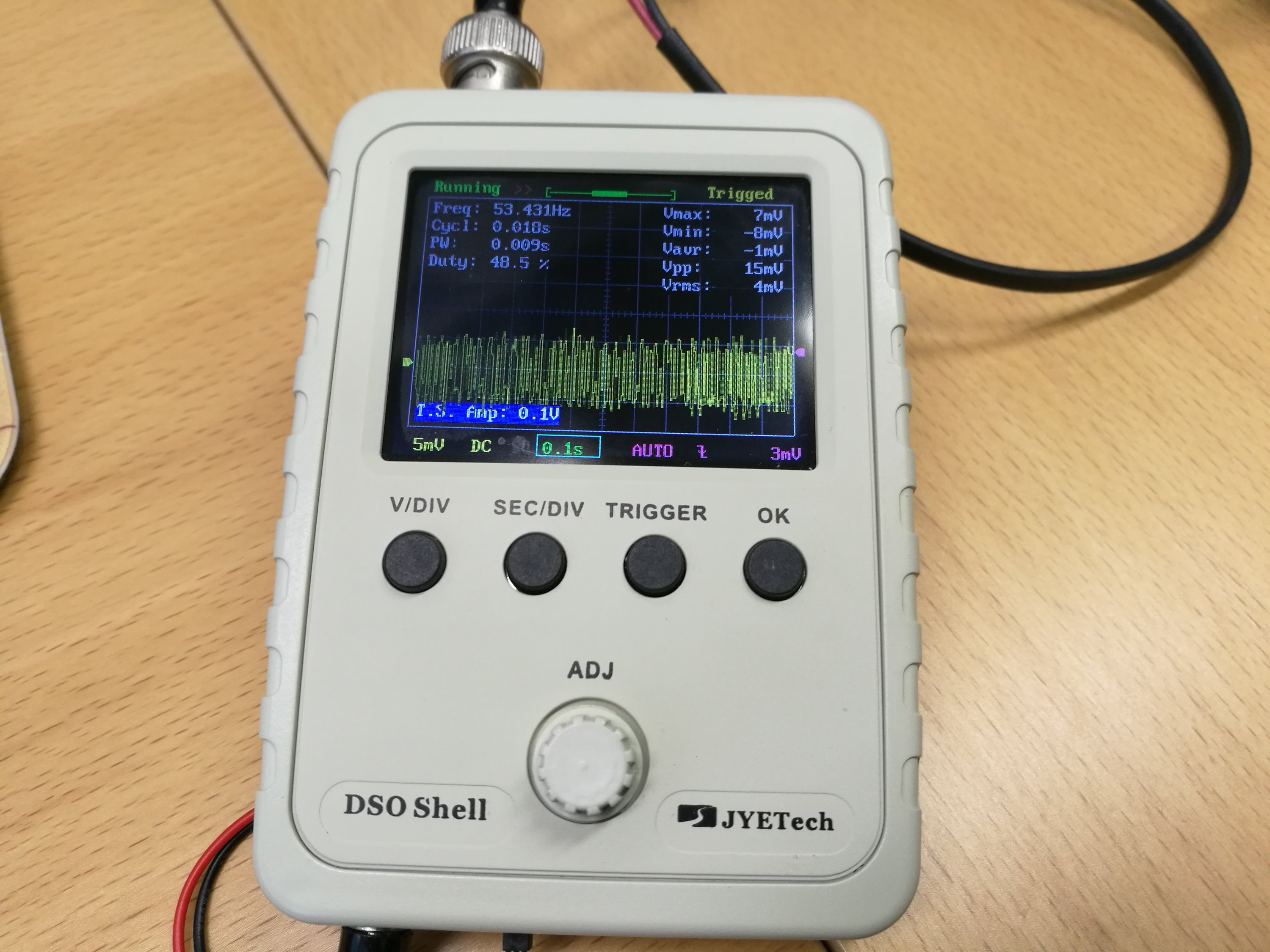 Apart from the input coupling selector switch, the entire operation is controlled by four push buttons and a rotary encoder.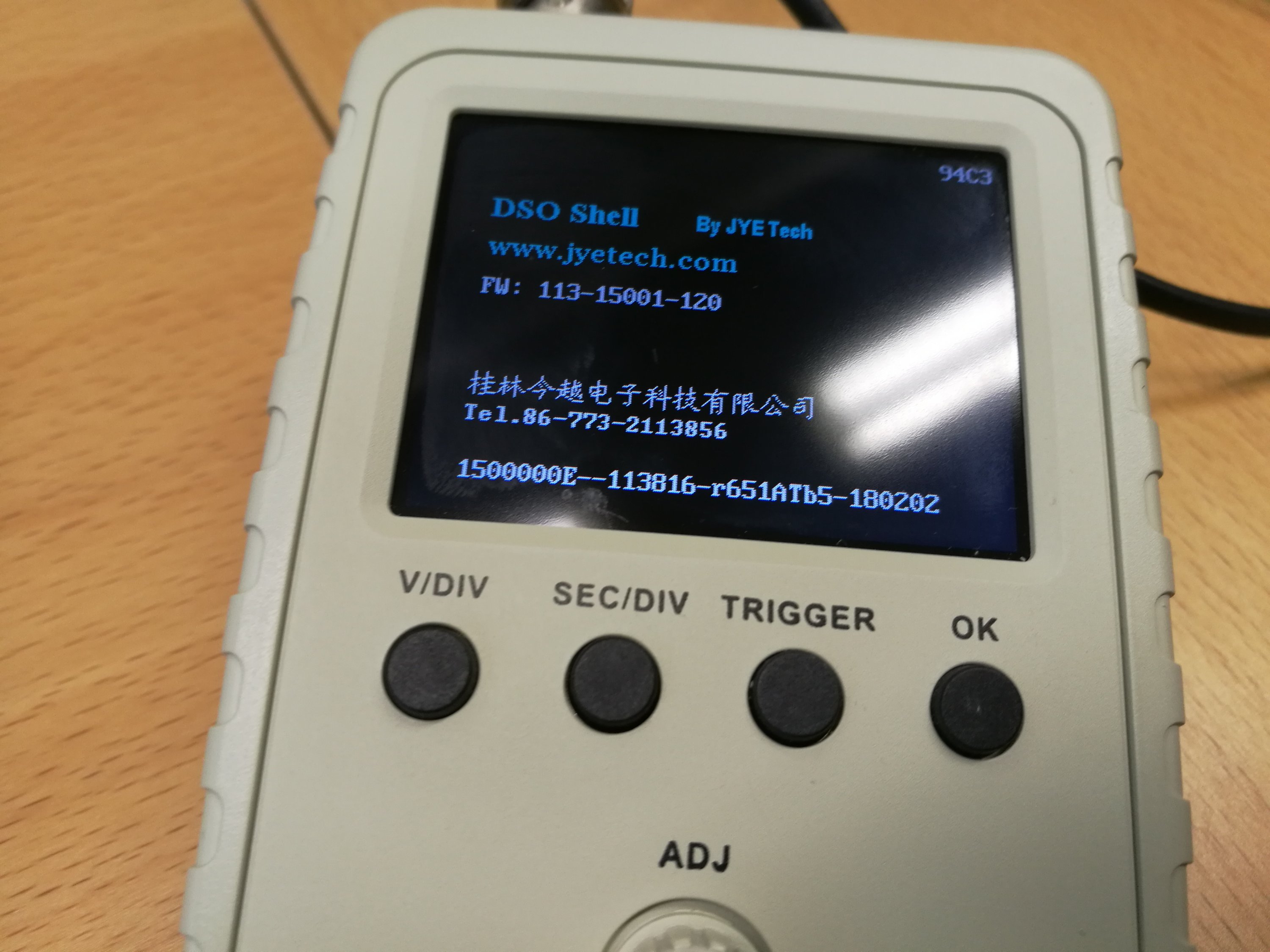 DSO Shell runs on 9V (do not use power voltage higher than 10V!) power supply. Users need to prepare their own power supply since it is not included in the kits. The power jack on the mainboard accepts standare 5.5mm/2.1mm DC plug. Supply current is 120mA @ 9V so I can make it to work with small 9V battery (but not very many hours constant use).
It would be nice to have a battery inside device. There is an alternative 2-pin connector (0.1″ pitch) for supplying power inside device, but inside the small case (115mm x 75mm x 22mm) full of electronics I don't see there space for batteries. I ended up using external 9V battery that I fixed to the back of case with dual-sided tape. It is not most elegant, but works.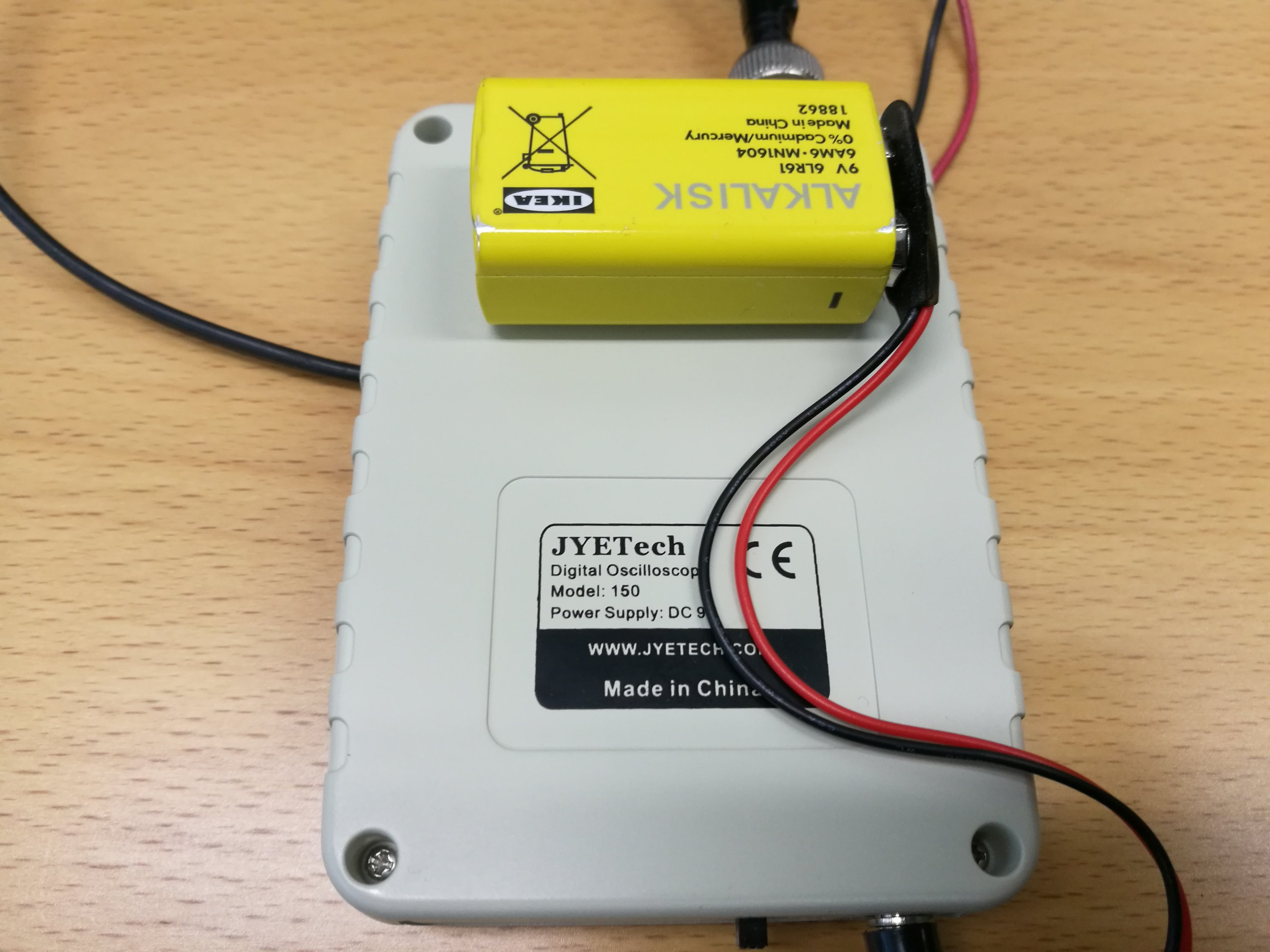 There is one drawback is that the circuit design is not very stable against voltage changes.The zero level disappears easily as the supply voltage levels changed. A quick look at the supplied schematic was enough to identify the problem: the DSO150 doesn't use voltage regulators to stabilize the input amplifier supplies! Also a Zener diode circuit is used to provide the input voltage offset level for the ADC is less than optimal. The voltage offset is a digital value added or subtracted from the measured input samples by the MCU.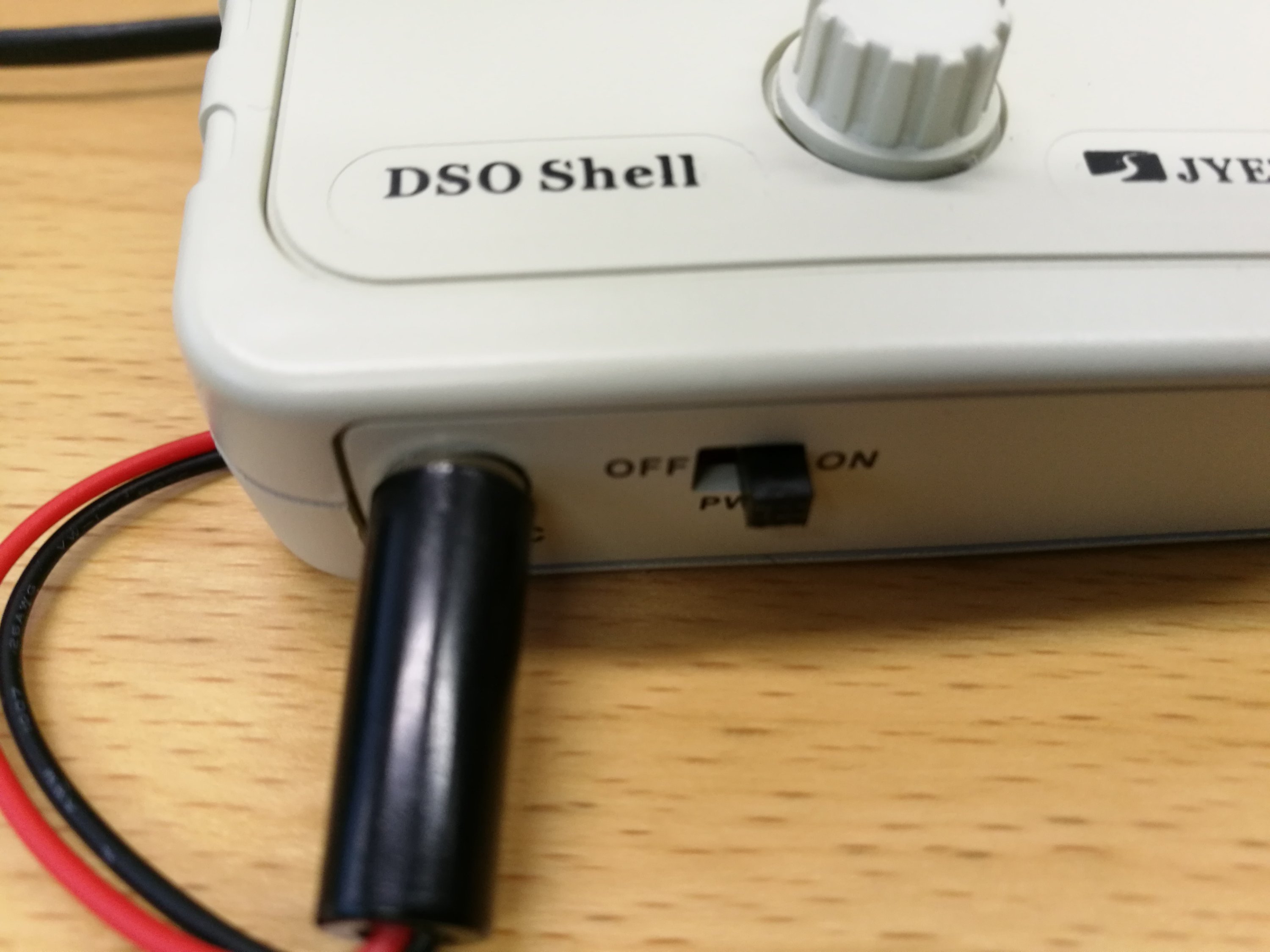 The electronics in this scope is based onSTM32F103C8, which is an ARM Cortex A3 MCU from ST. The MCU also contains a built-in fast ADC (1 Msample per second 12 bits). It offers a resolution of 12 bits and an input voltage range of 0 to 3.3 V so that 1.65 V corresponds to the zero level on the display. In this circuit the offset is a digital value applied to the measured input signal value.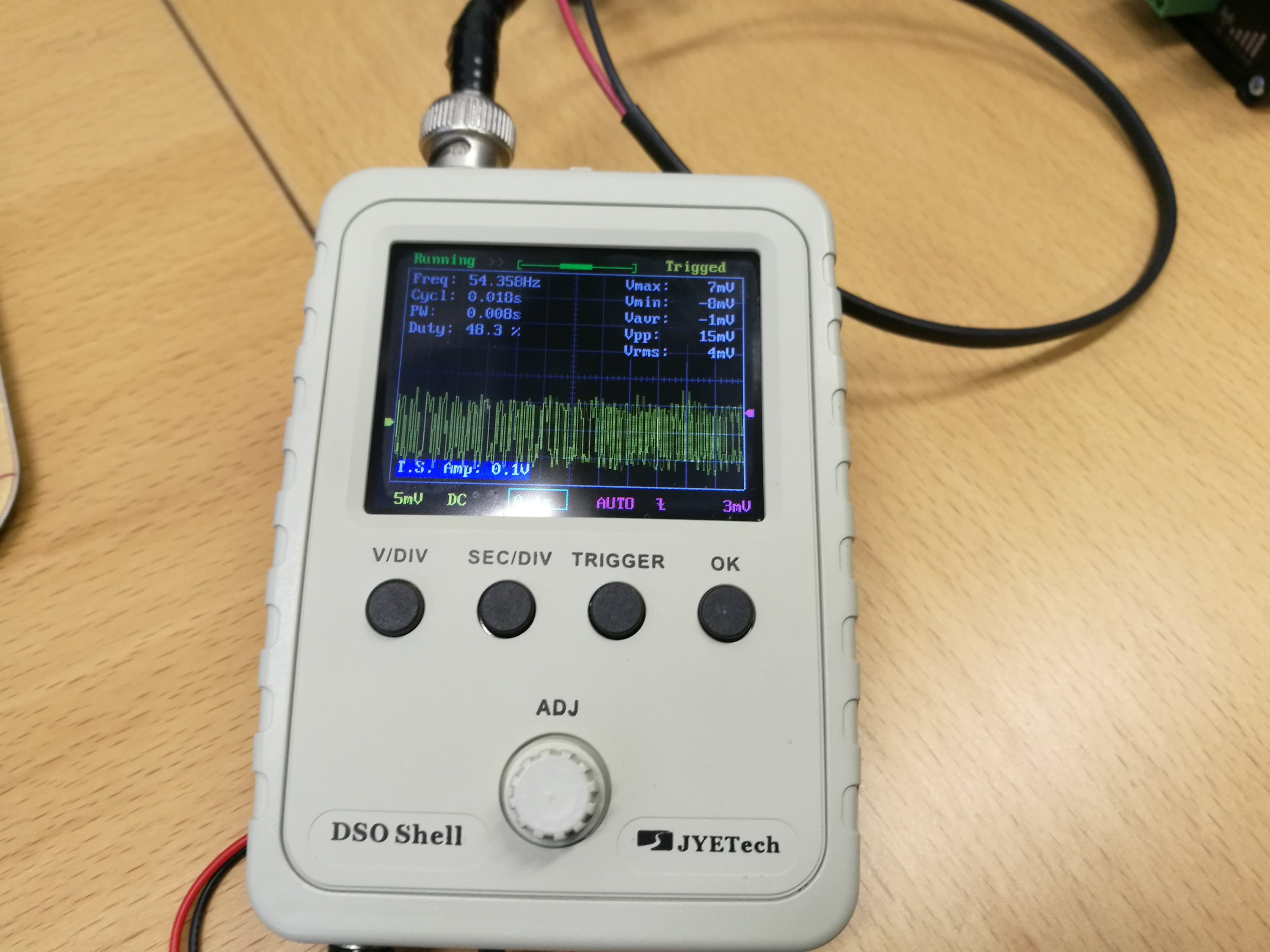 Still even with limitations this mini scope is more than a simple toy and I have found it to be quite usual as a second scope. At €20-30 the unit is really low cost when you consider that includes shipping from the Far East. DSO150 offers quite good performance at low cost as long as you are happy to put up with some minor niggles.The pocket oscilloscope has worked for me well when working with audio frequency circuits. Due the limited bandwidth (only 200 kHz) this scope is not suitable for debugging video circuits or any high speed electronics.
The following videos show clearly what electronics is inside this device (don't need to do tear-down myself):
DIY $20 Oscilloscope
What is inside
DSO Shell (DSO150) 15001K Oscilloscope Build
Manuals, circuit diagrams and more information:
Firmwares: Click to open
Users Manual: Click to open
Mainboard Schematic: Click to open
Analog board Schematic: Click to open
How to Use the DSO150 Library: Click to open
Source codes: Click to open
FAQ, Tips, and Troubleshooting: Click to open
This is open hardware in a sense that both hardware and software designs are freely available on-line. Source codes for DSO Shell (DSO150) from JYE Tech is available at https://github.com/JYEtech/DSO-Shell-open-source-version-. They are not an exact copy of factory codes (e. g. product testing codes are not included) but have completely the same functions and performance of matching revision. The codes are built with support of the library file libdso150.a, which implements the core DSO functions.
Modification ideas:
DSO150 Shell Li-Po Battery Mod
https://www.youtube.com/watch?v=r0_PCgIMGJc
JYE Tech DSO150 Shell firmware update tutorial
https://www.youtube.com/watch?v=PUEimY59vaU
JYE Tech DSO150 Shell firmware update tutorial