This post is about European mains power. Electricity in EU countries conforms to the European standard, coming out of the wall socket at 230 volts alternating at 50 cycles per second. While the voltage and frequency are fixed, the mains connectors and wiring practices can vary between different countries in Europe.
One thing to note on European power outlets is this: In most European countries mains outlets are not polarized, and you can put the plug in both ways, so you almost never know which wire is live and which is neutral. Typically, Europeans do not maintain consistent identification of line and neutral throughout their power system as is the practice in North America. Consistent with this practice, the Continental European plug can be rotated to either of two positions and plugged into the socket. Thus, the common electrical system in Europe is unpolarized (i.e., line and neutral are connected at random). In fact, most plug types used in Europe are not polarized. The ungrounded plugs have been non polarized, grounded outlets are either polarized or non polarized depending on country.
History of European 230V power
Europe's power grid, the world's most interconnected, is set at 230 volts (an EU standard since 2008). Before that the voltage standard had been 220V (most countries) or 240V (UK and Ireland).
It was the Germans who introduced 220V AC power in Europe over 100 years ago. It was around 1893 when the AC frequencies were standardized at 60Hz (US) and 50Hz (Europe). At that time there were some systems that used 120V and also 220V systems. Europe had developed its 220-volt (now 230-volt) system after learning from the American experience, and before any massive infrastructure changes would be required. Cost was the main reason Europe went with 220 volts (now 230): higher voltages allow the use of thinner wire, meaning less copper in the early days of power lines. Power companies could save money on wire by using 220 volts rather than 110. This became the model for electrical distribution in Germany and the rest of Europe and the 220-volt system (later 230-volt) soon became the European norm.
Single phase power in Europe The nominal European voltage is now 230V 50 Hz (formerly 240V in UK, 220V in the rest of Europe). European mains voltage is presently specified as being 230 V+10%/−6% (253-217V) specification will broaden to 230 V±10%, requiring electrical goods to operate correctly on a supply anywhere between 207 and 253 V. The "harmonised voltage limits" in Europe are now: 230V -10% +6% (i.e. 207.0 – 243.8V) in most of Europe (the former 220V nominal countries) 230V -6% +10% (i.e. 216.2 – 253.0V) in UK (former 240V nominal) his is really a fudge and means there is no real change of supply voltage, only a change in the "label", with no incentive for electricity supply companies to actually change the supply voltage. To cope with both sets of limits an equipment will therefore need to cover 230V +/-10% i.e. 207-253V.
Outlet wiring
Modern European 230V (50Hz) supply feeding the mains outlet consists of 3 wires that are typically: hot, neutral, and safety ground. The 230V (50Hz) is obtained between the hot and neutral lead. The current available from the outlet depends on the maximum current rating of the breaker in mains panel that is normally 10A or 16A (in UK there are maximum 13A fuse inside mains plug). Older building can have older outlets that do not offer grounding on "safe" locations (normal rooms) and grounded outlets on "dangerous" locations (like outdoors, washing room, kitchen).
There modern colors used in house wiring in Europe are based on IEC standard: GREEN with YELLOW stripes is Ground, BLUE is Neutral, and BROWN is Live. The typical wire thickness (for live, neutral and ground) is either 1.5 mm2 (for 10A circuits) and 2.5 mm2 (for 16A circuits). The extension cords typically are built using 1.5 mm2 cable. The cables feeding equipment are typically use 1.5 mm2, 1 mm2 or 0.75 mm2 wires depending on the power equipment uses.
There is not usually hard guarantees which hole on the outlet is neutral and with is live. The hot and neutral wires are interchangeable as far as the equipment is concerned (be warned that there are some exceptions in some countries). Both are power carrying wires. In many parts of Europe (nordic counties, Germany etc), the normal 3-wire receptacle is symmetrical so that the neutral and hot wire connections can be swapped by simply rotating the plug.
There is not even guarantees that one of the side is neutral, because it is possible that in some locations both the mains outlet power carrying contacts can be "live" with 230V between them. On some countries (for example some locations in Norway and some old installations on some other countries) both current carrying wires on outlet can be "live". In hospitals the mains outlet designed to be used for medical equipment could be powered from safety isolation transformer, so neither side is "neutral".
In most parts of Europe the mains wiring is is wired as radial system, which means that there is a straight wire that comes from the mains panel to the fixed load or mains outlet. There can be one or more than one outlet connected to the same wire. That wiring is protected with with a breaker or fuse (typically rated for 10A or 16A depending on how much current is needed and how thick wires are installed). In modern installations there is normally a 10A or 16A breaker on the mains panel that disconnects the live wire when there is short circuit or overload and neutral side is not protects. In addition in modern installations there is usually also a ground fault protector that protects one outlet or a group of outlets. In locations where both sides of mains outlet are live, two pole breakers are used (disconnect both wires going to outlet if there is overload or short circuit). UK is a special case because there residential installations use Ring circuit wiring where the mains plugs have a built-in fuse.
Mains plugs
The standard, Class I grounded mains, plugs used in Germany, Austria, the Netherlands, Sweden, Norway, Finland, and Russia are the CEE 7/4 and CEE 7/7 plugs. Because this standard is used so commonly throughout Europe, we refer to it as the "Continental European" standard. Both styles have two 4.8mm round contacts on 19mm centers. s the "Continental European" standard. Both styles have two 4.8mm round contacts on 19mm centers. Grounding is achieved through the grounding clips on the sides of the plug body.
The CEE 7/7 plug also has a female receptacle, which permits it to be plugged into the French/Belgian sockets that have a male grounding pin.
SCHUKO plug
German (type F, CEE 7/3 socket, CEE 7/4 plug, Schuko) is the most common mains power socket in Europe. The most common socket in Europe is the Schuko (Schutzkontakt is German for 'Protective contact'). The plug has two pins, and along with the socket can be identified by the two metal earth contacts on each side. Schuko is a standard used primarily in Germany and Austria, Finland, Sweden, Norway and several other countries.
The SCHUKO is rated at 230v 16A, and has two 4.8mm x 19mm pins. The metal contacts at top and bottom of the outlet are the "Schutzkontakte", i.e. earth. Because the plug is symmetrical, there is no way to know which line is hot and which is neutral for a device. Only earth is always the same.
A typical SCHUKO outlet has three electrical connections, which are the "hot", "neutral", and "grounding" wires. The hot and neutral wires are interchangeable as far as the equipment is concerned. The normal SCHUKO 3-wire receptacle is symmetrical so that the neutral and hot wire connections can be swapped by simply rotating the plug. SCHUKO plug can be connected either way around, and there is no strong convention as to whether sockets have the live wired to the left or right side of the receptacle.
The Schuko system originated in Germany. It is believed to date from 1925 and is attributed to Albert Büttner, a Bavarian manufacturer of electrical accessories At this time Germany used a 220 V centre tap giving 127 V from current pins to earth, which meant that fuse links were required in both sides of the appliance and double pole switches. Variations of the original Schuko plug are used today in more than 40 countries, including most of Continental Europe.
Why it is not important where we connect our hot and neutral wire when connecting them to our Schuko plug? Is it because current flows in both directions and equipment are designed to cope it. This inherently stupid sounding power plug design from 1925 that is safe enough when certain limitations are met. While obviously not ideal, this symmetry is not a big problem so long as all appliances are built in such a way as to be still safe when the two main wires are swapped. As almost everything is being produced for a global market today, in practice this is always the case – or at least manufacturers always claim and usually provide it. It is UTTERLY ESSENTIAL that anything it is used with may be safely used with phase and neutral in either of the two possible arrangements.
The SCHUKO connector is pretty safe design. Overall though, there aren't millions of people being electrocuted by Schuko. In fact, it's generally one of the lowest risks out there because the plug is pretty well designed to be be safe. SCHUKO plug used in some of the most conservative and safety conscious regulatory environments, such as the Nordic region. So, it's hardly a major risk or concern.
When you insert SCHUKO plug into the socket, the earth connector makes contact first and then the live prongs. By the time an electrical connection is made, there is almost no gap left between the socket and the plug, no room for an inquisitive toddler to put his fingers or other conductive objects. There are also safety shuttered outlets, where the shutters on SCHUKO sockets have to be pressed simultaneously in order to push them aside. Pushing only one will not make it slide away.
Schuko plugs are required for devices with metal cases, the case needs to be connected to earth ground in several places, so any electrical fault would connect line to earth or neutral to earth. SCHUKO sockets also accept non-grounded EURO plugs that are used on "dual insulated" equipment that are designed to be safe to be operated without ground.
SCHUKO design is very safe for users to use. When inserted into the socket, the Schuko plug covers the socket cavity (1) and establishes protective-earth connection through the earth clips (2) before the line and neutral pins (3) establish contact, thereby preventing users from touching connected pins. A pair of non-conductive guiding notches (4) on the left and right side provides extra stability, enabling the safe use of large and heavy plugs (e.g. with built-in transformers or timers).
Some countries, including Portugal, Finland, Denmark, Norway and Sweden, require child-proof socket shutters; the German DIN 49440-1:2006-01 standard does not have this requirement.
FRANCE plug
The second most common socket is the French type, which like the Schuko is rated at 230v 16A, and has two 4.8mm x 19mm pins. France, Belgium, the Czech Republic, Slovakia and Poland use the CEE 7/6 plug and CEE 7/5 socket with the same size and spacing of the main pins as SCHUKO but with a male protective-earth pin on the socket instead of the earth clips, and without the guiding notches at the sides. The earth connection is made by an earth pin which protrudes from the socket, and engages with a hole in the plug.
The protruding earth pin means that the plug can only be inserted one way around, but the major issue is that until 2002, there was no convention as to whether sockets had the live wired to the left or right receptacle You therefore have a 50:50 chance of it being wired "the correct way" and unlike with the Schuko socket, you cannot rotate the plug 180 degrees.
In order to bridge the differences between German and French standards, the CEE 7/7 plug was developed. It has a hole to accept the earth pin on a French socket, and side strips to connect to the earth clips on the side of German sockets. Most modern moulded Schuko plugs, and good-quality rewirable replacements, are a hybrid version ("CEE 7/7″) with an aperture that accommodates the earth pin of CEE 7/5 sockets.
Other outlet types
Denmark and Greenland use their own 16A socket. The socket looks quite similar to a Schuko/French socket, but the grounding is different than in those (third pin on socket). Denmark also supports using French sockets and Schuko sockets.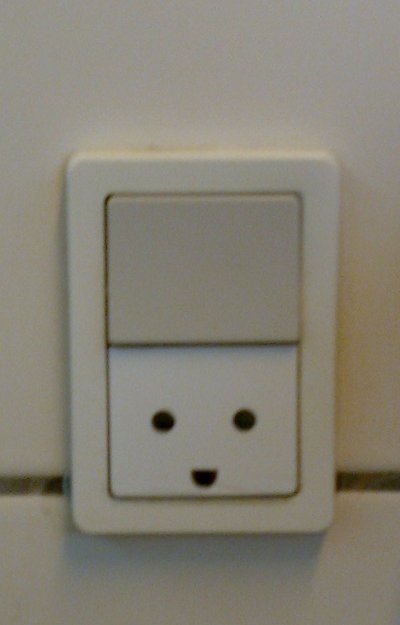 Historically Italy has had its own specific three pin plug and socket, available in 10A and 16A versions. Many modern sockets will accept both 10A and 16A plugs. Many buildings now have the Bipasso/Schuko socket, which can be used with both Italian and Schuko plugs. Also Switzerland and Liechtenstein use their own specific three socket, available in 10A and 16A versions. Britain has it's own set of mains outlets that are different from ones used in continental Europe.
Europlug
The Europlug is a flat, two-pole, round-pin domestic AC power plug, rated for voltages up to 250 V and currents up to 2.5 A. It is a compromise design intended to connect low-power Class II appliances safely to the many different forms of round-pin domestic power socket used across Europe. It is compatible with SCHUKO, France type outlet and several other outlet types in use in Europe (except UK outlets).
The Europlug design, intended for use with socket-outlets meeting other standards, appeared first in 1963 as Alternative II of Standard Sheet XVI in the second edition of CEE Publication 7 by the contributing members. The Europlug is therefore sometimes also referred to as the "CEE 7/16 Alternative II plug" or simply as the "CEE 7/16 plug".
It is a small size plug that allows compact power cables and mobile phone changers. Europlugs are only designed for low-power (less than 2.5 A) Class II (double-insulated) devices that operate at normal room temperature and do not require a protective-earth connection. The Europlug is designed to be compatible with mains socket types C, E, F, and K (all have 4.8 mm holes with centres spaced 19 mm apart).The Europlug is not designed to be compatible with mains sockets used in UK.
The dimensions of the Europlug were chosen for compatibility and safe use, such that with continental European domestic power sockets. The plug is designed so that a reliable contact is established when the plug is fully inserted and no live conductive parts are accessible while the plug is inserted into each type of socket: it is not possible to establish a connection between one pin and a live socket contact while the other pin is accessible.
The pins of the Europlug are 19 mm long. They consist of a 9 mm long conductive tip of 4 mm diameter with a rounded ending, followed by a 10 mm long flexible insulated shaft of not more than 3.8 mm diameter. The two pins are not exactly parallel and converge slightly; their centres are 17.5 mm apart at the tip and 18.6 mm apart at the base. The elasticity of the converging pins provides sufficient contact force for the Europlug's current rating with a variety of socket-hole arrangements.
Europlugs are designed to be non-rewirable and must be supplied attached to a power cord. Europlugs are designed to be used with 'double-insulated' or 'all-insulated' apparatus is made which does not require earthing. Double insulation means what its name says, and all live conductors are separated from the outside world by two separate and distinctive layers of insulation. Each layer of insulation would adequately insulate the conductor on its own, but together they virtually negate the probability of danger arising from insulation failure. Typically the double insulated devices are built into insulating plastic case, but in some case also metal case is possible (for example on amplifiers, CD/DVD players and VCRs). Double insulation avoids the requirement for any external metalwork of the equipment to be protected by an earth conductor.
Three phase power
In northern and central Europe, residential electrical supply is commonly supplied with 400 V three-phase electric power, which gives 400V between phases and 230 V between any single phase and neutral. This three phase power system is called THREE-PHASE STAR; FOUR-WIRE; EARTHED NEUTRAL system. Electric power distribution throughout Finland and many parts of Europe is made by 230/400Vac, 3 phase, four wire, Multiple Earth Neutral (MEN). Typically one or three phases are brought into the customer's premises depending on the maximum demand. Three phase power is normally available in at least Finland, Sweden and Germany being used for ovens, electric stoves, large motors and dryers. Three phase power is also typically available in places where large sound and light systems are used (around stages etc.) and in construction sites. Three phase outlets typically use industrial CEE FORM connectors for three phase temporary power output (typically 3x16A or 3x32A).
When three phase power is used (for example in industrial applications, construction sites and concert AV systems) the most common connector type is five pin CEEFORM connector.
Safety issues on lamps sockets
Edison screw (ES) is a standard lightbulb socket for electric light bulbs. It was developed by Thomas Edison, patented in 1881. Edison screw has been the most commonly used light bulb socket for general lighting for very long time. In Europe the most commonly used Edison light bulb socket sizes are E27 (ES) and E14 (Small ES, SES) with right-hand threads.
For bulbs powered by AC current, the thread is generally connected to neutral and the contact on the bottom tip of the base is connected to the "live" phase. This works for fixed installed lights, but for lamps that are plugged in to the mains outlets, you don't know which wire going to socket will be live or neutral. Or this reason a "safer Edison" light bulb socket has been developed and is commonly used. That socket has contacts on the bottom and not connected to scree threads (that can be made of metal or plastic). Having the contacts on the bottom of the socket makes the light socket safer to handle when changing the light bulb.
The bulb starts to makes contact with live and neutral contacts on the socket bottom only when it is screwed pretty much full into the socket. The bulb is screwed in at the time so much that the user can't anymore tough the metal threads of the light bulb.
Wire size and fuses
In continental Europe the breakers/fuse sizes used in the breaker panel are normally 10A or 16A. The wire size inside the wall is normally 1.5 mm2 for outlets protected with 10A fuse/breaker. When the circuit used 16A fuse/breaker, thicket 2.5mm2 wire is normally used to them. The grounded outlets have three wires going to them: live, neutral and ground.
The extension cords are typically built using 1.5 mm2 flexible wire, because it can handle current up to 16A without heating too much (will get somewhat warm on full 16A). Long extension cords for heavy use sometimes use 2.5 mm2 wire thickness.
The cables feeding equipment are typically use 1.5 mm2, 1 mm2 or 0.75 mm2 wires depending on the power equipment uses. The 1.5 mm2 wire is OK for full continuous 16A current, while 1.0 mm2 can handle 10A. The thin 0.75 mm2 wire can handle only 6A current. Those thinner wires are allowed and even safe even on circuit protected with 16A breaker/fuse on the conditions that the equipment being powered is protected so that it can't take more power than the wire can handle (fuse inside rated to power it takes for example) and the mains cable when faces short circuit will trips the up to 16A fuse/breaker before the cable starts to melt.
Equipment design
All devices should be designed to expect live on both mains power carrying wires, because configurations where either one of them can be live or neutral are possible. Under the European Low Voltage Directive (which applies across the whole EU, the EEA and countries that follow CENELEC standards) all appliances brought to market have to be safe to use in either polarity.
The neutral side might not be near the ground potential. It's also possible that you may have a neutral fault on a TN-C/TN-C-S system as used in the UK and Ireland etc, which could introduce a significant voltage on neutral. There are also installations where both mains wires can be live compared to ground (some locations in Norway, some old installations, some isolated power on hospitals).
Many appliances require an earth connection to operate safely. An earth connection ensures that if there is a fault and an external metal part becomes live, the earth wire safely conducts the electricity away, tripping the circuit breaker or blowing the fuse.
Some appliances do not require an earth connection. They are known as type 2 and will have a symbol of a square inside a slightly larger square on the appliance label. Other clues (although not 100% reliable), are a plastic case or flat 2 core cable. Those dual isolated devices appliances are typically supplied with Euro plug.
For best electrical design safety it would be best that the mains switch switches both mains power wires to guarantee that there is no voltage present in the device when the power is turned off. If a double pole switch is fit for its purpose, voltage and current ratings not exceeded, it will usually be safer than a single pole switch. There is no problem if extension cord has "switched" hot and neutral.
In practical equipment there are many devices that do not switch both lines on mains switch. his indeed means that the power supply electronics is on ground or live potential, when switched off. But I don't see a big problem here is the device is well built. Some issue pertains to the isolation of devices from live using single pole switches, internal fuses and breaker/cut-outs.
In some cases equipment can have dual fuses (one for each incoming mains wire) to make sure that there is always fuse on the live side. The lack of polarisation might explain why some regulatory regimes in Europe are keen on double pole breakers. Majority of equipment have only one fuse in the mains input, so depending the power plug direction, it might end to be at the live or neutral side. Once single phase 230v is supplied, the lack of polarisations means that on an appliance with a single pole switch, or a device containing an internal fuse/cut-out that there is a 50:50 chance that some parts of the circuitry will still be "live" if it's turned off or the internal fuse blows or a cut-out trips. Be careful out there!