When gamer kids generation really hits audio engineering there will be huge market for this kind of RGB light gadgets?
Neutrik etherCON® and XLR Halo Connectors are chassis connectors that incorporate a halo light ring and assymmetric ESD safe push tab. This design allow for standard XLR connector cutouts in the chassis without the need for additional holes for LEDs or light pipes. Neutrik's Halo Series connectors are available in male and female 3- and 5-pin XLR variants. An additional RJ45 (ethernet) version of this connector is available for pro-audio, video, and lightning network applications.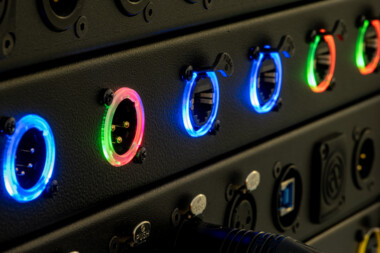 The new halo chassis connectors are light ring versions of the horizontal PCB-mount XLR and etherCON® Cat5 chassis connectors. This unique product allows attractive signaling via light rings with two different colors for connection status and data transmission (colors are produced with SMD LEDs soldered to circuit board where the connector is installed). The all-plastic A-Series is small and cost effective design.
PLUG IN – Episode 11 – Let's talk halo

InfoComm 2022: Neutrik Features the Halo Series of Connectors with LED Light Ring in XLR or etherCON

Neutrik's patented 'halo' light ring allows end users to easily locate connectors and immediately see which ports are inputs or outputs. Additional connection status events such as bad connections or phantom power can also be made visible with suitable circuit designs. These visualisations are made using one or two SMD LEDs (provided by the designer) to the left and right of the connector on the circuit board.
Neutrik does not seem to have yet a cable plug with similar visual indicators. But there is Halo: A light up patch cable from myVolts x Andrew Huang Kickstarter project that tries to add flashing lights to patch cables.
Links:
https://eu.mouser.com/new/neutrik/neutrik-halo-connectors/
https://www.neutrik.us/en-us/neutrik/products/xlr-connectors/xlr-chassis-connectors/halo-series
https://www.neutrik.com/en/neutrik/products/xlr-connectors/xlr-chassis-connectors/halo-series
https://ipxchange.tech/boards/neutrik-halo-series-connector-sample/
https://www.kickstarter.com/projects/candycordhalo/halo-a-light-up-patch-cable-from-myvolts-x-andrew-huang