When you want to spead IoT devices around, there is challenge of powering them. You need to provide power to them or be prepared to change batteries in then very now and then. Great things are expected of the Internet of things but only if engineers can solve one potential show-stopper of a question: how to power these numerous tiny machines. What are the options to this?  Energy harvesting provides many options. One promising idea is to harvest RF energy.
Simple devices that can link up via Wi-Fi but don't need batteries could make it easier to spread computing throughout your home. In 2014 there was reports on a new breed of mobile wireless device lacks a battery or other energy storage, but it can still send data over Wi-Fi. These prototype gadgets, developed by researchers at the University of Washington, get all the power they need by making use of the Wi-Fi, TV, radio, and cellular signals that are already in the air. You could for example try to borrow power from TV transmissions or WiFi signal.
An article in the MIT Technology Review presents a power-over-Wi-Fi system that uses existing Wi-Fi chipsets in wireless routers to deliver far-field wireless power to various sensors as well as to recharge coin cell batteries at distances up to 28 feet. The ability to power remote sensors and devices using Wi-Fi signals could be the enabling technology behind the Internet of things, say electrical engineers.  The researchers injected non-intrusive "power traffic" onto multiple 2.4-GHz Wi-Fi channels to increase channel occupancy — while minimally impacting network performance — so as to allow energy harvesting. Talla and co use three Atheros AR9580 chipsets, standard electronics for Wi-Fi routers. However, they program these devices to broadcast in a way that can provide continuous power to an energy harvesting sensor.
The results seems to be promising: It turns out that the temperature sensor can operate at distances of up around six meters from the router and by adding a rechargeable battery to the mix.
This month there was First Demonstration of a Surveillance Camera Powered by Ordinary Wi-Fi Broadcasts.The demonstrated battery-free camera can operate up to [about five meters] from the router, with an image capture every 35 minutes.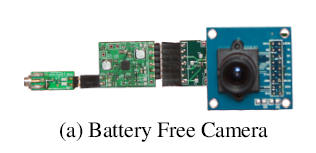 For more details on the technology take a look at  "Powering the Next Billion Devices with Wi-Fi" paper.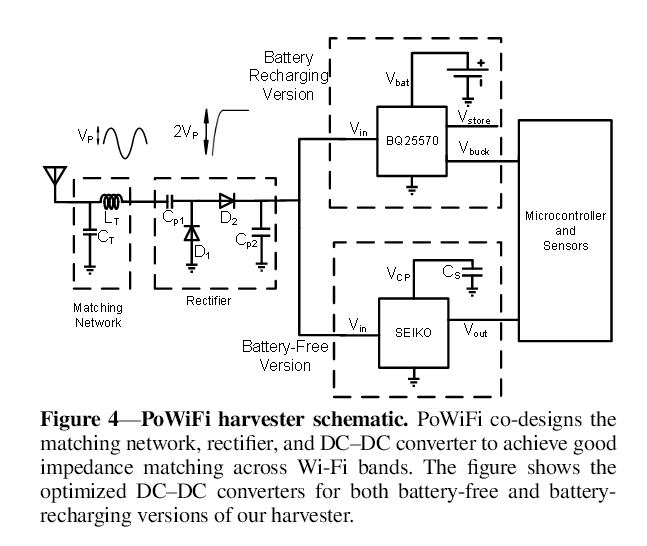 The significant unanswered question is this: how do these routers interfere with other signals? There are challenges, but UW's "PoWiFi" could power the Internet of Things, says MIT Technology Review.