I have written earlier about Low-Cost Logic Analyzers – and mentioned there Saleae and USBee. I was looking yesterday situation on USBee product because I had potential need for device that had possibility to play back recorded signals. When I landed to USBee web page, I noticed the following announcement (that had been there for almost two years):
USBee was closed September 2015 and no longer sells the USBee Test Pods.
This page is being retained for support purposes of our loyal customers.
If you purchased a USBee pod after January 1, 2016, it is a counterfeit device
and the below downloads will not work on your device.  You will need to go to the seller for support.
When I looked at the page URL, I was that I was forwarded top company E101 web page, that provides software support for some of those old USBee devices. The EE101 company info tells that The Founders of EE101 previously developed the USBee Test Pods (total sales topping 20,000 units).
I was wondering what happended to USBee company. Was there some bad business decision that ended the company and did the fact that cheap clones of their devices became available have affected the outcome?
Let's look at the products they were selling.
There was nothing really magic on the hardware of the USBee SX. It was based on Cypress FX2USB 2.0 microcontroller, and the circuit is pretty close to example circuit for the FX2 chip development board – just like their competitor Saleae.
No wonder why there were clone products coming, some mentioning product names and some just described as FX2 development boards that can work as logic analyzer. Some clones lacked signal output capabilities, and some hardware hackers even gave instructions to to add this missing feature.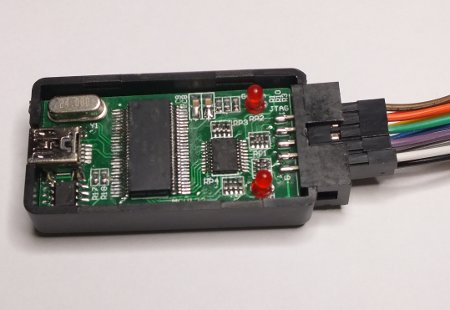 The real magic on theUSBee SX was in the PulseView software side that received high speed data from USB, and showed it decoded on the screen. And there was also software that had possibility to generate output signals (signal generator software).  The software first looked promising, but after some testing I found out that it coould have been better. And my feeling was that it did not get much better over years. And on the later times there was a fight against USBee company against clones so that their latest software would "brick" clones (I am not sure if that helped the company or more alienated some potential people from using their products).
For signal analysing I found first competing  Saleae Logic Analyzer software (runs ton their hardware) more user friendly. Later I found open source Sigrok software even better – it has more decoders I wanted than those commercial software alternatives and also option to write own signal decoders. And Sigrok even supports USBee and Saleae logic analyzer hardware with open-source firmware. Suddenly some cheap "clone" hardware had a legitime use, some of this hardware ended to be hardware specifically sold for this software.
The question that lies was the cheap Chinese clones reason for business to go down (clones came before business ended and more when it had ended)?
Or did the open source software with more features (on signal decoding side) make the slowly developing (at least looks so) commercial product to fai?
I don't have answers for those questions.