A class-D amplifier or switching amplifier is an electronic amplifier where all power devices (usually MOSFETs) are operated as binary switches. They are either fully on or fully off. The term "class D" is sometimes misunderstood as meaning a "digital" amplifier. While some class D amps may indeed be controlled by digital circuits, the class D amplifier control circuit can be also implemented with analogue component. I would rather call class-D amplifier as a switching amplifier rather than "digital amplifier".
Class D amplifiers work by generating a square wave of which the low-frequency portion of the spectrum is essentially the wanted output signal. In a simplest form he generated signal can be just pulse-width-modulated (PWM) square wave, but in many practical class D amplifiers the output signal is slightly more complicated. After the output driver stage a passive low-pass filter removes the unwanted high-frequency components, i.e., smoothes the pulses out and recovers the desired low-frequency signal. To maintain high efficiency, the filter is made with purely reactive components (inductors and capacitors). The switching frequency is typically chosen to be ten or more times the highest frequency of interest in the input signal. This eases the requirements placed on the output filter. In cost sensitive applications the output filter is sometimes omitted.
I bought some time ago Y148 Audio Amplifier Module so learn more than just the theory of the class D amplifiers. Hands on on some new technology gives better insight than just reading the theory. Here is the picture of the amplifier module ready to use on my desk.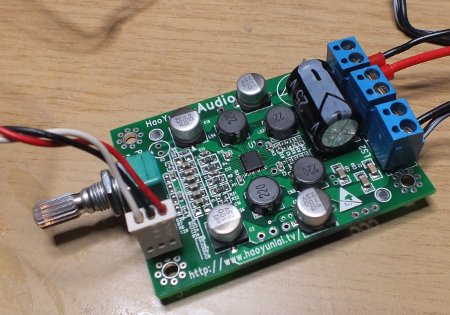 To make connecting the wires easier I have added screw terminals to Y148 Audio Amplifier Module (the module came only with soldering holes for power and speaker connections). Speaker and power connections have large well spaced holes. I also added pin strip (L_in, GND, R_in) for audio input and audio cable to connect the audio source.
Here is some data of the amplifier:
- Model: Y148
- PCB board
- Adopts YDA148 high-efficiency digital audio power amplifier IC
- DC input voltage: 9~15V
- Current: 2~4.5A
- Power output at DC 15V input: 15W x 2 (8 ohm), 30W x 2 (4 ohm)
- Power output at DC 12V input: 10W x 2 (8 ohm), 20W x 2 (4 ohm)
- Needs heat sink at 4 ohm, doesn't need heat sink at 8 ohm
- Frequency response: 10Hz~20KHz(+/-0.2dB @1KHz)
- Load speaker: 4 / 6 / 8 ohm
- SNR: at least 90dB
- Harmonic distortion: THD+NC no more than 0.1%P=0.1W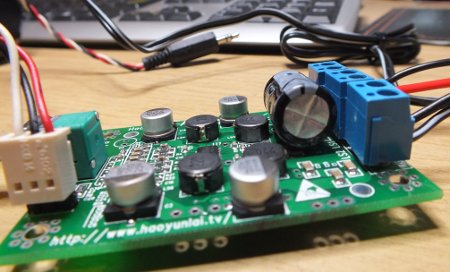 Y148 Audio Amplifier Module is cheap super small amplifier. It works great, and plays all right. No noticeable noise/distortion at reasonable audio levels. It runs nicely on 12V power. Great product, especially the price is really attractive.
The specifications are pretty good for such small device. The module drives 8 ohms speakers from 12V power source directly. The tiny IC in the center of the circuit board can handle 2x10W without any heatsink! If you try to run 4 ohm speakers or higher power the chip gets quite hot (you should be able to solve the problem with a suitable small heatsink added on top of that that little chip).
You can use it even on battery powered applications, because you can get quite a bit of audio output with about 100mA from the battery! Not the full power but useable volume levels. The high efficiency is the reason that class D amplifiers are popular in many battery powered electronics devices.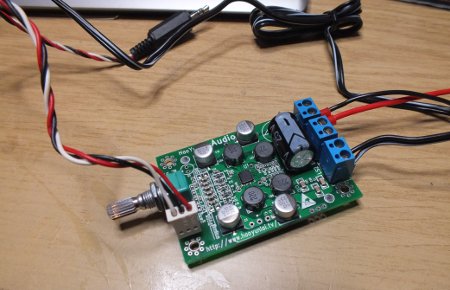 As I told earlier Class D amplifiers work by generating a square wave of which the low-frequency portion of the spectrum is essentially the wanted output signal. YDA148 high-efficiency digital audio power amplifier IC operates around 500 kHz frequency according to datasheet (I measured 508 kHz on my module). The IC generates pulses (starting from 0V and going up to +12V in level) to both + and – side of speaker output line at that frequency. The pulse length varies depending on the signal that needs to be sent to speaker. When there is no output signal, both pulses are short. When the amplifier needs to send positive voltage to speaker, the pulse at + line gets longer and longer depending how high voltage need to be set to speaker. The – side pulses stay at the same short length. In case of negative voltage needs to be sent to speaker, the – side pulses get longer and + side stays short. The picture below show the pulses that can be seen on speaker + output on IC output.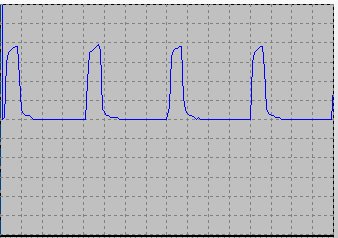 YDA148 high-efficiency digital audio power amplifier IC datasheet says that a low pass filter at corner frequency of 50 kHz normally needed (digital amplifier operates around 500 kHz).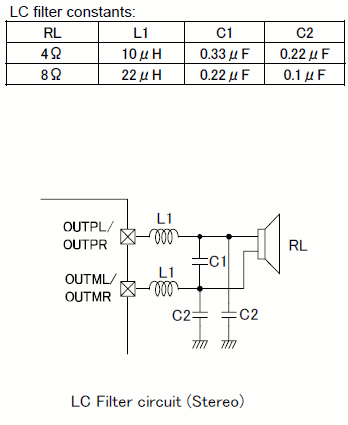 The amplifier board has this kind of filter in it. Ther filter works pretty well in attenuating the high frequency signal. I measured around 50 mV (RMS) 508 kHz triangle wave on the speaker oputput after the filter. So the switching feququency is pretty well attenuated, and in taking account the fact that speaker elements can't play back those high fequencies and will not hear them, I don't think it could hurt the the sound quality at all.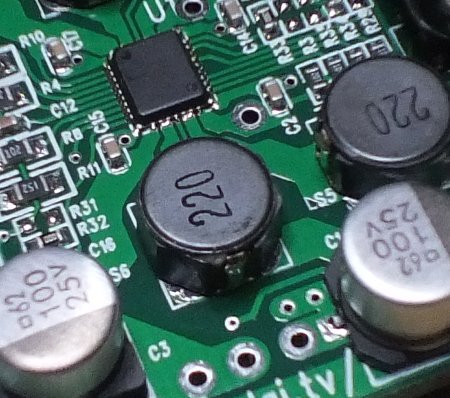 The size of components is one that might in some applications drive to try to avoid the filters. As you can see on the board I have the filter components take much more board space than the actual IC. In the picture below you see the amplifier IC on the top and filter components for one channel on the bottom.
Direct connection from IC to speaker element is also possible according to YDA148 datasheet when speaker has element is suitable (inductance 20 microhenries or more), wires are short and speaker is present always. I think that direct connection method would be feasible only in active speaker applications where amplifier and speaker elements are inside same cabinet. In all other applications that filter is needed, because EMC reasons (feeding a strong 500 kHz signal to unshielded speaker cable generates easily lots of interference).
YDA148 datasheet also says that this IC supports differential input. Using differential interfaces is a good idea in many audio applications. Unfortunately this amplifier module board does not support using differential input. The module I have has only traditional unbalanced line level input option. That is useable, but I would have preferred to have differential interface as an option.
Y148 Audio Amplifier Module seems to be a good small audio amplifier. It was cheap, performed well and provided a good platform to lears about class D amplifiers. Class D amplifier technilogy is nowdays mature and ready to be taken into use.