I bought Fuji HS20 camera few months ago (just some months before the model was discontinued). HS20 is a pretty good superzoom digital camera. It has a very long zoom lens and good macro properties. I have taken many of the photos posted recently to this blog using this camera.
To take good macro photographs a good lighting is needed. In many cases a ring light around the lens is a good light to use for macro photography. My old DIY macro LED light did not fit it it. So I needed to make a new one.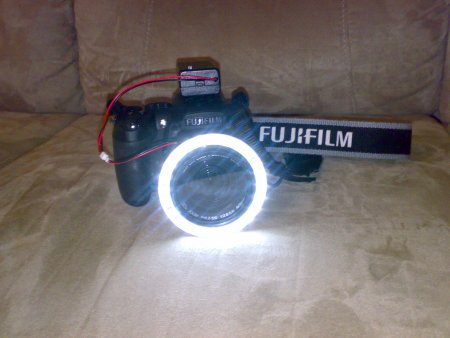 To build it I bought T10 24-LED White Light Car Angel Eye (80mm Diameter) for the project. I selected it because in previous macro light project I used similar 12V LED light ring (just a smaller side) successfully with 9V battery with some simple modifications (replacing current limiting resistors). This time (like eariler) before doing any electrical modifications I tried connecting T10 24-LED White Light Car Angel Eye (80mm Diameter) directly to 9V battery to see how much light I get.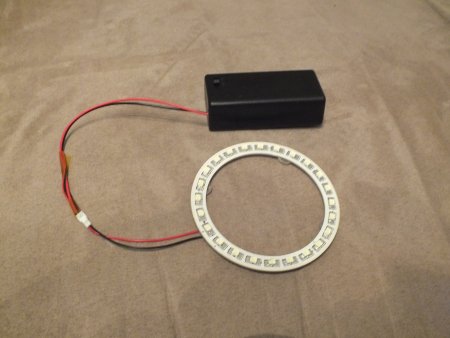 I got quite good amount of light. I measured that I get around 200-250 lux measured on the center at 5-10 cm distance from the LED ring. This was well enough to take good picture with my new camera. So all I needed was to add a suitable 9V battery holder (a small box with on/off switch) and three small subber pads (to keep the right tightly around the camera lens) to make the project ready. Final touch was a small piece of plastic glued on the bottom of the battery holder box that allows to secure the battery box to camera flash shoe.
Update: An example picture taken with the new LED ring macro light and Fuji HS20 camera