I found a cheap mixed signal oscilloscope product: HT-USBee AxPro. This HT-USBee AxPro is a said to be 8 Channel Logic Analyzer Oscilloscope Compatible USBee AX Pro I2C IIC SPI CAN Debugger. It features Oscilloscope Input (single channel, 16Msps, 3MHz bandwidth) and 8-CH Logic Analyzer. With suitable software it can be used as Data Recorder, Voltmeter, Mixed Signal Oscilloscope and Logic Analyzer, Frequency Meter, Remote Controller, PWM Controller, Frequency Generator,  I2C Controller and Pulse / Edge Counter.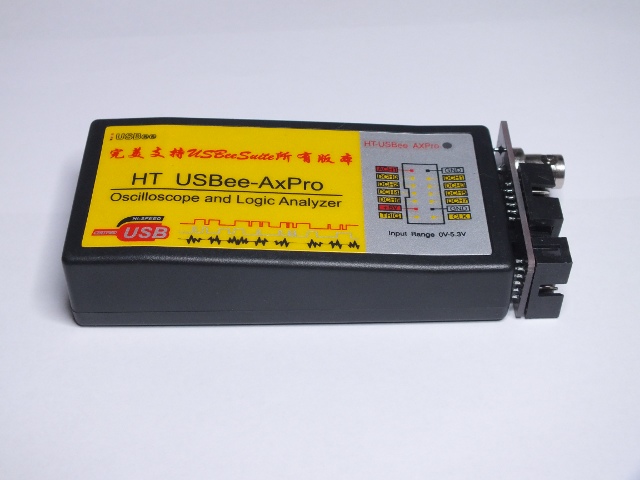 HT-USBee AxPro seems to be well built. The product is supplied with an adapter that allows connecting oscilloscope probe easily. The oscilloscope input is designed for +-10V signals and logic probe channels are suitable for normal TTL(5V)/LVTTL(3.3V) signal levels. The adapter pinout for digital seems to be same as used on other similar product: digital signals wired straight through and other signals left out.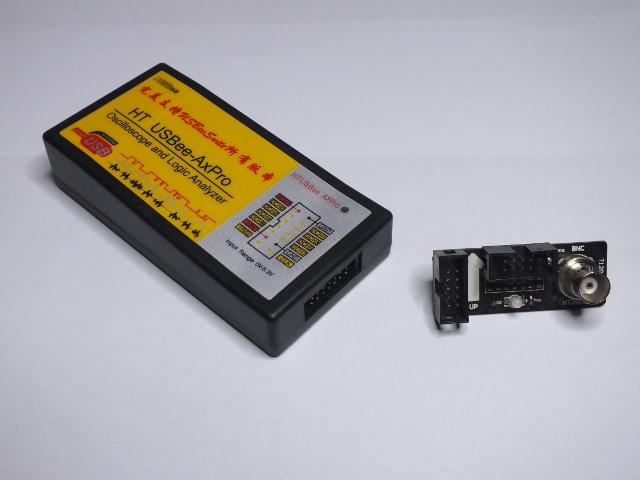 The product does not come with any software or documentation. The comment on HT-USBee AxPro page tells that to get it working you need to go to usbee.com download page and get there USBee AX (Standard, Plus and Pro) software+drivers before connecting the device to computer. I already had drivers installed in my PC from an earlier test. In addition to drivers I had also had USB suite installed.
I found that USBEE Suite and USBEE AX software package worked well. For individual testing of different functions the USBEE AX programs worked well. For mixed signal work where you capture the data and look it afterwards, USBEE Suite is the best choice. It allows to view oscilloscope and logic signals on the same time scale, which is excellent for debugging embedded systems where there is both digital and analog signals.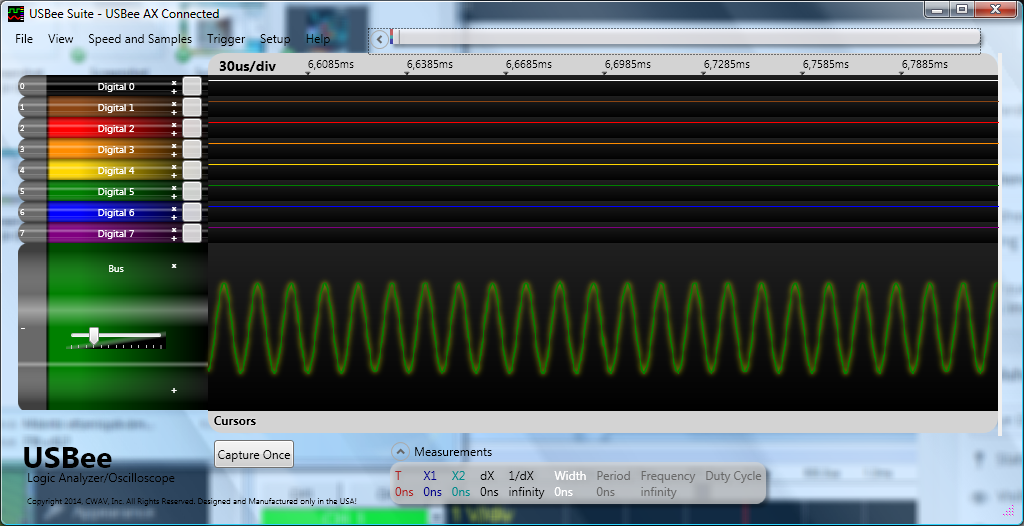 For real time oscilloscope view the USBee AX Oscilloscope is the best choice. It provides traditional real time oscilloscope view to signals.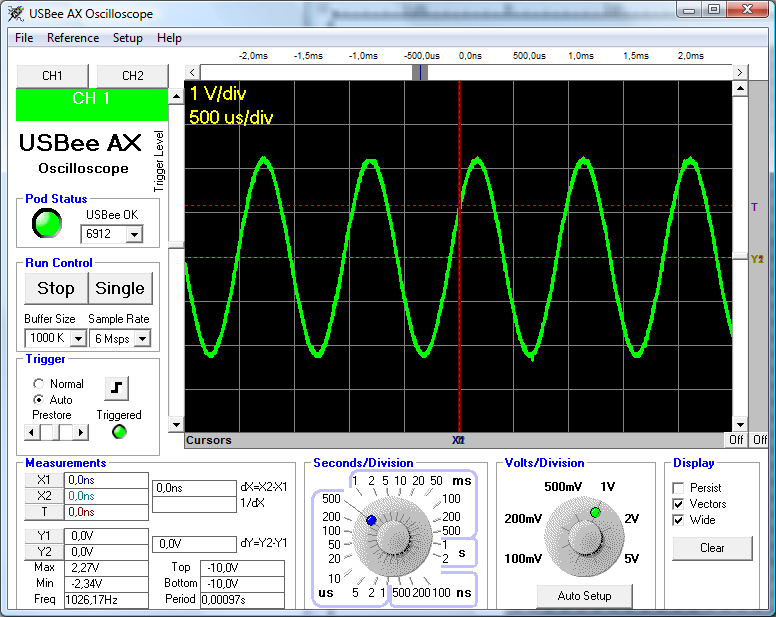 There was also signal generation tools, and they all worked well…
One thing I noticed when doing analogue measurement (oscilloscope, voltage meter), that there was 10% measurement error on the measurements I had: the computer showed around 10% higher values than the real voltage. That but it could be fixed by doing pretty simple calibration procedure as told at http://dreamland227.blogspot.fi/2011_10_01_archive.html.
A product review would not be complete without seeing what what is inside. Here is a view on the circuit board inside the device: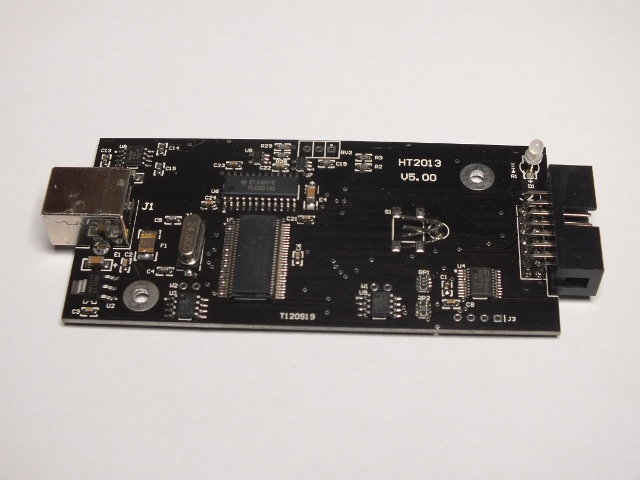 The main component are Cypress CY7CS8013A controller and TLC5510 (8-Bit, 20 MSPS ADC Single Ch., Internal S&H, Low Power). Logic probe pins seem to be directly wired to controller pins without any protection or other components there (different approach than in another USBEE AX clone).
This product is pretty clearly a clone product. Have in mind that buying USBee Test Pod clones is not something CWAV condones. If you have doubts in using this product with software from CWAV (the maker of USBee products), there is an alternative free open source software available at http://sigrok.org/. Although there is free software support for logic analyzer part of it in sigrok developers aren't really excited with USBee AX Pro clones so support for analog channels is missing.
Late addition: More detailed higher resolution circuit board view (click to enlarge):