A network analyzer is an instrument that measures the network parameters of electrical networks. Today, network analyzers commonly measure s–parameters. Full featured network analyzers are expensive instruments, and sometimes a simpler. Scalar Network Analyzer (SNA) is a simpler form of RF network analyzer that only measures the amplitude properties of the device under test.  SNA is very useful for measuring the amplitude response of a variety of components.  The scalar network analyzer is a popular instrument used for measuring scalar stimulus-response. Manufacturers frequently perform scalar stimulus-response measurements (also known as scalar network analysis) to measure the gain, insertion loss, frequency response or return loss of devices such as cables, filters, amplifiers and complex systems encompassing multiple components. Effectively, a scalar network analyzer, SNA, works just as a spectrum analyzer in combination with a tracking generator.
It is also possible to build scalar network analyzer in several ways. One option to build simple SNA is to have suitable adjustable RF generator and simple RF amplitude detector (instead of full spectrum analyzer). I have done some testing with ad9850 dds module and I had already built simple RF amplitude detector, so all I had to combine them and write some software to make my own simple SNA.
The signal flow on in the system is like this:
USB -> Arduino -> AD9850 -> DUT -> RF probe rectifier -> Arduino Analog in -> USB
For RF detection Ibased my design on simple RF probe idea as from Designing RF Probes page: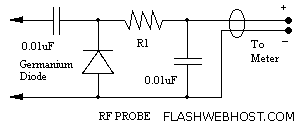 I decided to make a slight modification of the circuit more optimized for me. To get suitable value for R1 I used LC filter calculator. I decided that R1 = 10 kohms would give OK results. I used AA113 germanium diode, because I had several of them. So I ended up with the following RF detector circuit: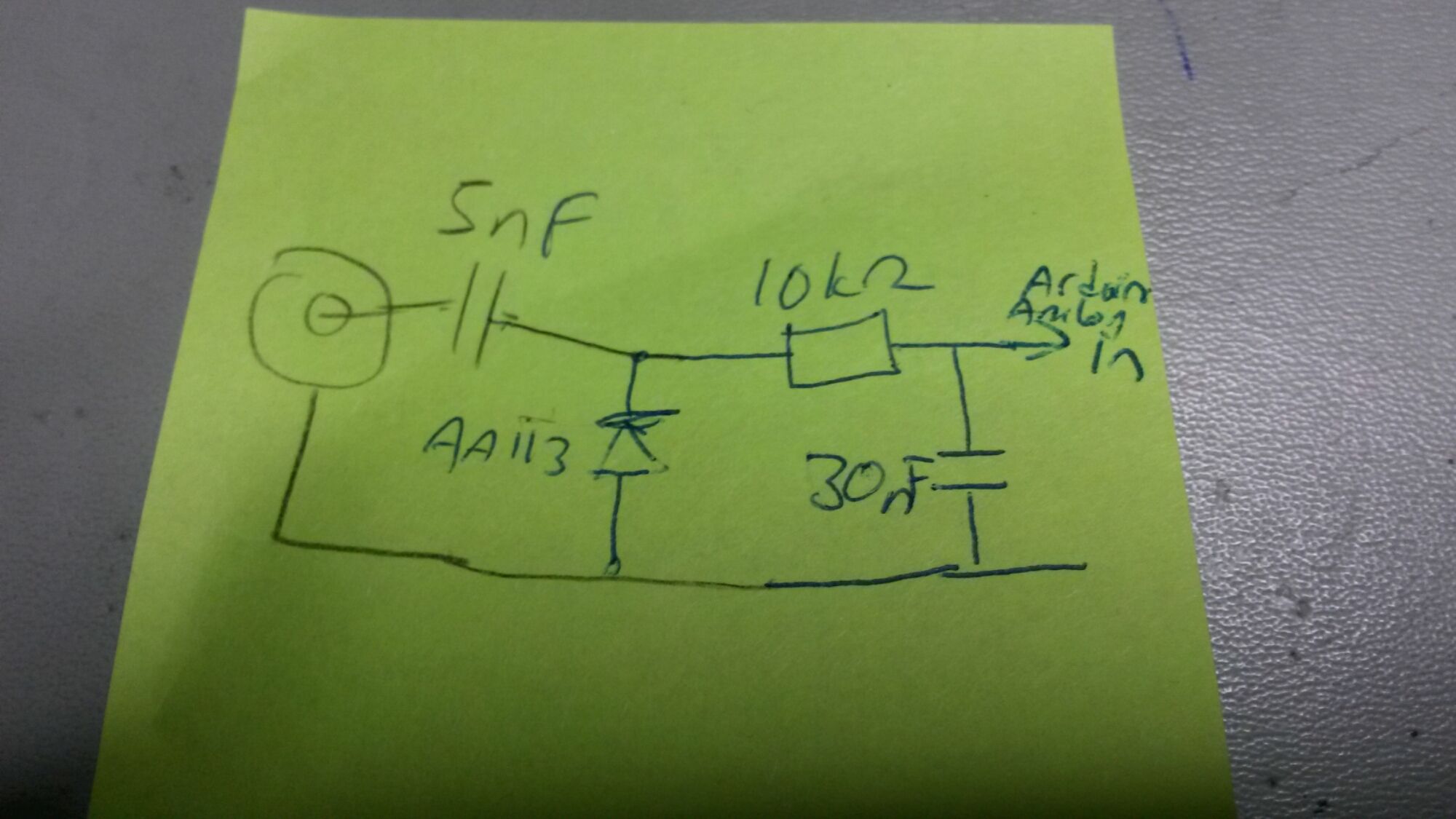 I connected the output to Arduino analog in 0.
I set the analog reference to 1.1 internal reference to get suitable measurement range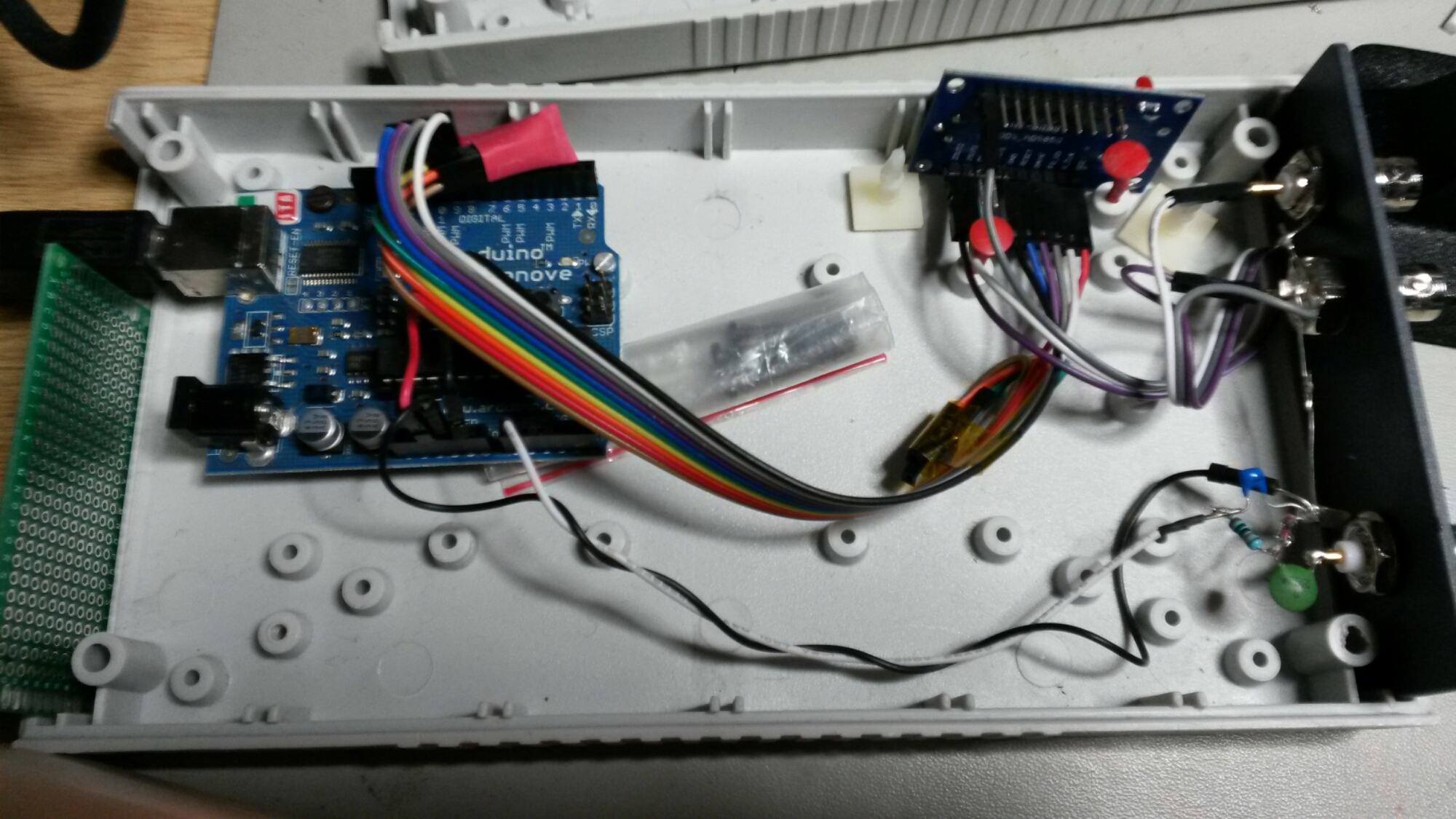 I modified the AD9850 useful test sketch for Arduino(-s) source code so that I have a new test command: "m" command – measurement sweep from frequency to frequency at given step size – it prints out frequency (in kHz) and analog measurement value (AD converter value). The command takes three arguments: start frequency, end frequency and step size. So example for command to give on command line would be
m 1000 100000 1000
When used it will print out two number per line: freqency in kHz and AD converter measurement value (value range 0-1023).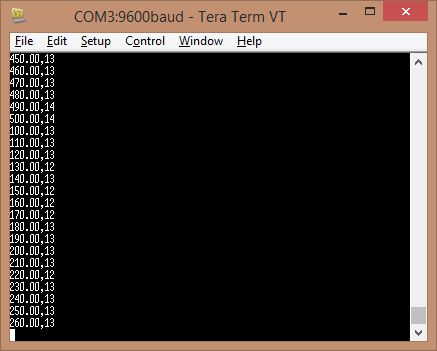 m 100 100000 200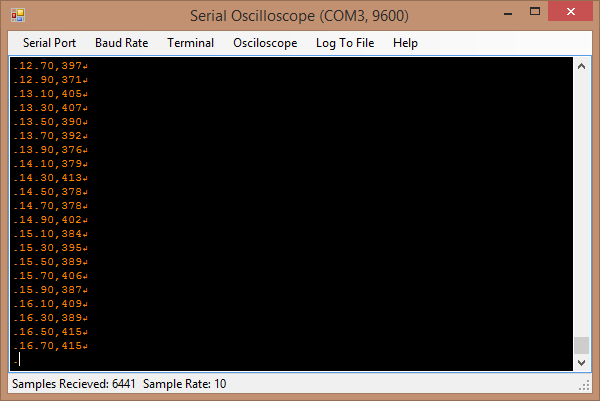 Now I can get data, but a visual output would be nice (something easier than cut&paste the data to Excel and draw chart). So I started looking for some program I could use and not have to write my own for this. After some searching I saw Serial Oscilloscope (with Arduino) video that showed how to use Serial oscilloscope software to plot data from Arduino.
Serial oscilloscope is a Windows application that plots comma-separated variables within any incoming serial steam as channels on a real-time oscilloscope. The application also functions as a basic serial terminal, received bytes are printed to the terminal and typed characters are transmitted. Serial Oscilloscope is compatible with any serial stream containing comma-separated values terminated by a new-line character ("\r").  This was exactly right for my nest visualization tests.
Console: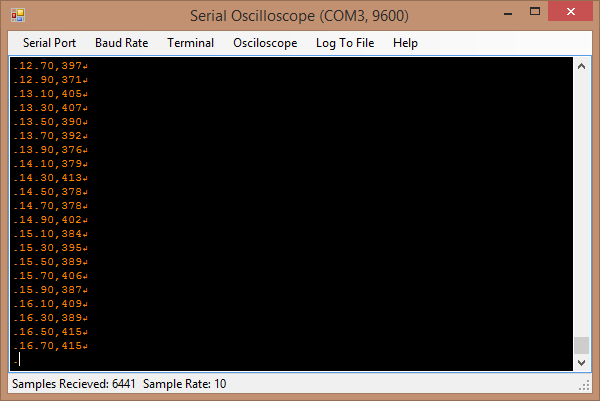 Scope view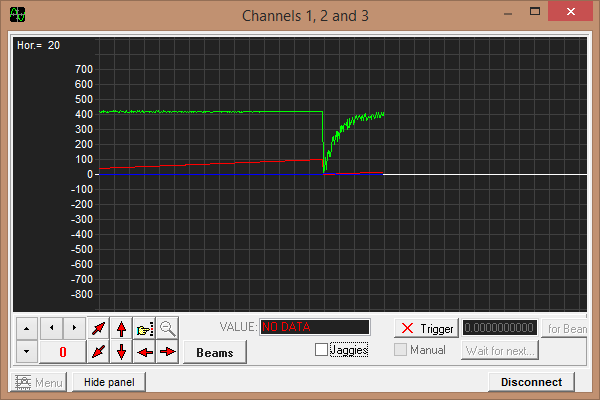 Now I can get a plot-out of the measure circuit frequency response (output vs frequency). This is a good start for experimenting and already useful. AD9850 module can generate frequencies in 0-40 MHz frequency range.
There are still some issues until this is a real useful SNA. For example there would be some need for some impedance matching, because now the generator output is 100 ohms and RF input is high impedance. Ideally those should be 50 ohms for most RF measurements. Also a directional coupler would be nice to have…  This is just a start of the project.
Here is my modified version of AD9850 useful test sketch for Arduino(-s) source with new "m" command:
The modified source code:
/*
Simple controller for AD9850 modules
Uses serial protocol (refer to AD9850 datasheet what pins need to be pulled up/down
Uses library by Elecfreaks http://elecfreaks.com/store/download/datasheet/breakout/DDS/EF_AD9850_library.zip
(for use with chipkit delete that unnecessary line "#include <avr/pgmspace.h>" from .h file)
Fix the pin numbers used to communicate with module
Serial comms – 9600, NewLine (0x0A) denotes end of input,
f 10000 – set frequency
s 20 20000 10 1000 – sweep from frequency to frequency using this step size in that many milliseconds
o 10 10000 5 3000 – oscillating sweep from frequency to frequency and back using this step size in that many ms
m 1000 100000 1000 – measurement sweep from frequency to frequency at given step size
NB! no error checking in input, code relies on intelligence of user
*/
#include <EF_AD9850.h>
#define MAXBUF 40
// FIXME set up pins to match your case
// parameters in following order – CLK, FQUP, RESET, DATA
// EF_AD9850 AD9850(11, 10, 8, 9);
EF_AD9850 AD9850(8, 9, 11, 10);
double freqValue = 0;
double freqStart = 0;
double freqEnd = 0;
double freqStep = 0;
int sweepDelay = 0;
char freqStr[MAXBUF];
int bufPos = 0;
char byteIn = 0;
int mode = 0;
int meas =0;
char *fEnd1, *fEnd2;
void setup()
{
AD9850.init();
AD9850.reset();
Serial.begin(9600);
memset(freqStr,0,sizeof(freqStr));
analogReference(INTERNAL);
}
void loop()
{
if (mode == 1 || mode == 2)
{
if (((freqStep > 0.0) && (freqValue + freqStep <= max(freqStart,freqEnd))) || ((freqStep < 0.0) && (freqValue + freqStep >= min(freqStart,freqEnd))))
freqValue += freqStep;
else
if (mode == 1)
freqValue = freqStart;
else
{
freqStep *= -1;
freqValue += freqStep;
}
AD9850.wr_serial(0,freqValue);
delay(sweepDelay);
if (meas == 1)
{
Serial.print(freqValue/1000);
Serial.print(',');
Serial.println(analogRead(0));
}
}
while (Serial.available())
{
byteIn = Serial.read();
if (bufPos < sizeof(freqStr))
freqStr[bufPos++] = byteIn;
else
{
bufPos = 0;
byteIn = 0;
memset(freqStr,0,sizeof(freqStr));
Serial.println("Command too long. Ignored.");
}
}
if ((byteIn == 0x0a) or (byteIn == 13))
{
switch (freqStr[0])
{
case 'f':
mode = 0;
freqValue = strtod(freqStr+2,NULL);
freqEnd = 0;
freqStep = 0;
sweepDelay = 0;
Serial.print("Frequency ");
Serial.println(freqValue);
break;
case 's':
case 'o':
freqStart = abs(strtod(freqStr+2,&fEnd1));
freqEnd = abs(strtod(fEnd1,&fEnd2));
freqStep = abs(strtod(fEnd2,&fEnd1));
if (freqStep == 0)
{
Serial.println("You gotta be kidding me, step can not be 0″);
break;
}
sweepDelay = abs(atoi(fEnd1));
if (freqStr[0] == 's')
{
mode = 1;
Serial.print("Sweep");
}
else
{
mode = 2;
Serial.print("Oscillate sweep");
}
Serial.print(" start freq. ");
Serial.print(freqStart);
Serial.print(" end freq. ");
Serial.print(freqEnd);
Serial.print(" step ");
Serial.print(freqStep);
Serial.print(" time ");
Serial.println(sweepDelay);
sweepDelay /= abs(freqEnd – freqStart) / freqStep;
if (mode == 2)
sweepDelay /= 2;
if (freqStart > freqEnd)
freqStep *= -1;
freqValue = freqStart;
break;
case 'm':
freqStart = abs(strtod(freqStr+2,&fEnd1));
freqEnd = abs(strtod(fEnd1,&fEnd2));
freqStep = abs(strtod(fEnd2,&fEnd1));
if (freqStep == 0)
{
Serial.println("You gotta be kidding me, step can not be 0″);
break;
}
mode = 1;
meas = 1;
sweepDelay = 100;
freqValue = freqStart;
break;
default:
Serial.println("AI blown up – unknown command");
}
memset(freqStr,0,sizeof(freqStr));
byteIn = 0;
bufPos = 0;
AD9850.wr_serial(0,freqValue);
}
}