I visited Microsoft Tech Days 2010 two days ago (I got free ticket), and if you are interested in technical stuff I leaned at the event and understand Finnish, you can my news report of that event published at Prosessori web site. I saw a quite interesting musical performance on the evening party. There was a band whose main instrument was two theremins (sorry for poor picture quality, this picure was taken on with cellular phone camera on and the lighting conditions were hard for taking photograps). The name of the band was Farther-Out (they said they have made some previous concerts and released one CD "Tuo").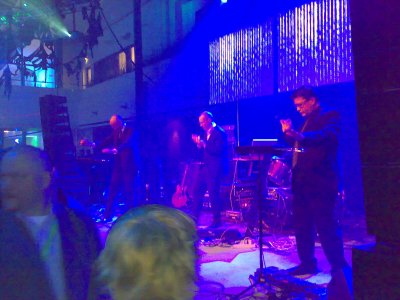 The theremin is an early electronic musical instrument controlled without contact from the player. It is named after its Russian inventor, Professor Léon Theremin, who patented the device in 1928. Theremins are distinguished by the fact that they are played without the performer touching the instrument. The musician moves his or her hands in proximity to the theremin to control the tone of the sound. I was told that mastering the theremin requires skills and lots of practicing, but only a few instrument provide the unique visual appearance of performance. The sound is quite unique for that instrument. Even if you don't know theremin by name, you might have heard the sound of it at The beach boys -good vibrations or on the sound offects of some old scifi/horror movies.
The electronics of the theremin consists of two high frequency oscillators connected to antennas. When the player moves hand near the antenna, that changes the frequency of the oscillators, and that changes the sound (frequency or amplitude depending on antenna). Here is a block diagram of theremin from www.thereminworld.com Fred Tells All article.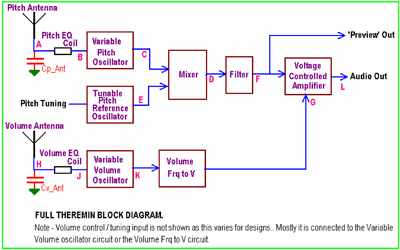 All DIY persons now interested in theremin instruments can also view Make a Theremin video and check ePanorama.net theremin links.