Arduino is an open-source electronics prototyping platform based on flexible, easy-to-use hardware and software. It's intended for artists, designers, hobbyists, and anyone interested in creating interactive objects or environments. So very interesting stuff..
The microcontroller on the board is programmed using the Arduino programming language and the Arduino development environment. Arduino programming environment is lean and relatively easy to use. Quite a few examples are at your finger tip. It is relatively easy to get started.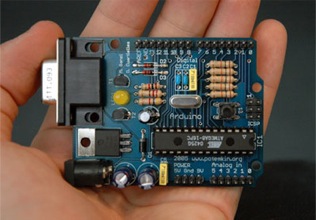 Arduino Development Using NetBeans IDE article tells that that the Arduino IDE lacks some key features most modern IDEs have and it is actually fairly straight forward to add Arduino support in the NetBeans IDE. Other possible IDE to use is Ecplipse.