Every summer we get thunderstorms, with the accompanying lightning in Finland. It is expected that thunderstorms starts in few days. Varo! Torstaina salamoi article says that it is expected that next Thursday there will be (according to weather forecast) 5000-10000 lightning discharge events in Finland.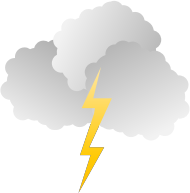 Lightning is a massive electrostatic discharge between electrically charged regions within clouds, or between a cloud and the Earth's surface. The massive flow of electrical current occurring during the return stroke combined with the rate at which it occurs (measured in microseconds) causes problems to electrical systems near the lightning discharge event unless they are well protected.
You can protect against the effects of indirect hits (like energy induced to telephone and power lines). If there is no surge protection, the induced currents may destroy sensitive electronics such as communications equipment computer power supplies. You install surge protectors to defend against currents induced by nearby lightning in your wiring. This is protection against damage lightning can cause without actually striking your wiring, or your building. If lightning strikes a mile away from you, and hits the ground, or a tree: this lightning can still induce currents in unshielded underground and overhead power and data cables.
One effective way to protect equipment against lightning damage is disconnect them (power, phone line, antenna etc.) every time thunderstorm approaches. That works well, but there are cases where this is not practical. In case you don't want to be disconnecting and reconnecting your equipment all the time, you might need to consider using suitable surge protectors so you don't need to disconnect them all the time.
My earlier blog posting ADSL overvoltages and protection gives introduction to lightning protection, especially what comes to the equipment that are connected to telephone line, mains power and proper grounding. ePanorama surge documents has a collection of documents on surge protecting telephone line and mains power. Check also How to protect RS-232 serial connections. For Ethernet protection ideas check LAN/WAN Ethernet Overcurrent And Overvoltage Protection article.
It is also a good idea to also read my Groundloop related postings because those postings will cover many grounding related issues on electrical systems. Besides causing noise to systems, ground loops can make the system sensitive to nearby lighting damage (large loops can pick up huge currents when lighting hits nearby).