It is pretty easy to do soldering ….Apply some flux, Heat the surface and apply solder .But when it comes to soldering SMD components it requires a little bit of skill and some tools and accessories. Industries use re-flow ovens with temperature profile Control to mass produce circuit boards. If you don't have re-flow oven, there are also DIY alternatives.
One alternative is hot plate. Place all the surface mount components and placed the Board on the Hot Plate. Turn On the hot plate and wait until the Solder paste melts and take out the board immediately after melt-down of solder paste. The Solder paste melts somewhere around 180 degree Celsius to 220 degree Celsius. Because it can take up to around three minutes to complete the soldering and there is no temperature, control this can be problematic to some components. Hare is a video of hotplate soldering:
The best way to solder surface mount devices (SMDs) onto printed circuit boards (PCBs) is with a reflow oven, but when that's not possible, a hot-air station can be successfully used. Hot Air Re-flow Soldering Station is a reliable tool and is not very expensive compared to Re-flow ovens. After thoroughly cleaning the bare PCB with alcohol, the next step is solder application. For the hobbyist, there are two primary methods of applying solder paste to a PCB for surface mount devices: by hand with a syringe or a very small spatula (think wooden toothpick) and by hand with a stencil. After placing the components on the Circuit Board, set the rework station to required temperature and Air Speed. Bring the Nozzle of Blower close to the Circuit board and wait until the Solder paste melts and fuses with the IC Pins.
The challenge is that there are more variables in play when using a hot-air station. In addition to time and temperature, a handheld hot-air gun involves several other factors, including the size of the nozzle, how far the nozzle is held from the solder, the angle of the airflow from the nozzle to the solder, the speed of the air coming from the nozzle, the speed at which the nozzle is moved around over the areas to be soldered. Ideally, the hot-air gun should be held so that the nozzle opening is perpendicular to the surface of the PCB and approximately 12mm (0.5″) above it. Care should be taken to aim the nozzle toward the pins/pads being soldered while avoiding the bodies of the components as much as possible. With a little practice, hot-air soldering is not particularly difficult, but each person must find the balance of temperature, air flow, nozzle size, and gun movement that works for them. As a result of all these variables, hot-air soldering becomes very personalized—each person develops their own "style" of working. Here are some videos:
SMD soldering by hot air (solder paste)
SMD Soldering – Manual Pick And Place – PCB Microscope
Then there is the selection of soldering paste. Solder paste is available in a variety of mixtures of metal. The easiest to use is approximately 60% tin and 40% lead. Alloys commonly used for electrical soldering are 60/40 Sn-Pb, which melts at 188 °C (370 °F), and 63/37 Sn-Pb used principally in electrical/electronic work. This mixture is a eutectic alloy of these metals, which: has the lowest melting point (183 °C or 361 °F) of all the tin-lead alloys. The typical peak re-flow temperatures used for lead solders are in 210 – 220 °C range.
As electronics industry is trying to get rid of lead and moving to lead free solders in may countries. There are many lead-free soldering pastes, but the downside of many of them is that lead-free solder alloys have high melting points as compared to leaded solder and usually somewhat harder to work with. The process temperatures required to solder with tin-based lead-free alloys are challenging for some assemblies. Certain assemblies cannot handle the temperatures used for lead-free soldering which typically reaches 240 – 250 °C. Sensitive components might be damaged by these high temperatures.
For this reasons there are nowadays also special low temperature lead-free solders. Indium and bismuth can be used to lower the melting points of tin-based solders. For example tin/indium 52% and tin/bismuth 58% are lead free solders that have substantially lower melting points than tin / lead 37% solder. The re-flow process temperature for tin / bismuth alloys are low (160 – 170 °C). These low peak temperatures allow for soldering of thermally sensitive assemblies. The temperatures are still high enough, that those solders do not start to melt on most normal electronics applications.
Tin / bismuth solder pastes are readily available from many sources. Generally they are good to use in many applications, but there are few thing to note when working with tin/bismuth alloys. The advantages seem obvious, but somehow the marketing literature does not mention any drawbacks to this type of solder paste. The 42/58 Tin / Bismuth is not unknown as a low temperature solder but has issues. It has reasonable shear strength and fatigue properties, but can be very brittle. Alloys with more than 47% Bi expand upon cooling, which may be used to offset thermal expansion mismatch stresses. The most important thing to note is that combination with lead-tin solder may dramatically lower melting point and lead to joint failure. It is dangerous to mix tin / bismuth with lead containing alloys, because tin, bismuth, and lead can form a very low melting combination that melts around 95 °C. This could potentially lead to solder joint failure due to natural heating of the assembly during use. The good thing is that tin / bismuth alloys are safe to use in combination with other lead free tin-based alloys.
For testing with soldering using low temperature solder flux, I ordered BEST BST-706 10cc 138℃ Syringe DIY Solder Soldering Paste Flux Chips Computer Phone BGA SMD PGA PCB Repair Tool product from Banggood(5.27 Euros). The idea is that with lower process temperature solder I can more easily do DIY SMD soldering without damaging the components.
The product page has this data on this product:
Model: BST-706
Quanity: 1PCE
Ingredients: Sn99% Cu0.7% Ag: 0.3%
Component Sn42/Bi588
Available in syringes
Here is my picture of the product: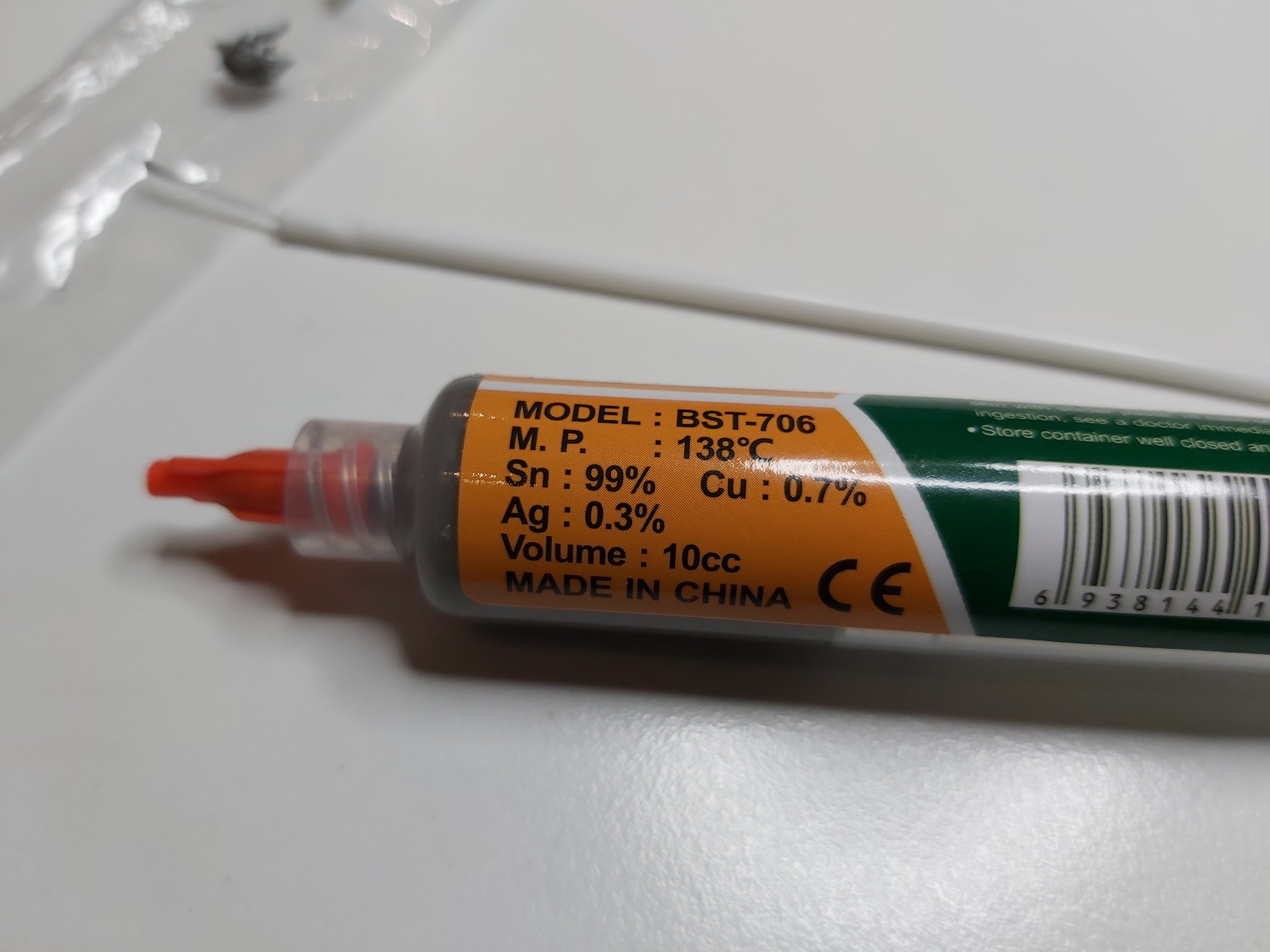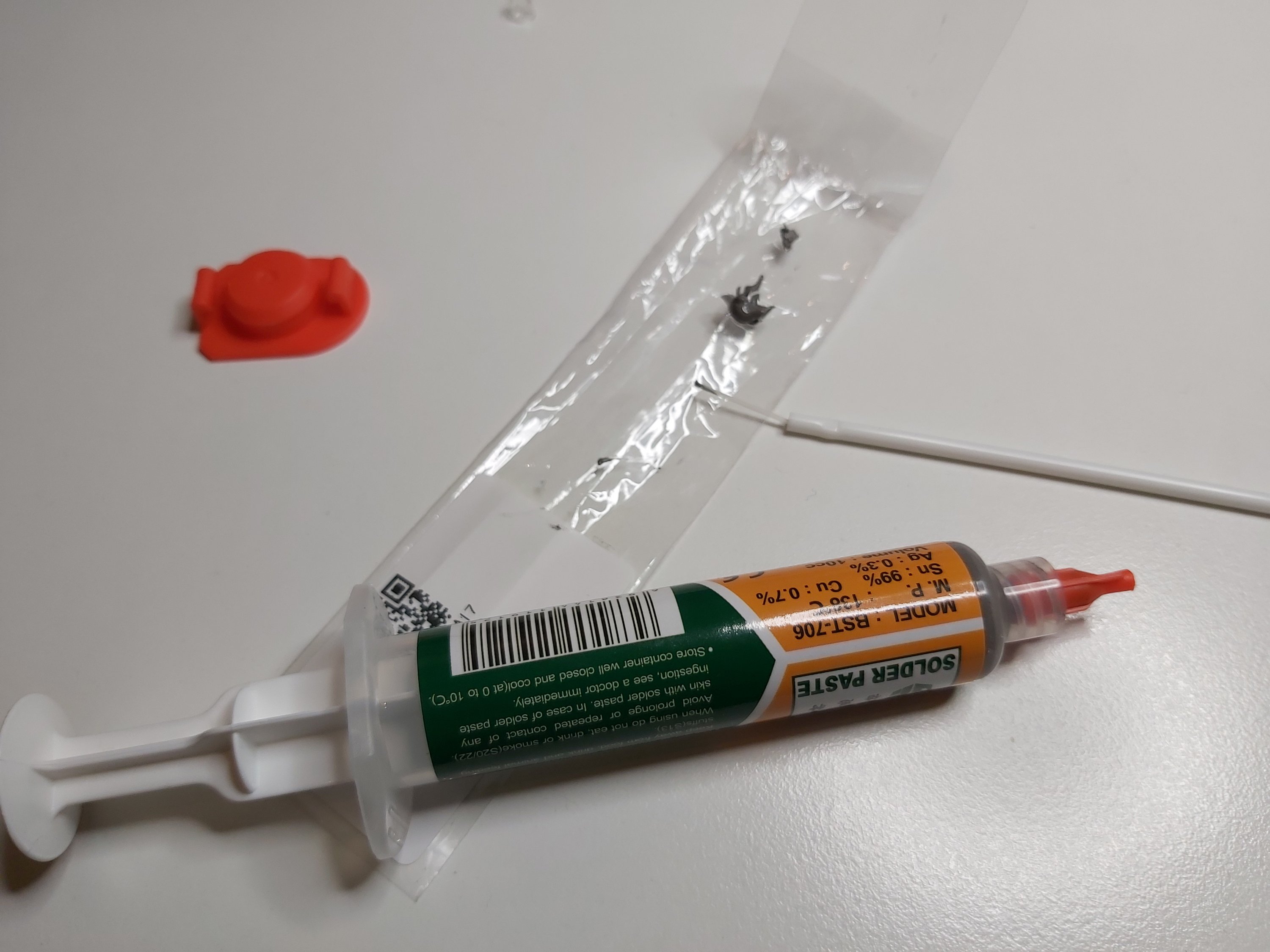 This eutectic Sn42 Bi58 solder alloy with a low melting point has been developed for low temperature soldering. With a melting point of 138°C and a peak reflow temperature of approximately 173°C the 670 tin bismuth paste is suitable for soldering of temperature sensitive surface mount components.
The markings on the syringe seems to be somewhat different story than the product page. But it seems that what is said on product page are truthful on the melting temperature. I used an adjustable traditional soldering iron to test the melting temperature, and it was low (melted well at slightly over 150 degrees on test).
To test how well it works in practice I manually put some soldering paste to the SMD soldering practice board and added component: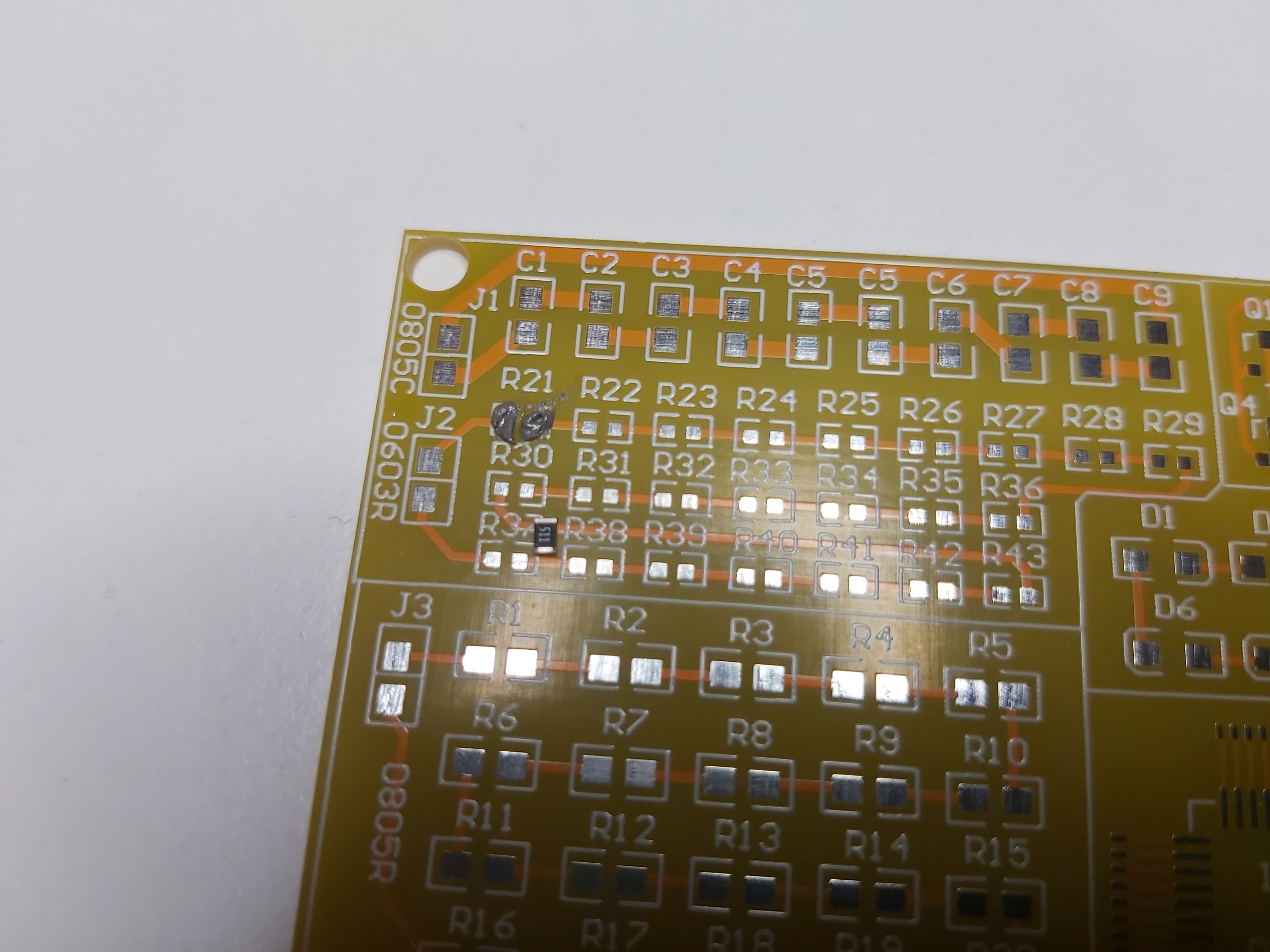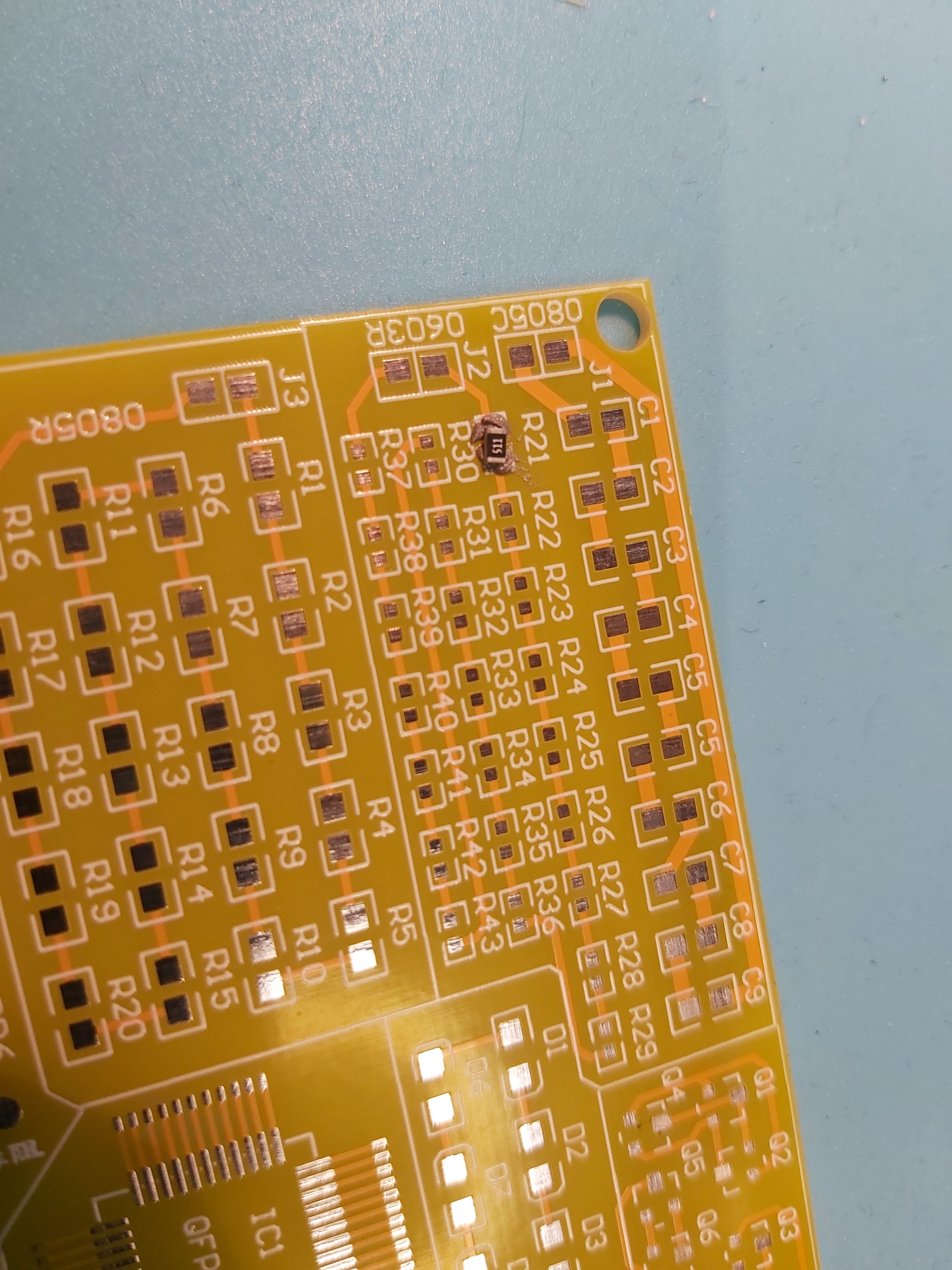 Then I used my soldering heat gun to solder. I used heat temperature of 240-260 degrees Celsius at almost maximum air flow.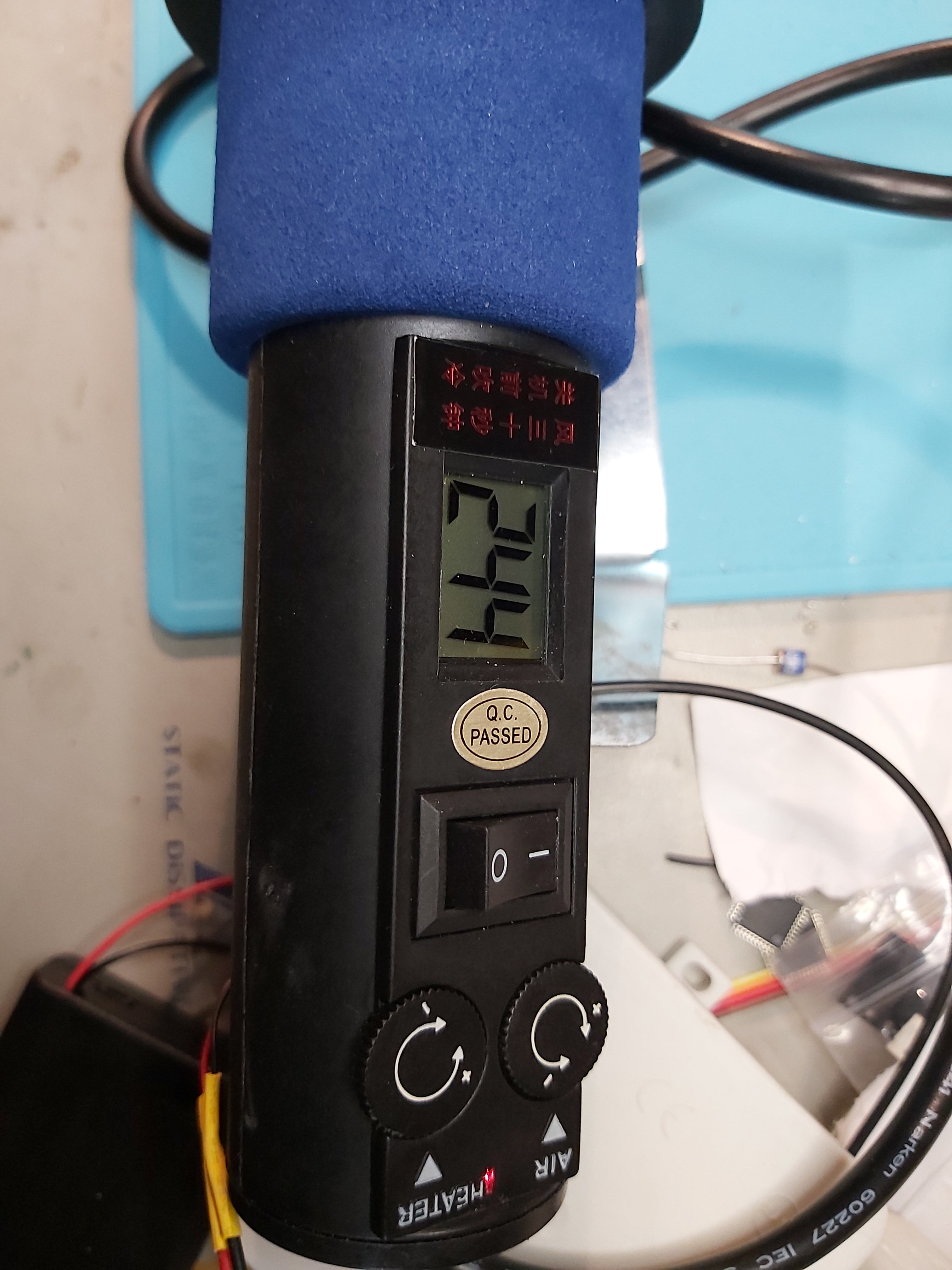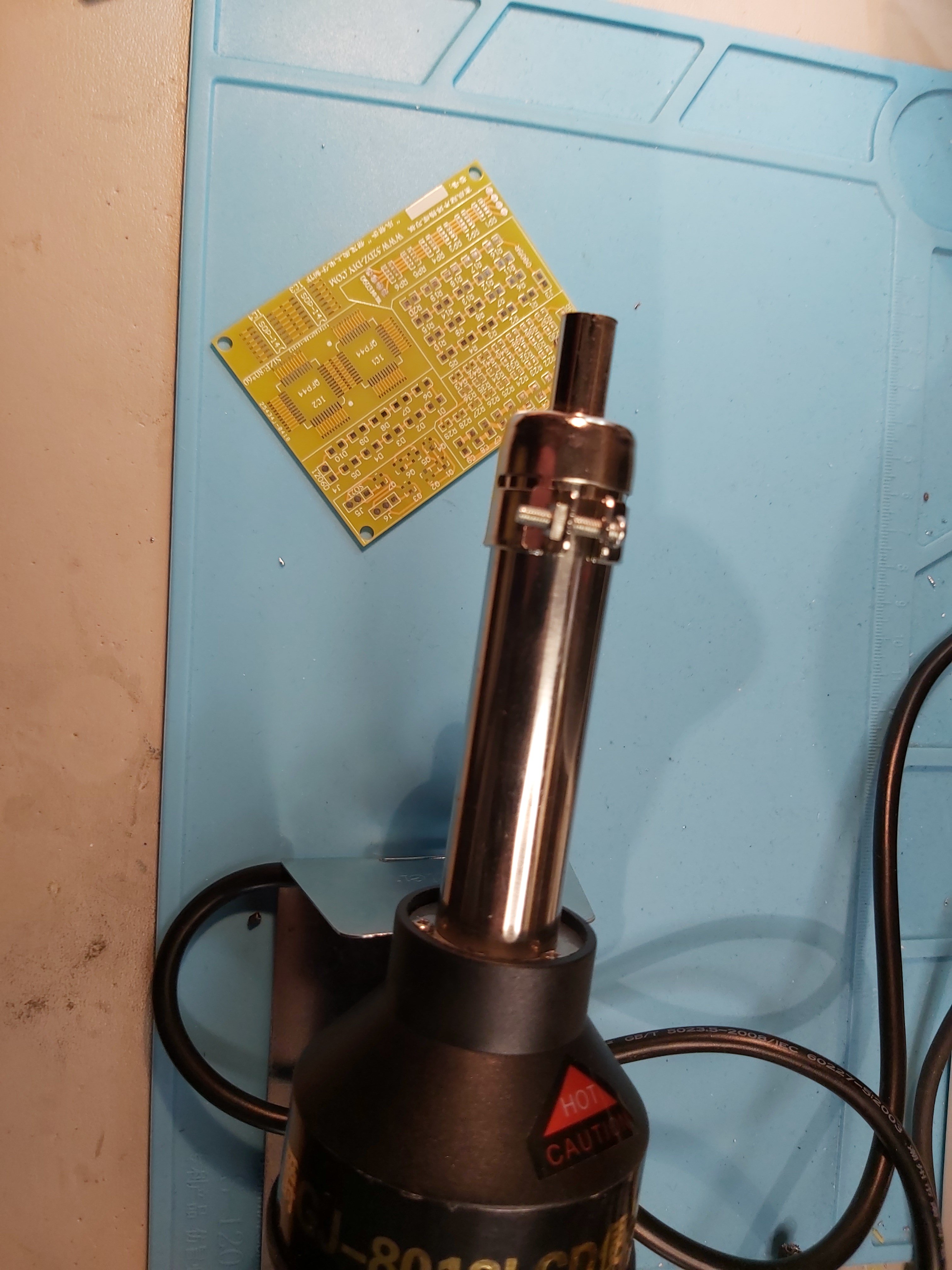 With those settings at the way I hold the hot air source it took around 20-30 seconds to melt the tin paste to turn from grey to bright tin color. When I removed the hot air and let it cool, a quite nice soldering joint was made.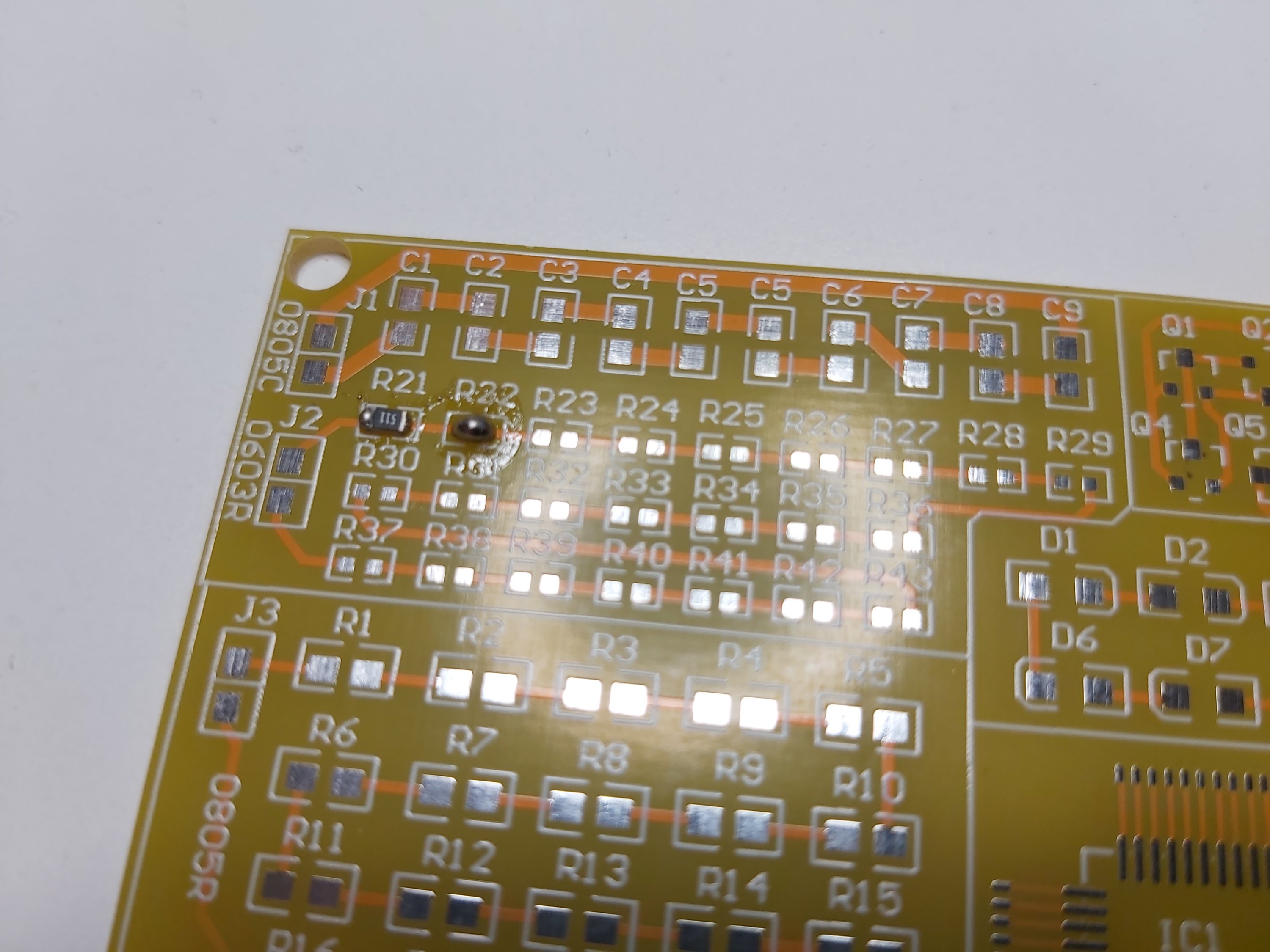 This soldering paste seems to work OK as promised.
If you are interested on the product, go to BEST BST-706 10cc 138℃ Syringe DIY Solder Soldering Paste Flux Chips Computer Phone BGA SMD PGA PCB Repair Tool product page or try some other similar product.