Is Arduino used in comercial applications you might ask. It is true that you aren't going to go to your local big-box electronics store and find many (if any) products that have an "Arduino Inside" sticker, because  Arduino is a prototyping platform.
Arduino is a widely seen as targeed to hobbyists, but I would say that now Arduino is a legitimate tool, not just for hobbyists. You can forget the old saying: "real" engineers don't use Arduino! Users writing "Arduino Code" are actually writing C++ with the Arduino Library. Real engineers use nowadays Arduino.
Many start-ups build product based on Arduino. There are plenty of products out there that started with an Arduino in the early stages.  Ever hear of 3D printers? Or Robotics and Drones? Or home/industrial automation? Or Internet of Things? Arduino has been successfully used on thise fields to make at least small volume products. And Arduino boards itself, shields and various sensors are widely sold as commercial products.
If you want to make a product that uses Arduino board inside of it, it is possible accoring to Arduino FAQ: Physically embedding an Arduino board inside a commercial product does not require you to disclose or open-source any information about its design. If you are making a small volume product, embeddeding an Arduino might in such case make sense. Depending on your design it might be sensible to think your design in such way that your own custom circuit/wiring is built as an Arduino shield on top of Uno/Leonardo/Mega or your own circuit is on baseboard where you plug a small Arduino board as module (for example use Arduino Nano/Mini/Micro). You might also want to chech if there is any ready Arduino compatible suitable product available, here are several Arduino compaible products available for 3D printers and industrial automation.
For the software side things should be pretty simple: The source code for the Arduino environment is covered by the GPL, which requires any modifications to be open-sourced under the same license. It does not prevent the sale of derivative software or its inclusion in commercial products. It is a good time to check the licenses of all the thord party libraries if you use any to make sure if they have any limitations. Mistakes in software licenses can cause you annoying problems later (risks: you can't ship your product, you need to pay somone or you neeed to reveal your "secret" source code to everybody as open source software). Better to be safe than sorry. This software license issue applies all the software devopment – not just Arduino.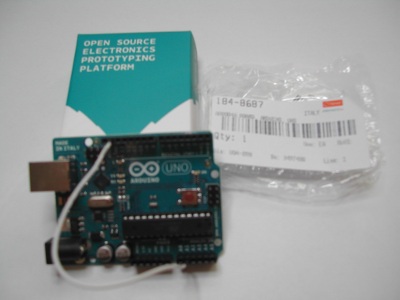 Do not immediately think that "the arduino is too expensive to use in a commercial product!" If the arduino works for your project, and you can find customers who will buy it as a product, go for it. If you can make some some money of of Arduino based version (even break even), then you can start making profit when you start optimimizing your product. There would be no point to to ship a mass produced product with Arduino Uno in every product (it would be quite expensive in any mass produced product). For small volumes  you can consider options like using cheaper Arduino compatible boards instead of original "Arduino Uno"(there are very cheap Arduino compatible board you can order from China). Or you can also weight in option to design your own custom circuit board: You can develop a product with an Arduino, and the build your product that has circuit board that embeds the ATmega328 (same CPU as used in Arduino Uno) inside of it.
If you are making more than just few tens or hundreds of units, you might want to integrate Arduino processor and your own circuits to your own PCB. One way to start design is to use the free Arduino design files, and modufy them to your uses. That should be pretty easy, but you need to keep in mind the following: Deriving the design of a commercial product from the Eagle files for an Arduino board requires you to release the modified files under the same Creative Commons Attribution Share-Alike license. You may manufacture and sell the resulting product.
If you plan to build your own Arduino derived product, the following can help you: How to go from (Arduino) prototype to (selling) product High-level steps:
Built prototype using Arduino and breadboard [few days]
Draw schematic, design printed circuit board [PCB] with CAD program [e.g. Eagle] [1 day]
Order protoboards [wait 2-4 weeks]
Solder protoboard, test and adapt if needed [1hr to several days]
Get quotes for manufacturing based on Bill-of-Materials and Gerber design files [1 week]
Select manufacturer and order (pilot) series [few weeks]