Assembly TV broadcasts TV program from Assembly computer festival starting Thursday 6. August 2009 in many channels (Internet, cable TV, DVB-H mobile television, 3G mobile video etc.).
The broadcast has for many years contained Scene Quiz Show (the name has varied somewhat over years). It involves three contestants answering questions related to the event, demoscene and computers. I have worked with that show many times. When the show started we needed the answering buttons and lights like any real TV quiz show has. I built the first light system based on some really old PC (Sinclair PC200). The answering buttons connected to RS-232 port handshaking line. The parallel port data pins were connected to drive Velleman K2634 four channel triac card that switched the mains power to lamps on and off. The software for the PC was written using Turbo Pascal programming language, it was a modified version of some of my light control software I used to control some lights on parties in the 1990′s. The system had three buttons for competitors and three corresponding light outputs. In addition there was a "effect" output that give power for few seconds after each keypress, that could be used to control light and sound effects that tell that one competitor has pressed button. The system was built up very quickly, but it worked well in live TV broadcast without any problems (other then I was the only I could set up the whole system correctly).
Some years later the system was updated. The new setup was built around old Toshiba T3200 classic laptop PC. The answering buttons were still connected to serial port like earlier but were made much better looking. The light controlling part was updated. The actual mains power controlling was handled by my four channel light dimmer that accepts standard 0-10V control signals. The 0..5V signals that come from PC parallel port were converted to 0-10V and isolated with help of Kemo M125 relay module that plugs to PC parallel port. This was proven to be a well working system that was used for many years to come. The show is going to air this year as well.
The following images are from year 2001 show where the quiz show light were used first time if I remember correctly (images from Byterapers gallery).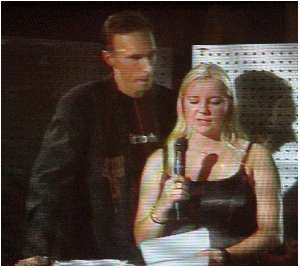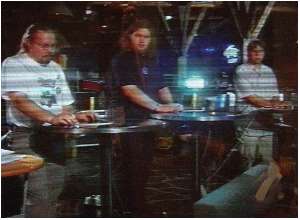 Here is one picture from summer 2009 broadcast. In this broadcast the hardware was mostly the same, but that old laptop was replaced with a newer PC running a new control software.